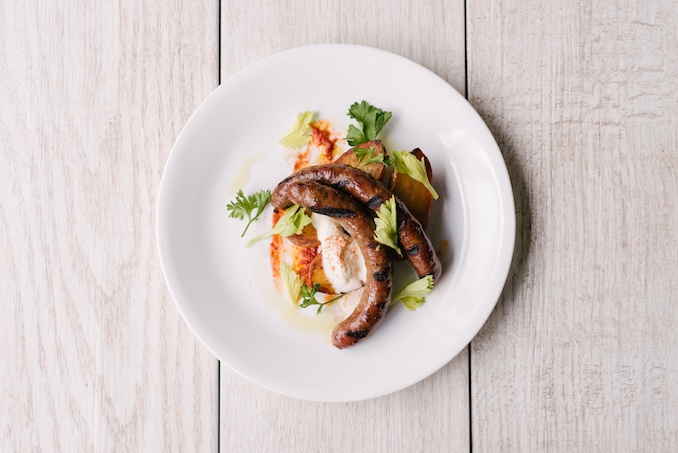 BBQ lovers take note! Toronto BBQ Week began on June 6th and runs until June 12th, 2016 at 15 participating restaurant locations across the city.
The pre-fixe meals will run you only $15 bucks. This will get you a BBQ dish paired with a pint of Samuel Adams Boston Lager, the sponsor of the 1st annual event.
To get a sample of what to expect, Chef Brent Pierssens of Parts and Labour sent us this merguez recipe that you can make at home.
Ingredients
-2.25 kilograms, lamb shoulder
-900 grams, pork back fat
-85 grams, garlic clove
-275 grams, harissa
-75 grams, spice blend (recipe follows)
-30 grams, paprika
-20 grams, cayenne
-45 grams, kosher salt
-ice water
-spice blend equal parts fennel, coriander seed and cumin seed toasted
***
Directions
-cut lamb and back fat into cubes small enough to grind, mix together
-add harissa, spices, salt and garlic to meat mixture and grind over bowl set in ice
-take ground mixture and put in a mixer with a paddle attachment
-mix on low speed adding water until thoroughly mixed
-test mixture for seasoning, adjust if necessary
-stuff into lamb casings, form into 5 inch lengths
-let air dry in refrigerator over night
***
Here is a list of participating restaurants for Toronto's BBQ week.
AAA Public House, Barque Butcher Bar, Beer Bistro, Boots & Bourbon, Broncos, Campagnolo, Dog & Bear, Greenwood Smokehouse BBQ, Hogtown Smoke, Pai, Parts & Labour, Patois, Pukka, Smoque N Bones and The Harbord Room.
Visit the Toronto BBQ Week website for more details.