Breakin' Convention, the world's biggest festival of hip hop dance theatre returned to Toronto and the Sony Centre for the Performing Arts this weekend. The event featured two days of b-boy, b-girl and dance crews from some of Canada's best hip hop companies as well as popular award-winning International performers. Breakin' Convention represents the origins and evolution of hip hop culture from around the world and around the corner.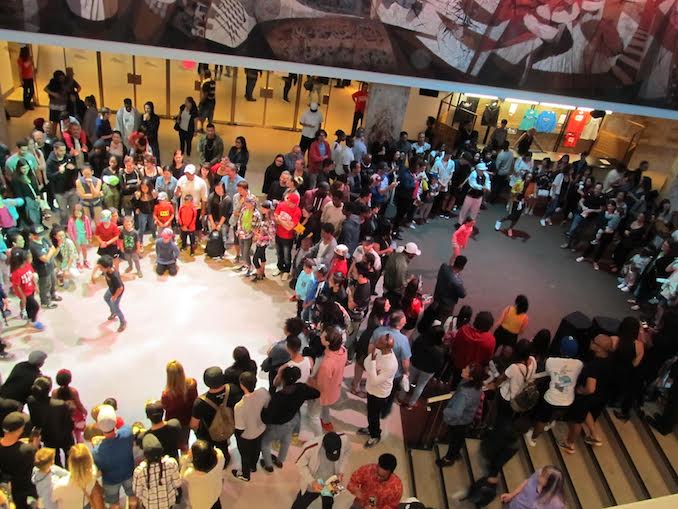 Hip Hop Fun For The Whole Family
Breakin' Convention is a family-friendly event and a terrific opportunity to introduce children to dance and hip hop music. Each night, before the main show got started and during intermission, we saw moms dancing alongside their kids in the choreography dance sessions, grandparents learning new steps with their grandkids, and old school breaker dads bust out their freestyle. It's amazing how the energy of this event inspires dancing across all generations. On the Saturday night we even saw a second dance circle open up in the lobby from the overflow of kids (all ages) who wanted to dance and demo their moves. That didn't happen on the last Toronto tour, so it was something of a phenomenon this year!
The majority of Breakin' Convention crews and performers are adults, however the event does include one local dance school or youth group each night. Again, another way to get kids inspired – seeing kids their age dancing on stage to huge applause! On the Friday, Jade's Hip Hop Academy from Brampton performed a dance number with a social message for kids about child poverty and homelessness. Jade's choreography often features narratives with powerful social messages. On the Saturday, Scarborough's Simply Swagg Dance Studio's Mini Militia gave a fun and energetic performance; a dance mash-up between modern gimmicky moves and classic hip hop style.
Breakin' Convention Highlights
Over the two days of performances, dance styles ranged from hip hop, breaking, popping to locking, robotics, and animation. All these expressive styles helped to narrate a showcase of varied stories. The stand out Canadian crews included Montreal's Vic Versa and Ör Pür Dance Company, and Vancouver's Now or Never Crew.
The International crews were also diverse in their story telling. From the UK, Far From The Norm's performance gave you chills with its experimental elements, almost like hip hop ballet. Choreographer and performer Antoinette Gomis delivered the only solo performance of the festival through an expressive narrative using the words of a Waring Cuney poem sung by Nina Simone. The crowd pleasers of the festival were clearly The Ruggeds from the Netherlands. This b-boy crew slayed with the most acrobatic performance of the festival and lots of silly physical comedy.
Breakin' Convention is sure to be back in 2019! Mark your spring calendar for the return of this incredible dance event for all ages.
Here's the lineup of Sony Centre main stage performing talent for Breakin' Convention 2018.
Day 1 Talent – Fri, 1 June
Jade's Hip Hop Academy Performance Company (Brampton) – youth
Compagnie Phorm (France/Argentina)
Vic Versa (Montreal)
Far From The Norm (UK)
Femme Fatale (United States)
Now or Never Crew (Vancouver)
Compagnie Antoinette Gomis (France)
The Ruggeds (Netherlands)
Day 2 Talent – Sat, 2 June
Simply Swagg Dance Studio (Scarborough) – youth
Rebels de la Soul (Toronto)
Compagnie Phorm (France/Argentina)
SaMel Tanz (Toronto)
Femme Fatale (United States)
Ör Pür Dance Company (Montreal)
Far From The Norm (UK)
Compagnie Antoinette Gomis (France)
The Ruggeds (Netherlands)
Besides two nights of main stage hip hop dance theatre, the Breakin' tour had live DJs and freestyle sessions in the Sony Centre lobby before the show and at intermission, and a free open-air Plaza Party right outside on Front Street on Saturday afternoon which featured more DJs and breaking, afro house and popping dance workshops for the whole family.
A suggestion for next year, it would be great if the Sony Centre and the event organizer could use the large screen in the lobby entrance to broadcast the live dancing going on before the show and on break, as the circle of people trying to watch the freestyle and choreography sessions gets so large, people at the back can't see from the ground level. If there was a live feed on the massive lobby monitor, more people could see the dancing.
***
The second Breakin' Convention Toronto tour took place Fri, June 1 and Sat, June 2, 2018.
For additional information visit: http://www.breakinconvention.com/touring/toronto
Presented by Civic Theatres Toronto, Breakin' Convention is a Sadler's Wells Project and is curated and hosted by UK hip hop pioneer Jonzi D. Joining Jonzi D and supporting the Toronto tour is local Judi Lopez, Founder and Collective Director of Toronto-based KeepRockinYou.
Upcoming show! Ladies Of Hip Hop Toronto, Nov 9-11, 2018
Visit the Sony Centre website for performance schedules and tickets: http://www.sonycentre.ca/
About Civic Theatres Toronto
In 2015, Toronto's City Council approved the consolidation of the governance and operations of the St. Lawrence Centre for the Arts, the Sony Centre for the Performing Arts, and Toronto Centre for the Arts into one new organization under the direction of a City appointed board called Civic Theatres Toronto. The mandate of Civic Theatres Toronto is to provide quality performance and event facilities and to promote its contribution to the artistic, cultural and social vitality of Toronto and its communities.