The great Wizard of OZ pretty much summed up what we were hoping for this musical production, "it's a bit much but that's what people expect!". And we mean that in the most positive way! What we were expecting from WICKED was an over-the-top and highly entertaining production of one of the most popular musicals and we got it! The cast, costumes, set design, and choreography all made for a wonderful and fun feast for our senses.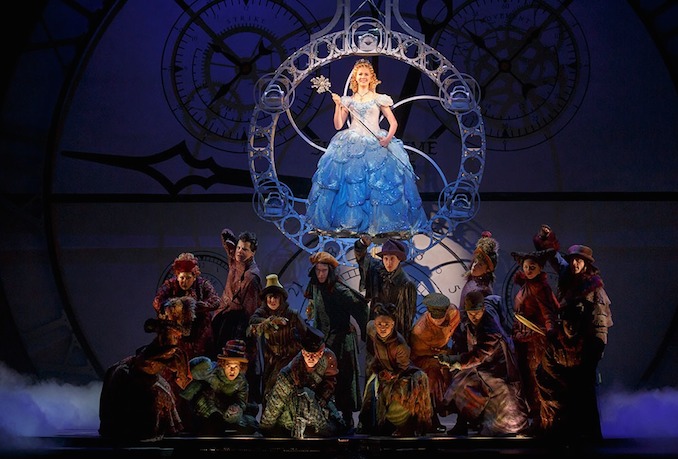 WICKED (book written by Winnie Holzman and music & lyrics by Stephen Schwartz) takes place before Dorothy and Toto in the classic story, Wizard of Oz. The story line focuses on the relationship between Glinda "Good Witch" and Elphaba "Bad Witch" who  are polar opposites in every way possible. They meet at sorcery school where their story begins. This is about their unlikely friendship and misunderstandings served up with key messages of compassion, respect, self-esteem, and understanding that it's more than okay to be different.
"Don't rule out being friends with someone who is completely different from you, because they may end up changing you for the better."
Elphaba, played by Mary Kate Morrissey, is labelled as the "Bad Witch" who looks at the world through the lens of someone who just can't seem to get things right. She's often misunderstood and has accepted the cards life has dealt her.  Morrissey, who returns to the company after touring as Elphaba's standby in 2016, takes on the challenging role whole-heartedly. The mannerisms of her character are executed in great detail. It's hard for us to even imagine her as an understudy as she embraces Elphaba with every perfectly gnarled finger, every ominous gesture and every stink eye given. Her voice is the kind that hits you deep inside as her character transforms from a hopeless broken soul into a strong, compelling  and passionate creature.  As an outcast, not only in public but within her own family, Elphaba accepts that she would never be "that girl" as describe in the heartbreaking song I'm Not That Girl delivered with deep emotion by Morrissey.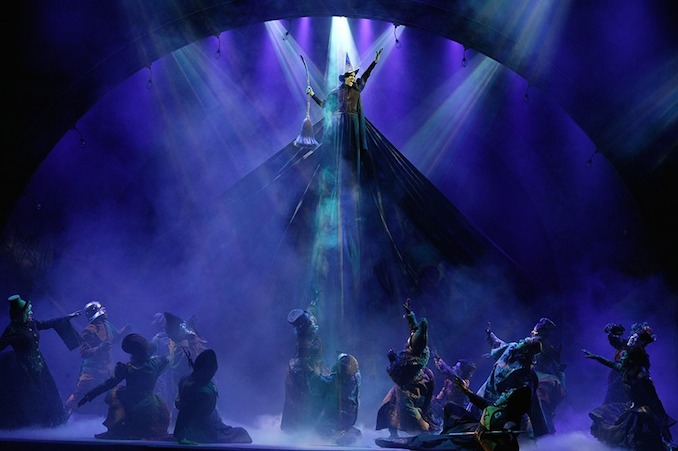 Then there's Glinda the "Good Witch" — a stereotypical beauty with a sparkle in her eye who is full of sunshine and positivity. She's been raised to be perfect in society's eye and feels it is her duty in life to give people hope and encouragement without disruption or challenge. But the friendship with Elphaba changes her thinking. "Are people born Wicked? Or do they have wickedness thrusted upon them?" Glinda responds when asked  why wickedness happens. Played by Ginna Claire Mason, who comes to this touring production via Broadway is also as a standby (again, hard for us to believe), lives up to the role of Glinda's sugar-coated and sassy persona who appears to have a lot of fun serving  up some zingy one-liners! Absolutely comfortable with her role, Mason brings a fun and seamless confidence to this production without missing a beat.
One would be convinced that the two were born into their characters as if the roles were made for them. It's purely magic al how the two leads compliment each other but rest assured, the other cast members aren't here just for a ride on a broomstick. Every performer adds their own secret sauce to this production making every moment enjoyable — by the way, each profile as listed on the production programme is impressive so make sure you take a look!
There are 21 songs in WICKED and whether you are familiar with them, or not, there are the ones that will stick with you. Defying Gravity, I'm Not That Girl, and As Long As You're Mine comes to mind. But it's hard to walk out of the theatre without singing a few lines of  the song Popular.
But can we stop and take note of the costumes? Susan Hilferty has designed more than 300 theatre productions and in  WICKED each costume is a masterfully crafted work of art. From the sparkling gowns to flying monkeys to the costumes in Munchkinland –each piece should really be archived for historical reference.
WICKED is now on stage at the Ed Mirvish Theatre in Toronto until August 5, 2018. Visit mirvish.com for details. Great graduation gift to kick off summer if you're still scrambling and a perfect multi-generational night out.
BTW, if you happen to be within the vicinity of the theatre it's worth keeping in mind that this production is also hosting an in-person day-of-performance WICKED LOTTERY for a limited number of $25 tickets.  See the site for full details.