It's been the longest start to the new year. January has already dished out a heaping serving of crap and we're getting hungry for something, anything, to make us laugh. Just in time comes the sequel to She The People — a sketch comedy show that stars the returning all-female cast members and The Second City alum. This fresh take on the popular show that is written by, directed by, and performed by women continues to evolve and deliver non-stop laughs on social issues that dominate recent news. Yes, the future is female and the future is here!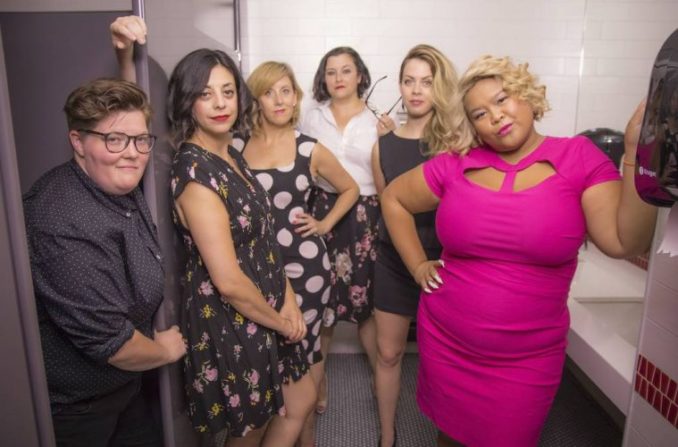 This fearlessly funny troupe takes direct aim not just at men with mansplaining, labelling women and telling us what's appropriate (we should smile more? F off)…but, they also remind us women that we are also deserving of a jab or two. Hello, goop Lab suckers, judgemental and one-up mommies, shapewear and supportive girlfriends! High five! The writers of the show have also given us all a reality check on what's important and we really "oughta know" including climate change, gender wage gaps and how we should question gender expectations and stereotyping starting from the moment we give birth, if not before.
While there were many great highlights in the show – Ann Pornel hits high marks with her bold views on body image and Karen Parker delivers a roaring great sketch on how women should act – but we really looked forward to the improv set encouraging audience members to throw questions at the actors in a "podcast" scene. We also enjoyed the pokes at Torontonians – very relatable, is that good or bad? Never mind, it's all in good humour.
The amazing and talented cast with Tricia Black, Ashley Comeau, Paloma Nuñez, Karen Parker, Ann Pornel and Kirsten Rasmussen are unstoppable. With writers Carisa Barreca and Carly Heffernan, they created a great excuse to grab our girlfriends, our mimosas, and get out of the house on a winter's night…and for the few brave guys in the audience, we applaud you for being open-minded and thank you for not being a clown.
She The People is now on stage at the CAA Theatre in Toronto until February 9th. For more information visit www.mirvish.com