The Progress Festival is in full swing and if you're wondering what to see, we've got a few ideas. This is the 5th year for the performing arts and ideas international festival showcasing work from Belgium, Italy, the UK, Canada, and the US. Festival runs until February 15 at the Theatre Centre (1115 Queen Street West).
What makes this festival different is that it's collectively created by curatorial organizations including FADO Performance Art Centre, SummerWorks Performance Festival, The Theatre Centre, and Why Not Theatre as well as new curators Broadleaf Theatre, DopoLavoro Teatrale, and RT Collective. With that in mind, we are told that we can expect a broader spectrum of ideas –a more complex and contemporary festival reflecting our society. For Progress 2020, the program is described as "rooted in interrogations of class structure, economic collapse, and climate crisis – dovetailing into explorations of inheritance and how we might navigate what we have been handed."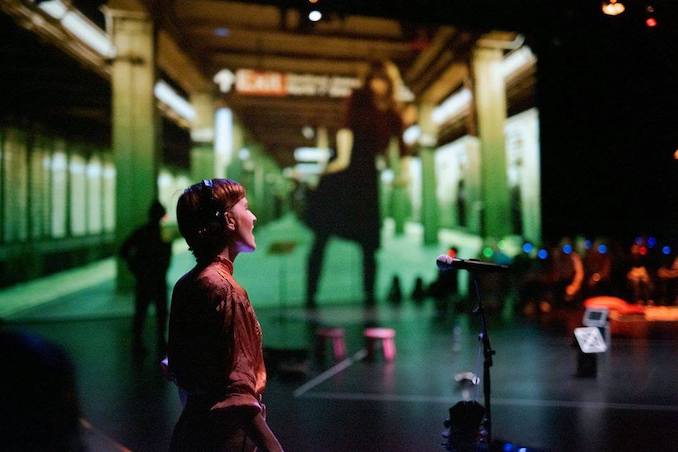 Curious? Here is a few ideas on what to see that's on our radar…
The festival kicks off with Café Sarajevo — an immersive theatrical experience framed as a podcast. Following protagonist Lucy Simic as she travels to her father's birthplace of Bosnia, Café Sarajevo incorporates dance, games, music, and 360 video into a fast-paced, intimate, and thoughtful exploration of nationalism, racial bias, and war tourism.
Cuckoo tells the story of twenty years of South Korean history as told by a group of talking rice cookers. Economic disaster and its ripple effects are conveyed in an onstage performance by Belgium-based South Korean artist Jaha Koo and his rice cooking companions. Re-programmed to speak, the devices serve as a token of Jaha's alienation, and metaphor for the most absurd and comical aspects of the recent past.
This World Made Itself and Infinitely Yours form a pairing of multimedia works that combine projected animation, live performance, and shadow silhouette that journey through the history of the earth and meditate on climate catastrophe. Created and performed by Miwa Matreyek, this is an enchanting, dream-like double-bill that marries animation, video, and the human body.
DopoLavoro Teatrale brings Affioramenti (Surfacing) from visual artist Antonella Bersani, an immersive experience for six participants at a time that invites audience members to offer personal objects and provocations into an ever-evolving installation that incorporates personal histories, memories, and testimonies.
The award-winning and controversial UK artist Scottee in Class and Working Class Dinner Party. A one-man show and act of confrontation, in Class, Scottee uncovers what it is to grow up poor and to be embarrassed about where you're from, while bluntly damning the attitude of a singular working-class experience as spectacle. While Class is made for the middle-class, Working Class Dinner Party invites the working class to the table. Scottee and local Toronto artists invite you to join them for a chat around the dinner table as they unpack class identity, and why learning how to be posh in an art world gets you places.
In the participatory workshop How I Learned to Serve Tea, artist-facilitator Shaista Latif assesses the language of invitation and hosting, and explores the dynamics of power through acts of hospitality. The artist asks, "If we lived in a decolonized world what would we be making? Who would we be serving?" This work recognizes that there is an economy for everything: a cost, a transaction. Class, race, identity, and belonging influence our capacities to give and to receive. Participants are invited to confront and reflect on who gets to have a seat at the table.
From the west coast of Canada, comes Certified by comedian and certified insane person Jan Derbyshire. Curated by Why Not Theatre, Jan Derbyshire's Certified is by turns hilarious and heart-breaking. Derbyshire shares her experience of being certified a total of eight times, and how she got to where she is today. The audience becomes a mental health review board, grappling with questions like how we define "crazy" — and who gets to decide.
For full details and tickets, visit the Progress Festival website.