The hotel lobby was lively as guests arrived for the highly anticipated night at the 1 Hotel in Toronto. Guests lined up to take the elevator to Harriet's Toronto, the hotel's 16th-floor rooftop, for a highly anticipated DJ set by Chris Lake.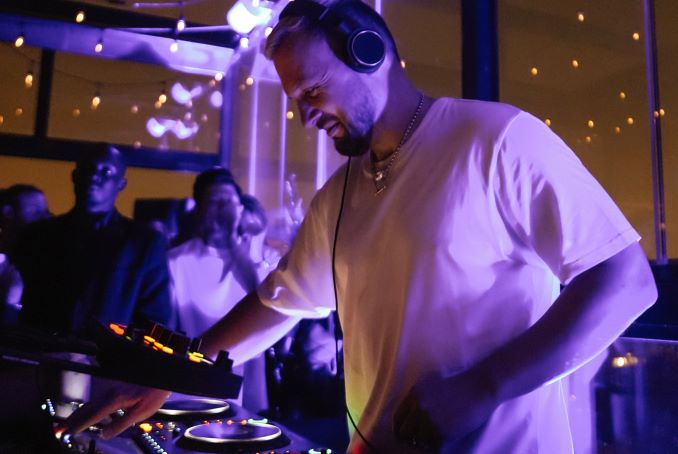 Chris Lake typically finds himself performing in much larger crowds, specifically more recently at Coachella in front of tens of thousands of fans. This intimate night of merely 150 guests came to fruition because of Oceanic Global and The Peace Department – two renowned organizations deeply committed to environmental conservation and peace advocacy.
Harret's was equipped with massive windows surrounding the rooftop patio, giving a full panoramic view of the glistening skyline. While the exposed portion of the rooftop had a beautiful seating area alongside a pool reflecting the horizon of Toronto.
Before Chris Lake's performance, he was supported by various world-class DJs such as Alyx Ander, Ryan Shepherd, Sam Haze, and MOJI.
In a departure from his usual grand stages, Chris Lake's performance at a small yet captivating rooftop patio was a testament to his unwavering commitment to delivering an exceptional show. Despite the intimate setting, he delivered an electrifying performance, treating it with the same dedication and energy as if it were a monumental Coachella set.
Chris interacted with fans throughout his set, proving his genuine connection with his biggest fans, seamlessly bridging the gap between artist and audience. To the delight of his devoted fans, after his set, he extended the experience beyond the music. Taking the time to hang out and take pictures with those fortunate enough to secure tickets for this extraordinary event.
We had the chance to connect with Chris Lake after his performance, to chat about his involvement with Oceanic Global.
How were you initially introduced to Oceanic Global?
I got connected with Oceanic Global through 1 Hotel Toronto. I was attracted to the hotel's eco-friendly practices and sustainability commitment, so when I met Oceanic Global through them, there was already an alignment of shared ideals. With the involvement of The Peace Department within the collaboration as well, merging philanthropy and music has never been more seamless.
Would you say that your upbringing influenced you in supporting this cause? I know that Norwich is quite close to the sea.
I wouldn't say Norwich necessarily, however, I spent a lot of my life right near the sea. My father has always worked in the fishing industry and we moved around a bit for his work to coastal areas.
What excites you the most about merging your music with this cause?
I want to play a part in introducing my fans to thoughts and ideas that can be good for our future and the environment as a whole. I want to be able to start important conversations while ensuring my audience has the opportunity to experience a unique event, in this case; supporting two great causes, Oceanic Global and The Peace Department.
If you were to collaborate with other musicians or artists within the Oceanic Global community, what kind of adventures and innovative projects do you imagine exploring?
I've never thought about it, while my skills are ingrained into solely creating music, I would imagine a themed/location type of recording collaboration, using field sounds from the beach/ocean could be a nice challenge to produce.
Chris Lake captivated a select audience with his rooftop DJ set in Toronto, which featured energetic sounds while being framed by the city's stunning skyline. All proceeds from the event, including Chris Lake's performance fee, directly supported these organizations. Both Oceanic Global and The Peace Department demonstrated the ability of music to bring people together while supporting a great cause. Those who were fortunate enough to attend this intimate concert will always remember the experience 1 Hotel brought forward.