Toronto (Downsview) native, singer, songwriter, multi-instrumentalist, author and historian Jason Wilson is a two-time Juno Award nominee, a Canadian Reggae Music Award winner, holds a Ph.D. in History and is an award-winning, best-selling author.
Jason Wilson is the protégé of Studio One keyboardist Jackie Mittoo and the cousin of UB40's Michael Virtue. He has performed and recorded with UB40, Sly & Robbie, Ernest Ranglin, Pee Wee Ellis, Ron Sexsmith, Alanis Morissette, Amanda Marshall, The Mighty Sparrow, Percy Sledge, Brinsley Forde (Aswad), Dick Gaughan, reggae-folk duo Wilson & Swarbrick (with former Fairport Convention member, the late Dave Swarbrick) and Jason Wilson & Tabarruk.
Ashara (the band) features Jason Wilson on vocals, acoustic guitar and piano, joined by legendary guitarist Carl Harvey (Toots & The Maytals), saxophonist Marcus Ali, vocalist Laurel Tubman, drummer Vince Reel and Michael Shapinko on bass. The group also comes with a rotating cast of award-winning Scottish trad musicians including, fiddler Jack Smedley (Rura), Highland piper Ali Hutton (Old Blind Dogs), accordionist John Somerville (Treacherous Orchestra) and special guest, Scottish-based Jamaican songstress Subrina (Ibrina) Ward.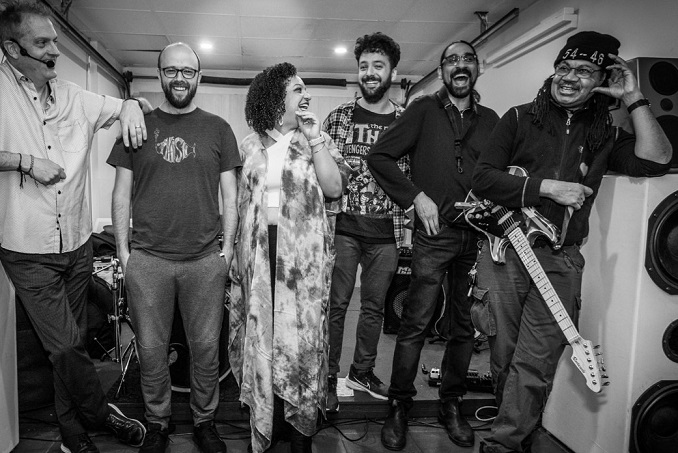 Name:
Ashara, featuring Jason Wilson.
Genre:
Folk, singer-songwriter, reggae.
Founded:
2021
# of Albums:
I have previously released nine albums. The upcoming album by Ashara will be my 10th!
Previously – all on Wilson's Wheel Records – these include: 1994's 'Tabarruk' by Tabarruk, plus 'Dark Corners' (1998), 'Jonah' (2000, Juno Award nominee) and 'dREaD & BLUE: A Canadiana Suite' (2004) by Jason Wilson & Tabarruk, and in 2008, 'The Peacemaker's Chauffeur' by Jason Wilson (Juno Award nominee and Canadian Reggae Music Award winner), 'The Lion Rampant' in 2013 and 'Kailyard Tales' in 2018 by Wilson and Swarbrick, plus Wilson's 'Perennials' in 2016 and 'Sumach Roots' in 2019.
Latest Album:
My most recent is a solo album titled 'Sumach Roots' (released in 2019).
Latest Single:
"My Love Sings Like a Lintie" (released on 6 January 2023, Wheel Records/Proper Music Distribution).
Latest Video:
Favourite musician growing up:
Bob Marley.
Favourite musician now:
Bach – Monk – Marley – Kate Bush (sorry I could only whittle it down to 4!).
Guilty pleasure song:
Firework (Katy Perry…shh!).
Live show ritual:
Stolen from David Bowie: fist pump every member and say "don't eff up!"
Favourite local musician:
Adrian "Sheriff" Miller…still kicking it in his own inimitable way!
EP or LP?
All my favourite EPs just leave me wanting more…so LP, please.
Early bird or night owl?
Now an early bird…never thought that would happen.
Road or studio?
Whichever one I'm not doing at that time.
Any shows or albums coming up?
Our new, self-titled album is called 'Ashara,' and the official release date is 29 September 2023 (Wheel Records/Proper Music Distribution). Stay tuned for shows and tour dates this year, including a Toronto album release show in the fall!
Where can we follow you?
Website | Facebook | Instagram | Soundcloud | Youtube
***
Rapid Fire Toronto Qs
What is your favourite local restaurant?
The Caledonian…but I would say that wouldn't I?
What is your favourite street in your city and why?
Keele Street…where I grew up, mom is still there and the CBC AND BBC both did features on my song, you guessed it: Keele Street!
What is your favourite park in your city and why?
Earl Bales dog park: our big Bernese Mountain dog Cyclone loved that place!
What is your favourite music venue in your city?
Massey Hall…came oh so close to playing there before the refurbish with UB40, but alas, the dream remains on hold!
What is your favourite music store in your city?
Soundscapes was until it perished as so many have, but how could it not be Sonic Boom now?