Prince Edward County already has a nostalgic feel in many ways. I've been twice to Picton in a span of three months. It's an easy drive from Toronto which makes it a popular destination for us city folks to just take a mini-break. Truth be told, I'm ready to just pack up the whole lot and move there.
The quaint towns take me back to my childhood travelling with my family. Our summer road trip to beachy areas and fishing hotspots always meant a detour into whatever town en route for ice cream and whatever else we could find. It was laid back times and everyone was welcomed. That's the vibe I've been experiencing in Picton — only now it's not just a drive through.  We actually stay a few nights.
On our most recent trip we made a point to visit one of the newest additions to the area. The Vic Social – a recently opened eatery right on the Main Street of Picton.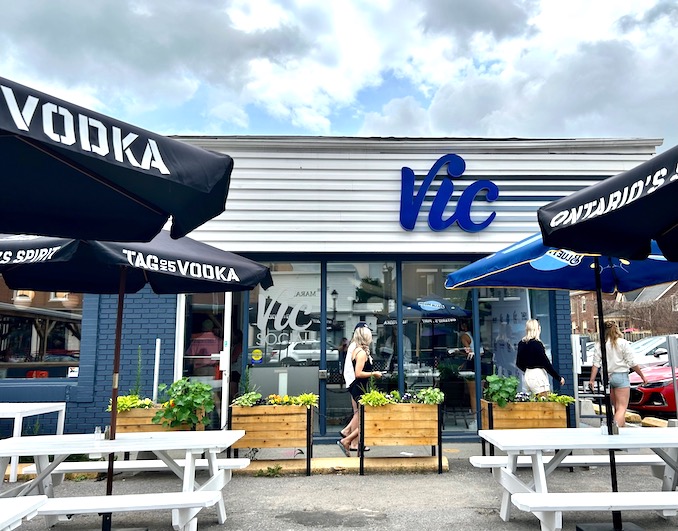 Pull up and you'll see both indoor and outdoor seating. The patio offers picnic style benches with umbrellas for shade. Another covered area outside offers a screened in area for those who prefer. Then, there's an indoor space that feels like a 70s diner only updated with modern day decor touches. Neon signs, rock star photos and a larger than life image of a record player. Great spots for photos, of course. Hey, if you don't 'gram it were you even there?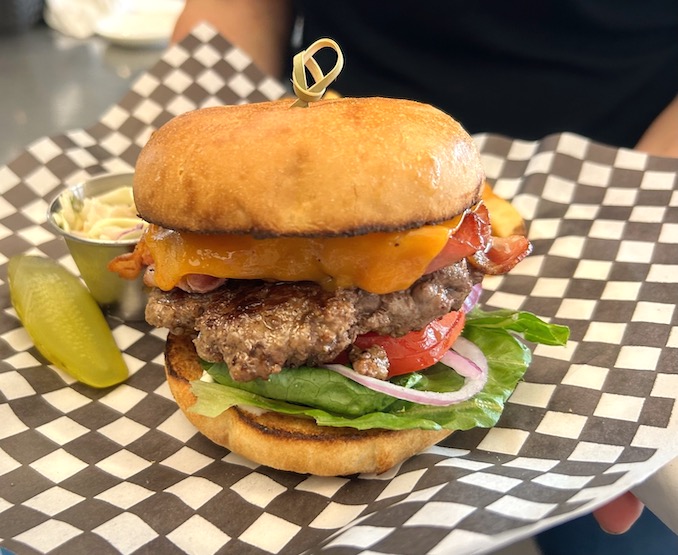 What's on the menu? 
All the summer faves are there but a notch above Mel's Diner. Menu includes Pulled Pork Sammies, Crab Cakes, Burgers (and Vegan Burgers too), Deep Fried Pickles, Poutine, and Jumbo Onion Rings. We were there for brunch and again, the tried and trues were there including hearty portions of Classic Eggs Benny and a Smoked Salmon version, Pancakes, Waffles, Breakfast Poutine with Bacon (great day-after-that-crazy-fun-night party food), and the Corn Flake Crusted French Toast that brings all the sweet crunchy fun. Not gonna lie, I secretly wanted to order the Sprinkles Pancakes I spotted on the Kid's Menu. Also, Tater Tots are ALWAYS a must have in my books!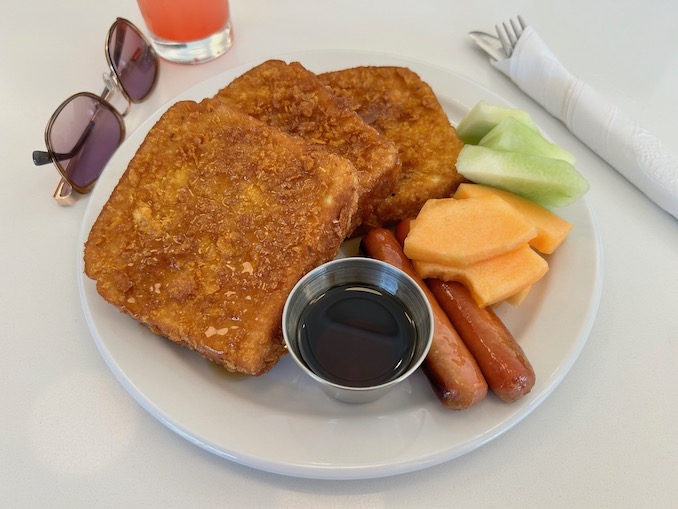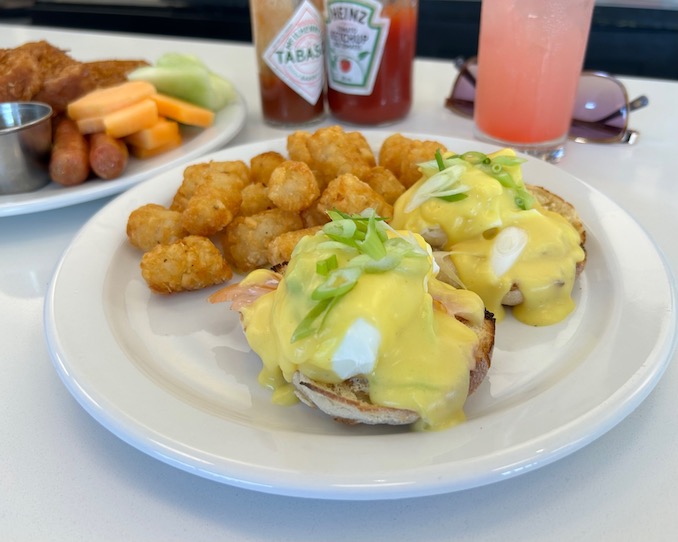 Of course, celebratory brunches (like, hey you made it through the weekend!) can be topped up with a  classic mimosa or a delicious Ginslinger Elderflower Collins. But get retro with their already famous over-the-top Ice Cream Sandwich Milkshakes (with or without a shot of a little something, something).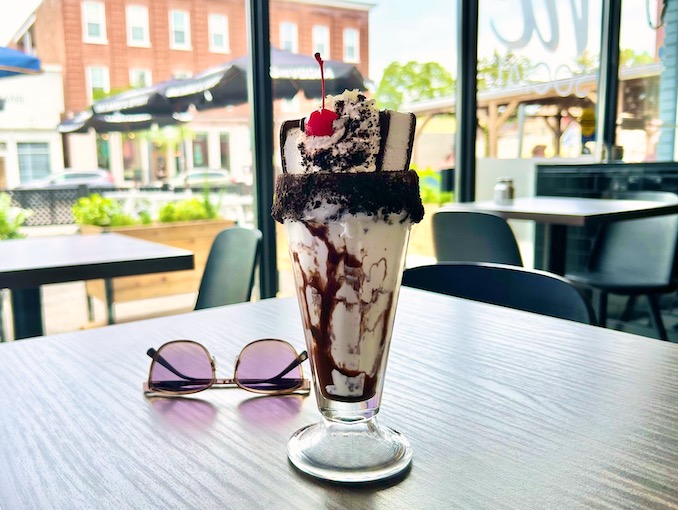 The Vic Social is also about being social. There's a list of summer play items and games around the restaurant spaces. Giant Jenga, Cornhole Toss, giant sized Connect Four are all so fun! If you prefer some quiet time they have games including Checkers, Sorry, Backgammon, Battleship and Uno. A few Trivia Pursuit games can be found there as well as Cards Against Humanity. Hang around on the weekends and you might find yourselves late-night dancing in the moonlight.
"This concept is something that Prince Edward County has yet to see," said Gary Wilson, Owner of the Vic Social. "In the heart of Picton, we now have a destination for people of all ages to dine, dance and play. I'm excited to see all the locals and tourists come together at the Vic Social and make new memories!"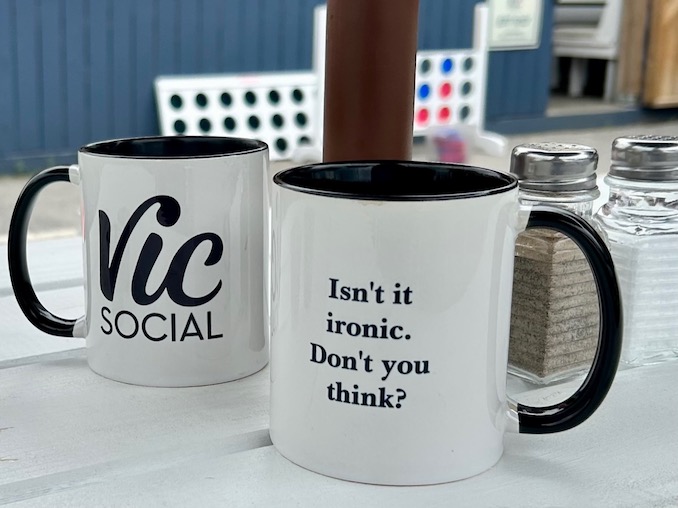 It's a great spot to take a break even on rainy days when you're looking for a hearty meal and a place to park yourselves for a change of scenery. No doubt this will be a very popular place for families and friends in "The County".
The Vic Social is located at 166 Main Street in Picton. Reservations recommended especially during the busy summer season. Walk-ins available as well.