Before attending the dinner hosted by Ritz Carlton and Cacao Barry at TOCA, I held the not unusual preconceived notion that cooking with chocolate, with the exception of Mexican Mole Sauce, meant sweetness and desserts. The realm of possibility involving cocoa and modern cooking was, I thought, limited.
Presented with the idea that cocoa, cacao, or chocolate can be used to put a new spin on established savoury dishes can be a daunting one. But don't let it undermine your culinary confidence. Cooking with chocolate in all its varied forms will deliver complexities of flavour above and beyond.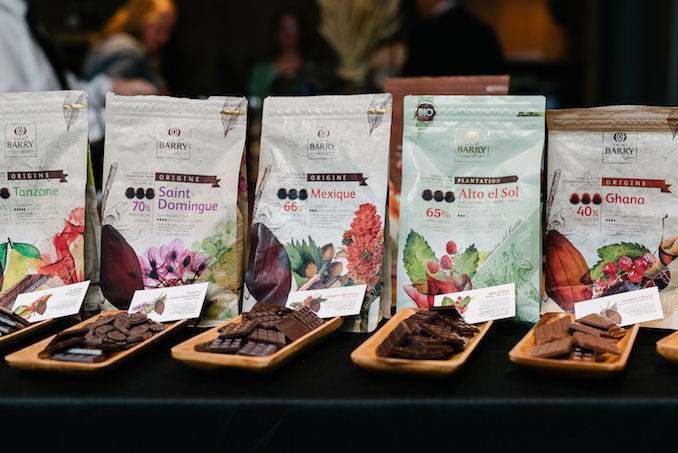 It is important to note that there are significant differences between cacao, cocoa, and chocolate, as well as their uses in cooking. Confusing, perhaps, so before experimenting with the cacao bean, learn what this bean can do and how its products are created:
Cacao: Purest form of 'chocolate' deriving from a low-heat process and removal of fat from the cacao bean (pod).
Cocoa: Similar to cacao powder but roasted and processed in a much higher heat, often used in confectionary goods.
Learn more about the differences here.
Cacao Barry pioneered chocolate making straight from the source for over 170 years, which makes them true leaders of the chocolate market. They pride themselves on being hands-on by travelling to the likes of South America and Africa to pick the trees responsible for growing their beans. They are now on a mission to inspire chefs all over the world to step outside of their comfort zone with their sensational products.
It's no easy task to put together a comprehensive menu based around the cacao bean and chocolate inspired ingredients. Executive Chef Daniel Craig and Executive Pastry Chef Gaël Moutet Toca, Ritz-Carlton in conjunction with Cacao Barry take us on a culinary experience that highlights some creative ways to use this multifaceted ingredient from savory to sweet. Chocolate and dairy were included with every dish. Why cheese? Cheese has complex umami characteristics and greatly complement any form of chocolate or cacao ingredients.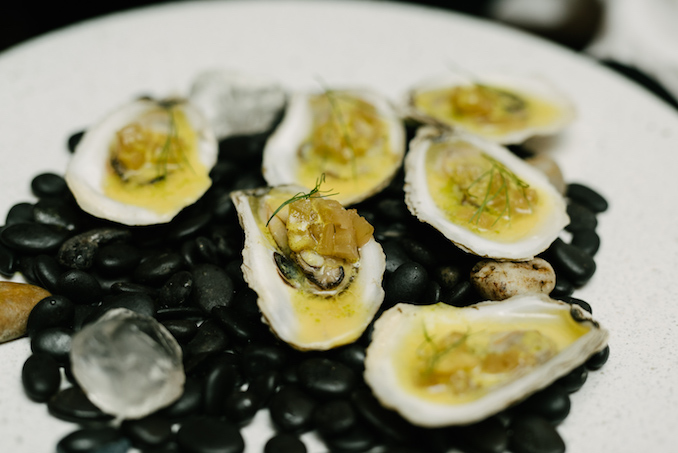 Diners are welcomed with mesmerizing hors d'oeuvres you wouldn't guess contain varietals of chocolate in them. Warmed Glacier Bay oysters topped with saffron, fennel, and white chocolate milk, stracciatella bites with cacao bean oil to name a few.
Let's not talk about the dangerously tasty chocolate bread served with house-made cacao butter. This butter's rich texture resembles creamery butter without the saltiness. Can also be a great substitute when looking to replace the butter stick with something more nutritious, or when preparing vegan dishes.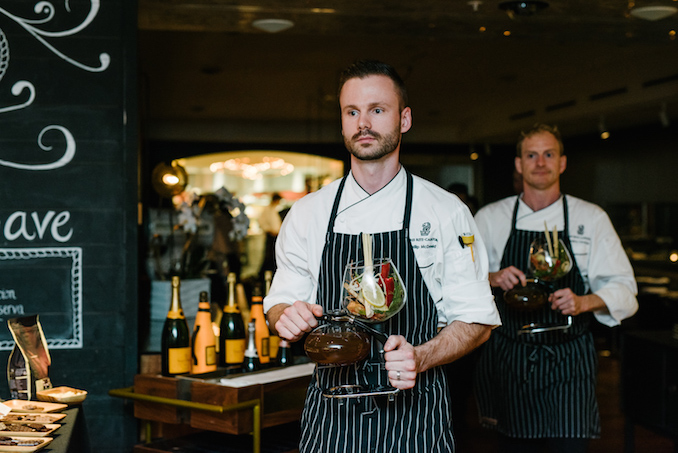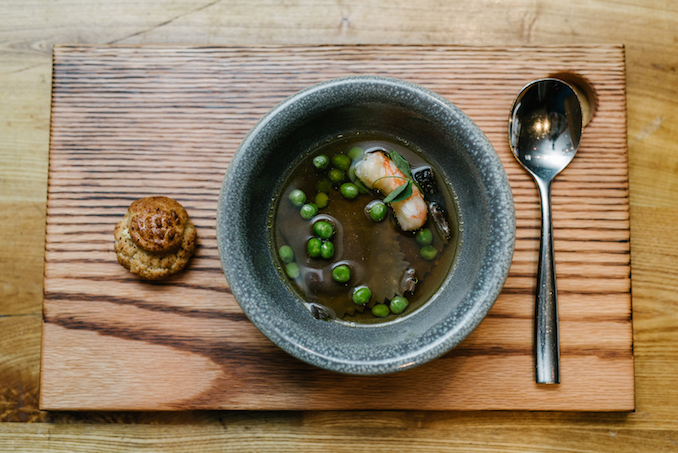 Next up, the Spot Prawn Consommé. It arrives at the table piping hot, in a contraption similar to a French press. The broth bursts with colourful scents of lemongrass, chili, and ginger. Just when I thought I had caught the chefs out in an omition of chocolate and dairy, the waiter swept in with a large ricotta-stuffed agnolotti made with the extra brute cocoa powder, pouring the consommé over it with a flourish. The subtle, layered complexities of this dish were astounding.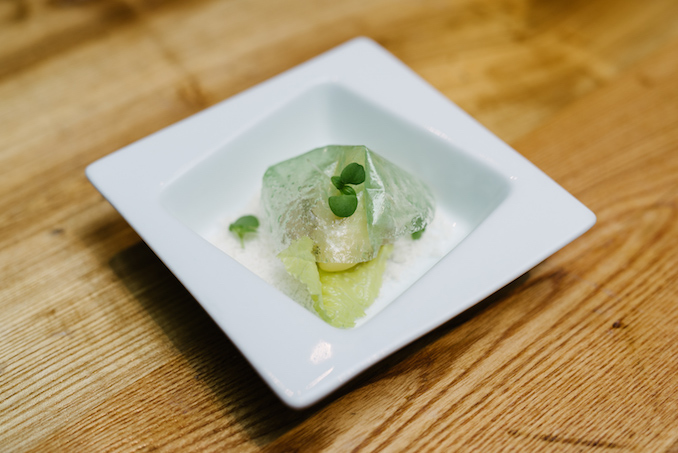 Chef Gaël Moutet brings the house down with the unforgettable mid-dinner pallet cleanser of Caesar salad sorbet. Japanese edible paper provides the "lettuce" crunch, passion fruit crème (no cream or butter used here) and a zephyr caramel white chocolate couverture like salted caramel, dusted off with classic parmigiano for a contrasting nuttiness. If I could replace all my meals with this, I would.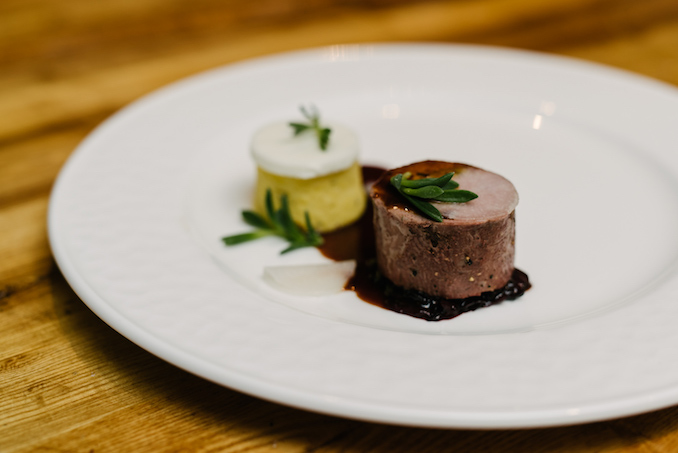 The main course seemingly plays it safe with a classic lamb saddle, but it is topped with a La Esmeralda and Baco Boir Reduction Jus – a bold and bitter cocoa taste that is balanced perfectly with the freshness and acidity of citrus; a perfect example of Chef's unique pairing of chocolate with a familiar cut of lamb.  (La Esmerelda available as of July 2017)
I highly recommend Toca but more importantly, for beginner chefs to seasoned veterans, step outside of your comfort zone and use your imagination. Cacao Barry chocolate is some of the finest in the world and using their cocoa varietals will challenge and surprise when used with loving care. For those of you who want to get adventurous in the kitchen, Cacao Barry features a comprehensive list with over 400 recipes here.
Keep your eyes wide and your tastebuds ready cacao ingredients in dishes around the city. Cacao Barry is making moves to bring these innovative new flavours to chefs and restaurants citywide.