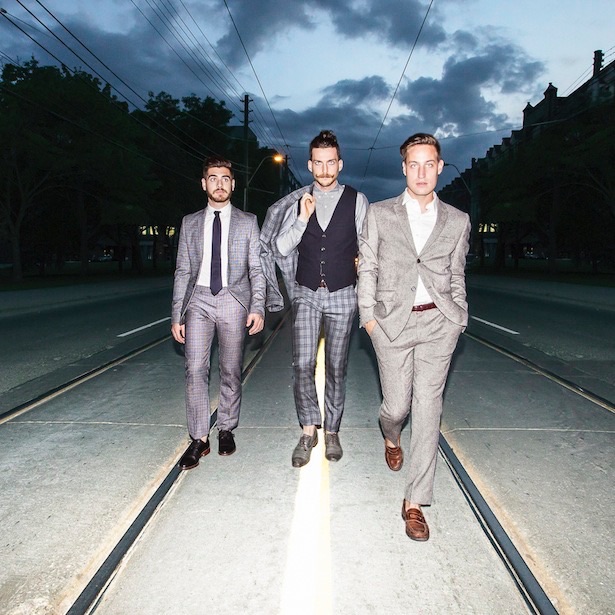 Nostalgia and well dressed rock n' roll; that sums up the three dapper young men known as The Good Boys.
Drawing influences from classics like The Beach Boys and The Beatles, members Andrew Basso, Paul Marc Rousseau, and Daniel Tremblay have collectively written catchy tunes that are both cheeky and sentimental.
There is something to be said about a group that gets suited up to perform sweet harmonies that bring you back to a time where music was fun. Even their videos are light hearted and have a feeling of cool.
The Good Boys recently put out two 7 inch singles via Culvert Music and will be releasing an LP before you know it.
We had a chance to speak with the boys about their music and all the things they love about Toronto.
Who does the songwriting? Do you split the duties when it comes to arranging and writing individual parts for live shows?
We all contribute at some point in the process. Sometimes Paul writes alone. One time I did. The arrangements for our live show are the same as on the record. We don't really make it easy for ourselves.
How did the Good Boys form and why did you choose this genre?
We like each other and this kind of music. We write all kinds of songs. One time we wrote a Bon Jovi sounding song. Imagine that? 'The Wet Boys.'
How long have you been performing music? What keeps the fire going?
We've played in bands together for a long while- since elementary school. I like writing music, and performing it makes you feel like a big man.
What's your favourite song you've ever written?
Why, our current single, of course.
Do you find it's easier to write a happy or sad song? 
Mad song.
What's your proudest moment on and offstage? 
For both: meeting U of T president. (Name unknown).
When can we expect a full album?
You can start expecting whenever.
If you had to collaborate with one Toronto band, who would it be and why?
Drake. Hopefully a 'you scratch my back I'll scratch yours' kinda thing.
What do you do when you're not doing anything musical?
I cook surf n turf on Fridays.
Top 3 artists that have inspired you? 
Freddie M, George H, Elvis C.
Favourite place to eat in Toronto?
It really does depend on where I am in the city. I'm close to Kensington right now so I'm going to go to Hibiscus, I think.
What do you think of physical vs digital album sales? Do you have a preference? Are CD's done?
 I like what groups do nowadays with the vinyl and download card. Listening to a physical record is obviously better, but I definitely need to have music on my phone too. I don't know too much about CDs, but it's not looking good for them.
What is one thing about each band member that people wouldn't expect?
You wouldn't know it to look at him, but Andrew works out every day. And Paul, well, Paul used to be a blonde.
Rapid fire:
Sneaky Dees nachos, Hey Meatball spaghetti or a superfood salad from Fresh?
That's the worst salad at Fresh.
Queen or College St? 
Queen, but sometimes College.
Trinity Bellwoods or Highpark?
Bellwoods for prime dog watching potential.
EP or LP?
LP
Early bird or night owls?
Night owl I guess. That's so lame though.
Road or studio?
Studio.
So what's next for The Good Boys?
 Studio.
Catch The Good Boys on Facebook & Instagram as well as their two other cheeky videos Single Malt Shop // I'm Not Pretending. You'll be glad you did.