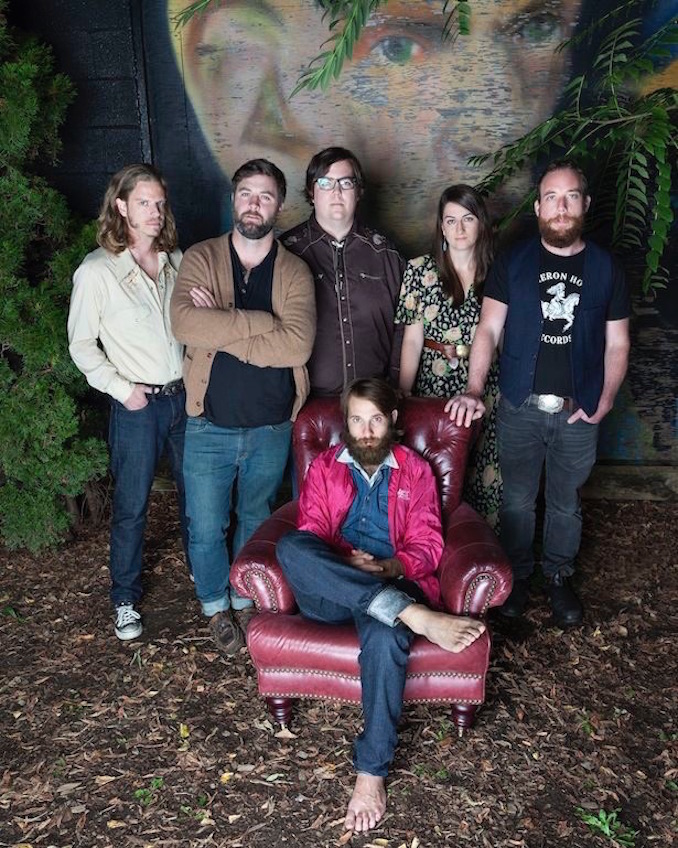 The Strumbellas have been building some serious steam. Their sophomore album, We Still Move On Dance Floors, was released this time last year via Six Shooter Records (Canada). In March, the band took home the 2014 JUNO award for Roots & Traditional Album Of The Year for the album. In May, they won SiriusXM Indies award for Folk Group Of The Year and in June, We Still Move On Dance Floors was Long Listed for the Polaris Music Prize. With a combination of good folk-pop and a genuine likability, The Strumbellas are on their way.
The band is currently on their North American tour and I had the chance to chat with lead singer Simon Ward about their songs an all the things they love about Toronto.
Congrats on the success of your 2103 album We Still Move on Dance Floors. Has the response from it exceeded your expectations?
Most definitely. I think we we're just hoping to get to play shows for more people than my mom and the other bands playing with us. So I think this album helped us achieve that.
You're in the middle of your North American tour. Highlights/lowlights so far?
Highlights are getting to see the U.S.A. It is a beautiful country and we have eaten the coolest foods ever like Texas B.B.Q, southern fried chicken, tacos, and lots more. And the weather in the south is terrific. Lowlights are probably just missing my family. It's the worst.
Who does the songwriting? Do you split the duties when it comes to arranging and writing individual parts for live shows?
I do a hunk of the songwriting at the early stages and then it goes through the jam space with everyone. The live shows are pretty close to the record but we like to try new stuff every show and if it works, we keep it.
Favourite song to play live at the moment?
Anything new!!! We are even playing a kids song right now that we wrote just because it's so fun trying out new songs. In terms of songs from the record, I always like playing 'Ride On'. It's my fav I think.
Do you incorporate any covers in your current live set?
We do. We have a song from a band called Royal city called 'I am a raw youth'. It's a great track. Also some modest mouse, ryan adams, and corin raymond. Cover songs are tricky for us because I'm terrible at remembering lyrics. I know like the first verse of a million songs. But not make second verses.
Any rules in the tour van? Minimum of 3 days without a shower? Does the tour vehicle have a name?
Lots of rules. It's like being at summer camp. But with less canoe's and campfires. Our old van was called Storm trooper, but she tragically died of complications in surgery. This new van is nameless. We just never got over ol' stormy.
Do you find it's easier to write a happy or sad song?
Sad. I don't think I've ever written a happy song. This concept is foreign to me. Like riding a horse in rubber boots.
Is your live set mostly upbeat these days or a mix of slow tunes? 
Depends on the day. Depends on the party levelness. I love slower shows at theatre's. Less sweaty.
Any plans for the next recording? Are you think full length or EP?
Lots of plans. Probably a full length, But a short one. Albums are too long I think. Nothing decided yet though. Mostly writing and thinking about it right now. Listening to a lot of Guns 'n Roses for inspiration.
With 6 members, how do you juggle touring with personal life such as kids and dayjobs. With things going well for you guys, do you all still have dayjobs?
We have quit our day jobs for the most part. We're not driving around in Lamborghini's wearing gold teeth yet, but we're making do. Kids are the hardest part. We miss our kids like crazy and I have a lot of dad guilt when I'm on the road. Let's just say I make a lot of toy store stops on the road.
What do you suggest for up and coming bands that want to build a team around them? (management, label etc)
Ambition is everything. Perfection is divine.
If you had to collaborate with one Toronto band, who would it be and why?
Probably Wooden Sky. I'd ask Gavin to sing one of my songs. I like his voice.
You have a summer jam you've been listening to?
Eagles of Death Metal – San Bernadino.
Top 3 artists that have inspired you in your life?
Andre the Giant, Ryan Adams, and Darryl from The Strumbellas.
Favourite place to eat in Toronto? Korean spot called Kai Chi on Bloor st.
Favourite thing about the city? A wide array of food choices at a walk away.
Favourite hang out in T.O? The Cameron House.
Canada has a great music scene, but how important do you think it is to break into the US market as a band? Is this your first time on a US tour?
I guess it depends on what the band wants. It's a super tough market but it makes a lot of sense for us Canadians to go down there because it's so close. And it's awesome. Ain't nothing like New York City. Or north Idaho.
Random rapid fire:
Sneaky Dees nachos, Hey Meatball spaghetti or a superfood salad from Fresh? Nachos.
Queen or College St? College.
Trinity Bellwoods or Highpark? Bellwoods.
Early bird or night owl? On the road: night owl. At home: early bird.
Road or studio? Studio.
What do you think of physical vs digital album sales? Do you have a preference? Any thoughts for the future?
Digital shalt take over.
What's next for the The Strumbellas?
Champagne wishes and Caviar Dreams. Or something like that.
The Strumbellas perform November 28 at Phoenix Theatre and I'd recommend you see this show.
Check out their website.