The world's largest rubber duck that has been the centre of a political debate has arrived in Toronto, taking refuge at HTO Park along the water's edge.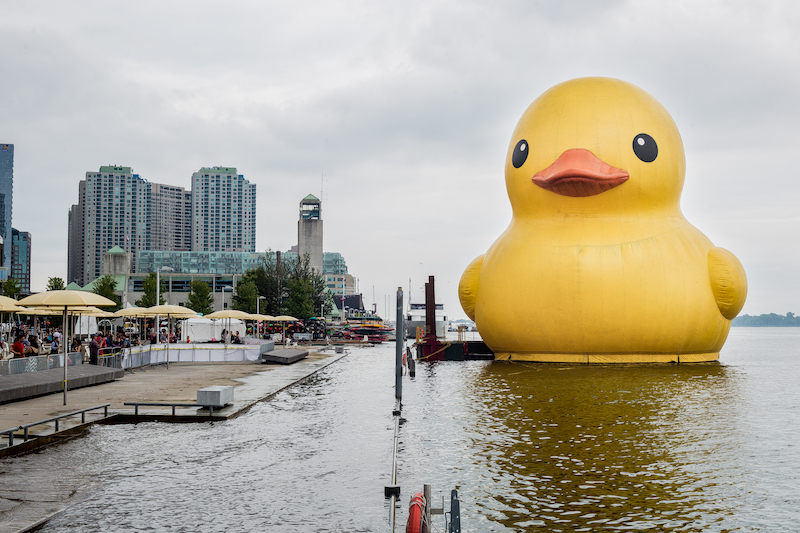 The duck is here as an attraction for the Redpath Waterfront Festival which received a $200,000 grant from the government for the running of the event. This was only part of the festival's funds that are needed to put on the festival that features much more than a rubber duck.
The debate began when one side believed the money to be a waste of public funds, thinking that the duck was directly funded by the Ontario government. Only a portion of the government funds will actually go to the hiring of the duck, with other parts of the funding going to hire staff and fund other elements of the festival. This is also not the first year the festival had received the grant.
Other parts of the festival include:
The Royal Canadian Navy (RCN) is returning to the festival with a 440 ft Naval Frigate,  and a host of interactive on-land activities! Visitors are invited to jump aboard and tour the deck of Her Majesty's Canadian Ship (HMCS) Toronto.
The Waterfront Artisan Market brings together a carefully curated mix of 75 artisans, crafters, chefs and bakers.
Join Rhythm of the Nation for an interactive dance and musical experience featuring DJ Creeasian and hosted by bilingual actor Pierre Trudel.
A 45-minute show comprised of Lumberjack events including logrolling, tree climbing, chainsaw carving & axe throwing
The 61 foot tall, 89 feet long duck weighing in at 30,000 pounds is the main attraction, and in part, the debate had much to do with that. I believe that the advertising dollars earned around the debate and the popularity of the coverage in general, is enough to pay the government back the money. This is a huge attraction whether it interests you or it does not.
Long live the duck!
Visit the Redpath Waterfront Festival website for full schedule.