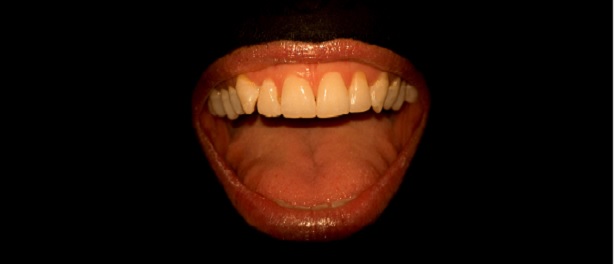 I shared the earth with Samuel Beckett for little under a year. Times have changed since he met his end in late 1989, but the human condition he depicts in his work is still very much relevant.
This particular engagement of Beckett's trilogy, Not I/Footfalls/Rockaby, originated back in my hometown at London's Royal Court Theatre. After performances in Perth, Paris, New York and Hong Kong, the production finally found me in Toronto at the Canadian Stage's Berkley Theatre.
It could be that the show has caught me at a particularly lonely moment in a new city, but as I sat in the dark for 59 minutes I was flooded with Beckett's bitter sense of loneliness, the tie that binds these three pieces.
Let's discuss this darkness. Have you sat in complete pitch black recently? Probably not – modern life doesn't really accommodate it. James Farncombe's lack of light perhaps does more than his use of it. I for one was actually a touch panicked by the total lack of vision, save from a contorting pink tongue spouting a stream of barely comprehensible consciousness.
Beautifully rambled by Lisa Dwan, Not I is the first of the three pieces. Darkness weirdly doesn't allow for any distinguishing of time; this "short" piece could have lasted seconds or hours. I don't know. What I do know was that the words were as disturbing as the blackness of the auditorium as we learned about an abandoned and presumably abused old mute who, when finally able to talk, spits and gurgles out a lifetime of thoughts and grievances.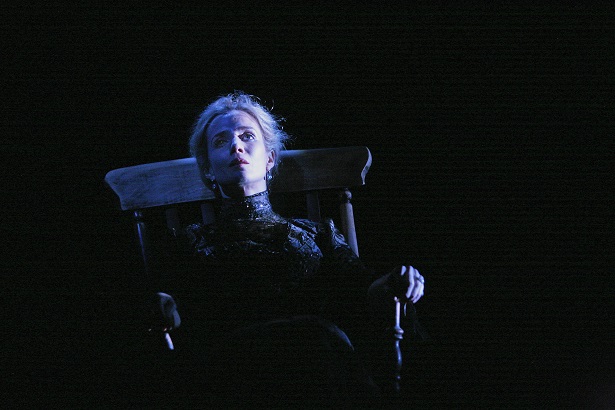 Next up in Footfalls, Dwan is transformed into the middle aged May, whose sick mother did her the disservice of having her so late in life that she was rendered a carer before she had the chance to live. So desperate to hear the "Footfalls" for herself, is this a mistake she would repeat?
I could talk for hours about the brilliance of Beckett's symbolic writing, how May Winter is a perfect juxtaposition and how her seeming schizophrenia speaks volumes, but instead I'll refer you to Dwan's brilliant and oddly balletic performance. Literally looking like a cross between a ghost and Miss Haversham, Dwan manages to pinpoint what it is to be lonely.
Perfectly rounding off the evening, we have Rockaby, which brings the production further into the realms of the ghostlike. Dwan is now an ageing old woman who does nothing with her time but sit, stare and rock. It is the rocking that is oddly jarring; in a production with so little movement, the thrust of a rocking chair adds a contrasting layer of rhythm. Yes, Beckett takes it to the point of tedium with this piece but this is to reflect the monotony of old age and in my opinion this is to great effect. Nobody wants it to be over more than the old lady, rocking her life away.
I loved this production. I am prepared to rave about it.  I am prepared to cry about it. That said, I need to mention that my +1 was much less of a fan. I am not suggesting this show is one for a mainstream audience. However if you are a fan of great literary works in theatre and a subtle but emotionally loaded performance, then this production is NOT to be missed.
★★★★★
Not I/ Footfalls/ Rockaby runs at Canadian Stage's Berkley Theatre until the 1st November 2015.
Reviewed by Rebecca Felgate.