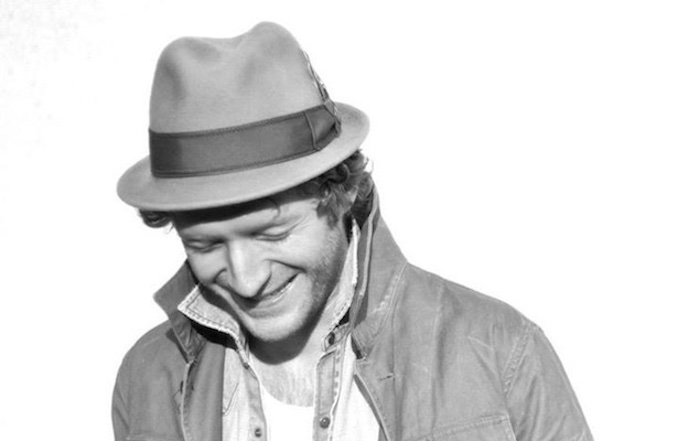 Local singer/songwriter Gavin Slate has been working hard with his brand of swoony songs. His recent LP, Don't Be Scared At All, was self-produced by his own hands (or ears to be more accurate) and is comprised of honest and catchy songs.
Slate previously has had some co-writes under his belt such as the top ten single, "Here Comes the Thunder" for Juno-nominated artist, Tim Hicks. Slate's song "Failed Again" was also featured on Dutch Idol winner Nikki Kerkhof's album which debuted at #9 on iTunes ahead of Kanye West.
Slate has most recently released a video for "Hold You Close," the first song in a series of singles that he'll be releasing over the next year. The video was filmed in Toronto and features performances from actors Sarah Booth and Ryan Kotack who portray two lovers battling with heroin addiction.
I had the chance to chat with Gavin about his musical endeavours and all the things he loves about Toronto.
Congrats on the new album. Did you record it yourself? Tell us about the process.
Thanks my man. Yeah, I actually recorded and produced the whole record on my own (with the exception of 'Can't Say it Yet' which was recorded at Boxcar Sound with my buddy Ben Somer in Hamilton). It was my first real experience doing a full record on my own, it can definitely be frustrating at times trying to pick takes and sign off on mixes when you're the only one making decisions. I just knew that this was going to be a really intimate/acoustic record so I felt that I wanted to keep the production process the same. I hand picked a bunch of custom, vintage, analog recording gear as well as microphones for tracking just to give it a unique vibe. Many of the tunes I tracked live off the floor without a click track just to get the right feel. My buddy Scott Lake mixed and mastered the record, he's mixed everything from Maestro to Cancer Bats to Leahy, he also has an array of vintage analog gear which is why I thought he'd be suitable for the project.
Were the songs on the new album a collection you've written over the years or were they created over the past little while? 
They're actually a mix of both. I've had some of these songs written for quite some time, but I had wanted to wait until I had enough material that suited the intimate vibe that I was going for on this record. Probably about half the tracks were written within the last year.
Do you always perform solo or with a band. What do you prefer?
I have performed both ways. For the most part though, I'd say I perform solo these days. That was on of the reasons I wanted to make this record, I wanted to put something out that felt just like the live show. My last EP had more of a band feel and as an indie artist, I just wasn't able to play with a band every single night, so I felt the EP and the live show were slightly disjointed. With 'Don't Be Scared at All' I just wanted it to reflect the live vibe as much as possible so fans could literally just take the live show home with them.
How long have you been playing music? What keeps the fire going?
I started singing crazy early, I don't remember exactly when, but pretty much my whole life. I grew up with 3 sisters, so with that many girls around there was basically singing around the house all the time. I think I took up guitar when I as about 12 or so, I'm not nearly as good as I should be haha. Not many people know this, but I can actually play clarinet as well. Haven't found much use for that one though. For me, as cliche as it sounds, it's just in my veins. I don't know anything else that I would want to do. It's a tough gig at times with a lot of ups and downs, but those special moments make it all worthwhile.
Do you incorporate any covers in your current live set?
I don't know exactly what it is, but I never really play much in the way of covers anymore. I just don't really enjoy covers all that much. I don't even like watching other people play covers. I guess I find that they don't let me go through the same emotions that I do when I'm playing a song I've written about something real in my life, or someone else life. That's really the main reason I play music in the first place. I'm probably sounding like some snooty 'I write all my own songs' musician right now…
What's your proudest moment on and offstage?
Getting invited by the Toronto Blue Jays as a musical guest to sit in those green couches that used to be on the field. That was badass. Buck Martinez gave me the shoutout too!
What's your favourite part about co-writing and/or collaborating?
I love just getting someone else perspective on a song. The right co-writer can bring so much to the table. You usually get a song that's true to what you do yourself, but has a special something that you wouldn't necessarily be able to get while writing on your own. Every writer has their own personality traits and it's fun to get to tap into that.
What's your favourite song you've ever written?
I think probably 'Friends' is my personal favourite.
What do you do when you're not doing anything musical?
I'm actually a pretty huge sports dude, both playing and watching. I'm a huge baseball, hockey, basketball fan. I watch a ton of games and follow the Toronto teams religiously. I also play a lot of baseball still and I've recently (because I'm an old man at heart) taken up squash.
Top 3 artists that have inspired you?
1 Travis
2 Buddy Holly
3 Bob Dylan
Check out Gavin's new video for "Hold You Close"
Favourite place to eat in Toronto?
California Sandwiches (Claremont location ONLY)
What do you think of physical vs digital album sales? Do you have a preference? Are CD's done?
I always prefer something tangible, so for me, I'm always going to enjoy a CD. I totally still think CDs are on the way out though, just because the younger generation has no attachment to them as they've grown up in the digital world. They don't have that memory of browsing a used record store with their friends, or lining up to get a copy of a new release. That's what I always go back to.
What is one thing people people don't know about you that they wouldn't expect?
A lot of people don't know that I'm actually born of Metis decent! I actually didn't find out until my early twenties!
Rapid fire:
Sneaky Dees nachos, Hey Meatball spaghetti or a superfood salad from Fresh?
Sneaks, Kings Crown
Queen or College St?
Tough one… Queen St.
Trinity Bellwoods or Highpark?
Bellwoods
EP or LP?
EP
Early bird or night owl?
Night owl
Road or studio?
Both.
What's next for Gavin Slate?
I'm actually really excited to be a part of this years Tin Pan South festival in Nashville! I'm also working on some new material that I'll be releasing as singles over the next little bit. We just launched a brand new video on my YouTube channel for a song called 'Hold You Close'.
Keep up to date on Gavin, visit his website.