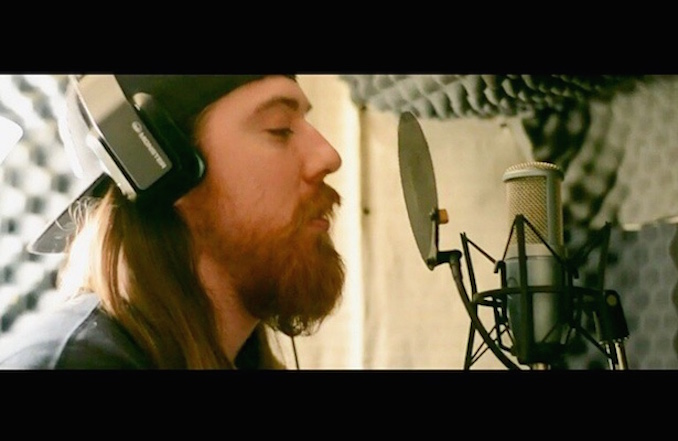 How do you make music dreams come true? Ask any artist and they'll tell you that you need patience, perseverance, and well, money helps. Recently, Jack Daniel's in partnership with Live Nation, embarked on a search to help make music dreams come true for not only musicians but also for music lovers and even those who could use a little cash injection to help pay for lessons.
Musicians had the opportunity to submit to the Jack Daniel's Supporting Acts (JDSA) program and introduce themselves to the online viewing public as part of the submission process.  More than 65 videos were shared on the JDSupportingAct.com microsite.  In the final three weeks of the campaign, the public was able to vote for their Fan Choice Award.
On Friday, March 27, the winner was announced as Jaff Daniels — an emcee from Toronto.  He was awarded $7K that will go towards studio time, production costs, in-house equipment upgrades and travel/accommodations for an upcoming college campus tour.
We had a chance to chat with him about what this all means to him!
Congrats! This is a pretty cool award since the Fan Choice Award is from the public. So, who do you want thank and what should your growing fan base look forward to? 
This is an incredible opportunity for all independent artists and fans of music. Being an emcee and long time JD's enthusiast I felt this contest was something that was tailor made for me. Then to win the Fan's Choice round, it couldn't be more fitting in the sense that everything I do with my music and the MEGAPOWERS movement is always about the people. So first and foremost I want to thank everyone that took the time to vote and check out the video. My family, friends, fellow artists, all my extended networks, anyone I've ever built with, I appreciate the continued support. I also want to thank my closest co-creators, my team, THE MEGAPOWERS. Rez Raida, Scott Ramirez, Don Know, Colonel Clockwork, Mike Mystic, Othello, Just Unlimited, ELMNT and all our affiliates. And one more thanks to the UNLKLY/FAROUT camp, Tray Starks, Hydeff & Co. As for what people can look forward to in the immediate future, I've got a big show coming up at Lee's Palace: MEGAMANIA 2 on Friday, April 10th. The show is our annual marquee event and will feature performances by myself and THE MEGAPOWERS as well as some special guests. I also have a few new projects and an upcoming tour in the works.
Let's talk about the music scene here. What's your experience so far?
In recent years, you're seeing more attention being paid to what's going on up north, especially here in Toronto. As far as my experience I've been at it for a while. I've put out mixtapes, been performing shows, checking out other people's events, showing that support. I just continue to elevate. Keep putting out projects, videos, more shows, networking, constantly building and continuing to make myself seen and heard.
What fuels you creatively?
What fuels me creatively? I've always been into rhyming. Taking words, multi syllables, and phrases then flipping them to say something in a unique way. Constantly challenging myself to think outside the box. More recently I'd say it's my team. I surround myself with some crazy talented individuals. It's inspiring and we're always pushing ourselves to be the greatest. Just working in that type of environment where the creativity reciprocates. A little Wrestling, Sports, Trailer Park Boys, and Eastbound & Down never hurt either.
How did you hear about this contest?
My brother Scott Ramirez told me about the contest. He had done some work with Coalition Music. He still keeps in contact with his peoples there and one of them sent him an email about it. Naturally with the whole Jaff Daniels/Jack Daniel's thing he threw me the alley-oop. It was the perfect contest for me to showcase my talents.
You had mentioned in your video that if you had won, the award money would help off-set costs of production and studio time. Tell us more?
Artist costs without any sponsorship or financial backing is steep. You work out of pocket and more often than not you take the hit. In studio time alone you can rack up 100's if not 1000's of dollars. Working with producers it's the same thing for beats, engineering, mixing and mastering etc. There are equipment costs, merchandise, organizing/promoting a live show. It all adds up, so when an opportunity like this knocks you have to jump on it.
Name your three wishes.
Easy. First I wish to have at least one professional wrestling match in my lifetime. Secondly, if nothing else I want to travel the world and be a global ambassador for all things MEGA. Thirdly, I just want to be heard. To be able to tell my story and connect with the people. Outlets like this contest and this interview are building blocks to getting me there, so thank you.
You can check out Jaff Daniel's Soundcloud (by the way, he says he's got no relation to the brand)