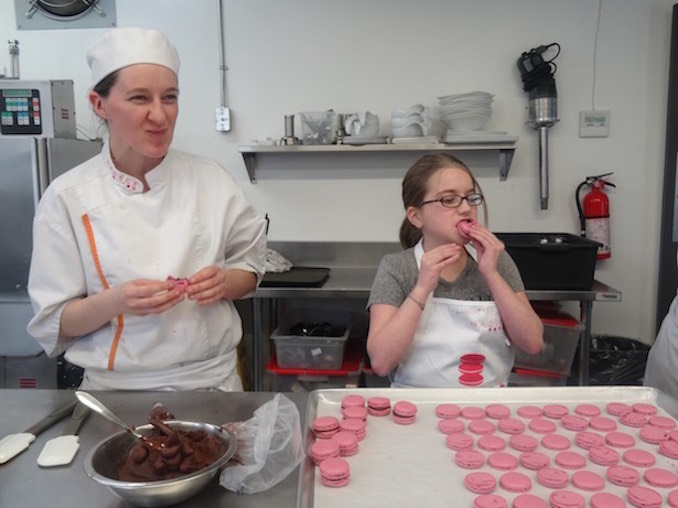 Last week, Torontonians adopted the intriguing je-ne-sais-quoi attitude of the French and indulge in Macaron Day or Jour Du Macaron.  Toronto first introduced Macaron Day 5 years ago and it has since been recognized as our favourite excuse to treat ourselves to the Parisian delicacy.
A crowd favourite location for this special day is Nadège Patisserie. Nadège offers five different locations across Toronto, along with an endless selection of macarons and various other pastries. Some particularly original flavours include Bacon Maple, Grapefuit-Cayenne Chilli, Olive Huile, and Mojito.
Nadège Patisserie once again partnered with SickKids Foundation and kindly donated 50% of all in-store macaron purchases towards those treated at SickKids. Chef Nadège Nourian warmly hosted a SickKids Foundation ambassador, Natalie, and her family to experience the macaron creation process in the kitchen of the Nadège Queen West location.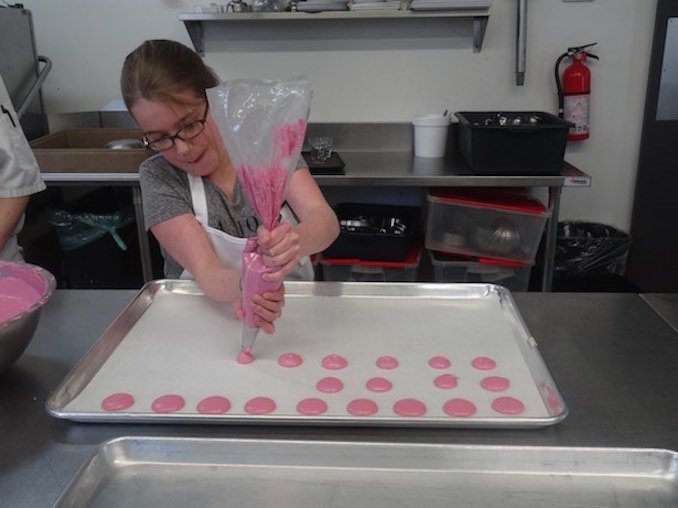 Along with Natalie, we had the pleasure of attending the Queen West location on Macaron Day to capture the beautiful moments held for a great cause.
We watched the talented ambassador learn how to bake macarons for her family and friends and practice her passion for baking. Chef Nadège worked alongside Natalie while baking Blackberry Chocolate macarons. The two naturals laughed and enjoyed themselves while expressing their enthusiasm for gourmet baking.
The open-kitchen concept on the 'Jour Du Macaron' is a great concept to demonstrate the friendly nature offered at Nadège. The staff welcomes everyone from across the city with a heartening smile and offers a wide variety depending on your specific taste. The positive culture offered at Nadège makes it a delightful place to visit any day of the year.
For more information on Nadège and to get your hands on some delectable goodies, go here. Macaron Day may be over, but who's to judge?
Article by Nuria Madrenas