Exciting things are happening at this busy intersection and the latest opening is Mark McEwan's much loved food lover's emporium, McEwan Foods at 1 Bloor Street East.
With locations already established at Shops at Don Mills and down in the PATH, McEwan's is worth exploring if you haven't already. This new location is conveniently located at the corner and with easy indoor access to the main Yonge and Bloor lines. It's also super easy for condo dwellers above who can just saunter down in their pyjamas. We are jealous.
We would take 10 minute drive to Shops at Don Mills where we could pick up our too-lazy-to-cook-but-need-something-yummy dinner. And McEwan's Chili for football Sunday FTW! It's also where you can get some unique items. No word of a lie… we were curious about baking with Cricket Flour. They had it.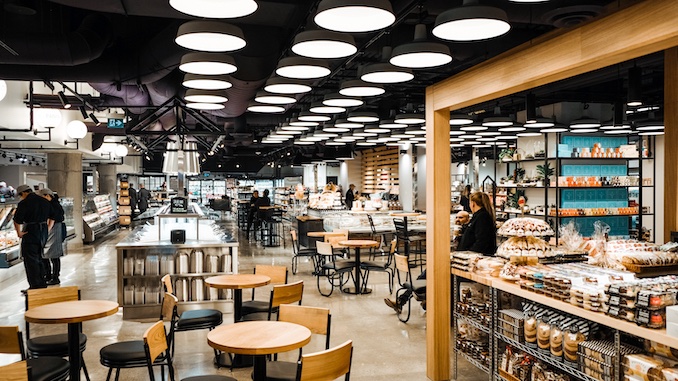 If you haven't been to a McEwan's then you're in for a treat. It's two-fold — a freshly prepared food stations with favourite recipes from across McEwan's restaurants (Bymark, Fabbricca, Diwan, One) for eat-in or take-out and it's also a well-curated grocery store.
Starting with hot and cold food offerings sold by unit or weight. Dishes are globally represented and many recipes are from Mark McEwan's restaurants in the city.
The day we were there, we spotted Italian pastas as well as Indian food dishes. We happily devoured on the spot (and took home) pirogies, gyoza, Jamaican patties, Chilean Empanadas.   It also has meal offerings complete with mains and sides. Rotisserie chicken, with varying spices take a popular go-to to the next level like Korean BBQ chicken. The Carving Station offered a succulent house roasted porchetta served with crispy chicarron . What we love is you can just ask them to carve enough for one person and not worry about over indulging yourself.  Not to be missed are their signature Fabbricca pizzas  by the slice and all made in house. Duck Confit pizza is a personal favourite of ours!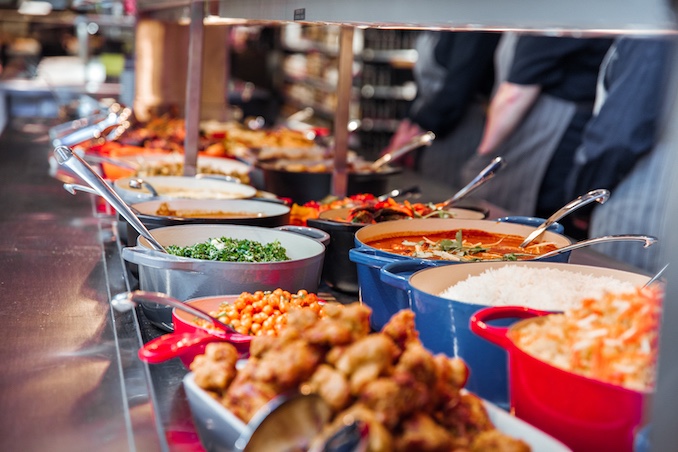 The fresh salad bar is there with an excellent selection, of course, but there's an antipasto bar with a variety of olives and  marinated vegetables perfect for loading up to bring to your next cocktail party.
For those who like still like to cook, McEwan's on-site butcher has dry aged beef that can be masterfully cut on request as well as other fresh meats available. You'll also find marinated items ready to cook that will make you look like a rockstar chef in the kitchen. Seafood is certified sustainable with Ocean Wise.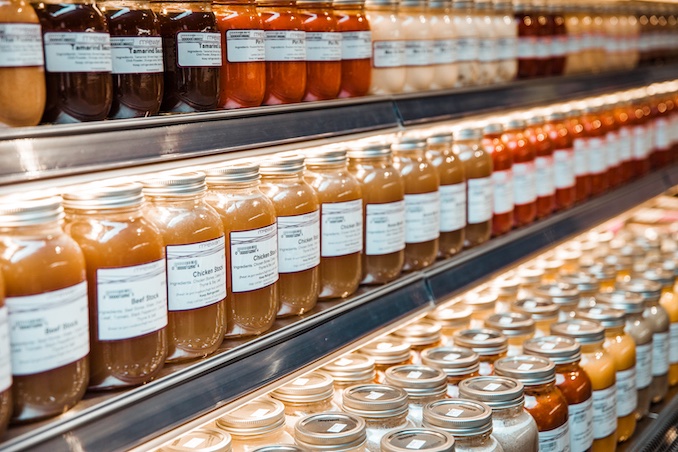 The grocery store is a well-curated selection of fine foods. We found McEwan's own line of foods including soups, marinades, sauces, and dips  (McEwan's Mezes Roasted Eggplant Dip is seriously addictive and had us running back for more) amongst familiar Canadian and international brand offerings. It's  definitely a treasure trove going through the aisles and discovering what's there. We might have loaded up on savoury  Torros chips from Barcelona.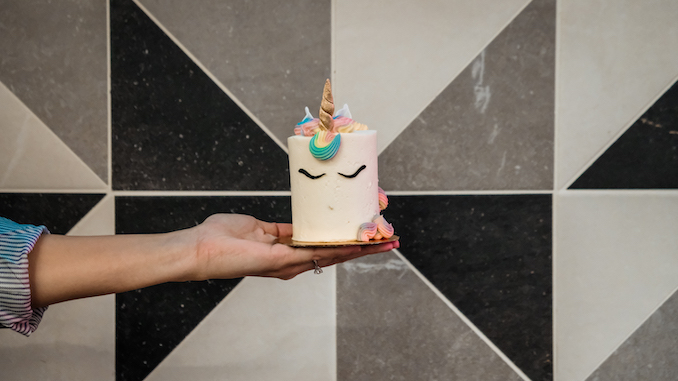 McEwan is noticeably a big supporter the talented local food community. Step into the fresh baked goods section and you'll find Blackbird Breads, Robyn's Cookies, Le Dolci cakes (wee unicorn cakes for two are adorable) and Delysees pastries — check out the sweet cloud-shaped cake. The cheese and deli counter is condensed with some great offerings as they've partnered with Cheese Boutique here. Stop by their Lavazza espresso bar for a better cuppa. They even serve Bullet Coffee here.
McEwan at Yonge & Bloor opens daily starting at 7:30 am.