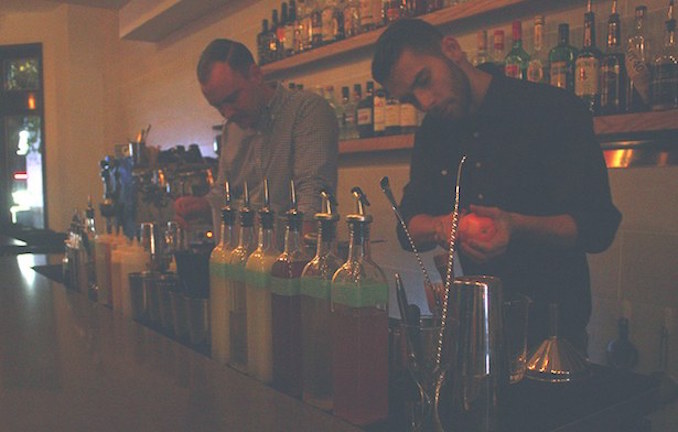 Richmond Street West just got injected with a bit of fun-loving flare, thanks to chef Ariel Coplan. Amid the quick and easy luncheon options including pizza, pies and shawarma – Chef Coplan is shaking things up in the Garment District and for the better.
The beautiful three-storey old Victorian home has been converted into different sub-sections of the restaurant complete with a minimalist vibe including wood panels, exposed brick walls and soft lights.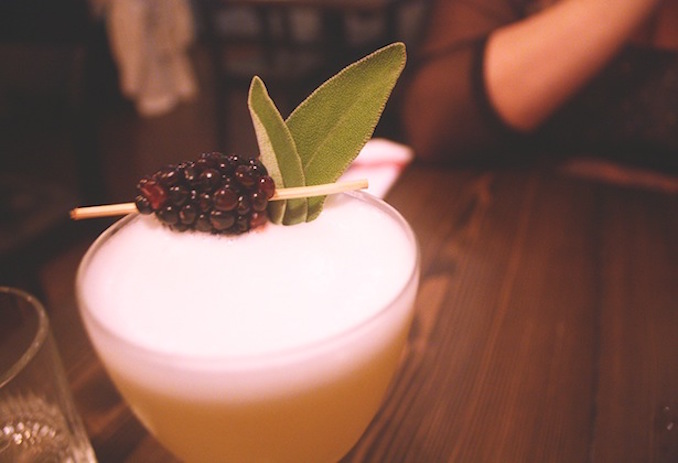 On the first floor, guests are invited to partake in the cocktail menu (recommended sips: The Art Vandelay, a gin and tonic topped with grapefruit bitters or the Cadillac Chrome, a tequila based drink with pineapple and salted Campari – each $13) or order off the inventive snack bar menu.
On the second level, guests can partake in the finer side of Thoroughbred whilst keeping an eye on the kitchen. A chef's table is also available for special events and large family-style meals, such as their most recent fish dinner held with Chef Dennis Tay (DaiLo)
The menu offers lots of standouts in the snack bar and vegetarian department. For example, the Kung Pao Cauliflower ($9 – steamed and flash fried) served with chili and cashews is something I'm still having dreams about. Beautiful flavours with the light crispness bring together a wonderfully playful dish. Next up was the Brussels Sprouts Caesar Salad ($9) was a great use of seasonal vegetables. The dish topped off with simple 5-minute cooked runny egg married the flavours of salty and sweet perfectly.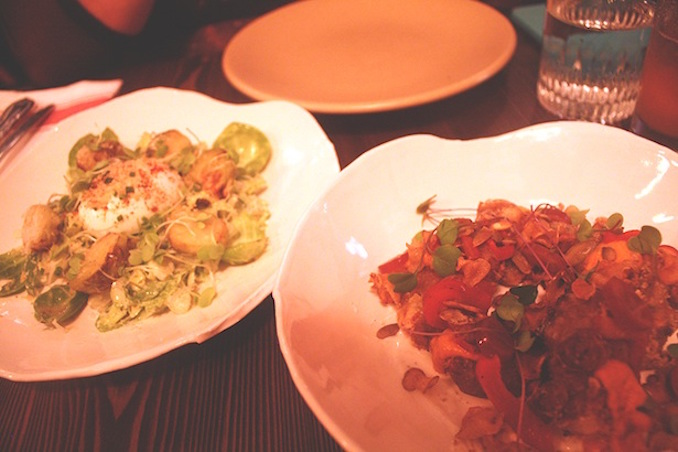 But how do the mains stack up? Having had the opportunity to visit Thoroughbred on two separate occasions, I would have to say some kinks still need to be worked out. Both instances I treated myself to the seasonal lake fish dish ($20, served with seasonal sides). The first time, the fish was perfectly executed – light, moist and maintained its delicate nature. However on my second visit, the fish was overcooked and rubbery which was highly disappointing.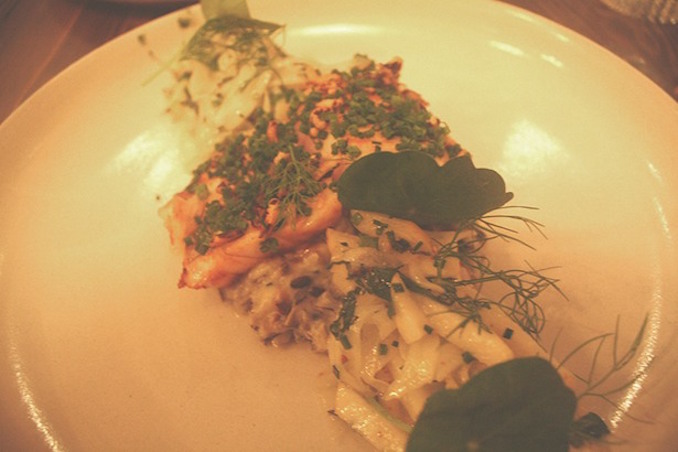 The lamb dish I ordered on my second visit was a slam-dunk – medium-rare and tender with a wonderful array of sides. If anything, I would say the portion size was small (in relation to everything else) but still wonderful.
So overall, Thoroughbred Food and Drink looks like they have some interesting and thoughtful ideas coming from the kitchen – some just need a bit more refinement than others. If you're looking for a casual but fun luncheon spot downtown or if you want a place to grab a delicious bite to eat on a first date – check it out.
Photos by Siobhan Ozege