Pouring in from a cold, wintery night, I found myself beautifully bewildered at the bottom of a sweeping staircase in Toronto's great hall. Thrusted into my hands were a small bottle, a wax sealed invitation and a black mask. We took it from there.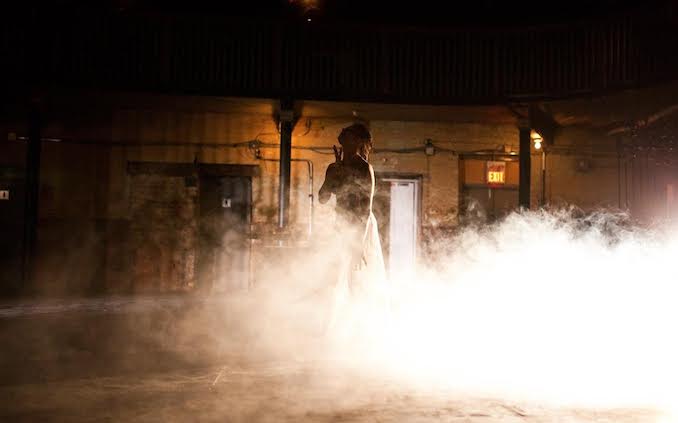 I should preface this review by saying that I have seen Sleep No More, the Punchdrunk production that The Eve of St. George was inspired by, three times and this is not the same, but it is a damn good start.
Immersed into the dark twisted world of Count Dracula and his associates, audience members are free to roam over four spaces and floors in the innerbelly of the building. Like Sleep No More, The Eve of St. George is an immersive experience and a choose your own adventure style performance, meaning you can follow different characters for different elements of the story. One qualm; the performance was repeated twice over the course of the evening, meaning I didn't miss much, which is great, although I saw a few pieces twice and it somewhat spoiled the impulsive gratification of following one particular story. The repetition really wasn't necessary at all.
There was some incredible talent on display from the Transcen|Dance Project, a contemporary dance troupe based in the city. The company moved with elegance as they carried out Julia Cratchley's choreography; I especially enjoyed the fabric dance from the Brides of Dracula.
Interaction is the aim of the game in an immersive show, so feel free to closely inspect set pieces and props. Don't be surprised if an actor whispers something in your ear, too…just go with it!
The Great Hall is the perfect space for a gothic retelling of Bram Stoker's 1897 horror, and honestly, it is a shame that The Eve of St. George didn't have a longer run. Also a bonus, audience members can walk around with a drink, if they so wish and nothing compliments beautiful dark twisted fantasies like a glass of red!
I could see so many people around me excited to be interacting with theatre, which was truly heartening, as this experience is still pretty new to Toronto. Sure, The Eve of St. George doesn't quite have the Sleep No More budget to fill the somewhat epic space, it is a very, very good start.
The Eve of St. George was a quick flash in the Toronto theatre pan, however I suspect it will be back. If you want to know more about Transcen|Dance's work, check out their website here.