The food scene in Toronto 20 years ago was on the cusp of something special. Exciting things were happening in the fine dining scene. Steak houses were safe bets but then restauranteurs like Henry Wu began to bring something more exciting to the table. Always a champion for thinking outside the box he was a magnet for chefs who weren't afraid to explore and redefine the dining experience. Many chefs were part of the portfolio including Neal Noble, Bruno Feldseisen, Ned Bell, Claudio Aprile, Patrick Lin, Thomas Haas, Xavier Deshayes, and Vincent Leung to name a few. Wu encouraged creativity in the kitchen and this was celebrated recently at a one-night dinner event at Copetin to commemorate Sen5es 20th anniversary. It was an unforgettable meal featuring some of the most iconic dishes.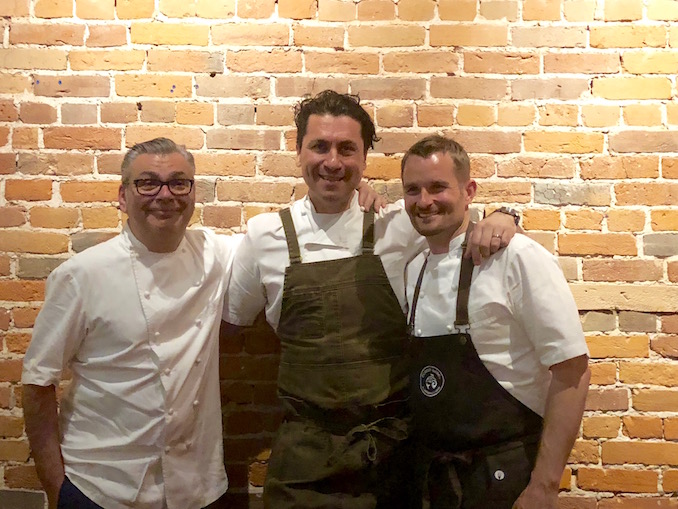 "It was an experiment to what was possible and impossible, said Wu about the vision for Sen5es.  "We always tried to do what was impossible. It was about walking right up to the edge and not holding back. That was the spirit of what we're about."
Chef Aprile mentioned that 20 years ago at Sen5es on Bloor Street this had a retail area that was very avant garde at that time for Toronto. It was a visionary brand.  "It was inspirational and innovative," said Chef Aprile. "It was also very risky. This is what he wanted to do and he had  a passion for it. I still believe that it's a very visionary brand. When Henry Wu brought it to Canada it was ahead of it's time in many ways."
Wu and Aprile reconnected last year and discussed doing something really innovative. Wu told him Toronto was ready for something different. That was the motivation for their latest restaurant Copetin that seamlessly offers several dining experiences in one restaurant. Dine a the casual patio pre-game or show, drinks & appetizers at the bar after work, enjoy fine dining, and experience the Kitchen Table where the chefs, including Chef Aprile, gets super creative.
What also gives Wu real joy  is how many of the chefs, and leaders in his organization, are now the elders of the industry taking on responsibilities that matter and not just here in Toronto. They have a whole group in Vancouver as well. Wu's vision was never about just about one restaurant or one place. They've been able to contribute to the food and restaurant industry in Canada as a whole.
The three alumni chefs that were cooking at this one-night only event were Chef Claudio Aprile (Executive Chef and Owner of Copetin, Judge of CTVs MasterChef Canada) , Chef Bruno Feldeisen (Judge of CBC's The Great Canadian Bake Show, Executive Chef at The Semiahnoo Resort), and Chef Ned Bell (Ocean Wise Executive Chef and Ocean Wise Ambassador) . The six-course meal reflected on how far the industry has come along over the past 20 years but Wu pointed out it was not just about Sen5es, but about the industry in Canada and everywhere.
Chef Ned Bell's culinary life began in 1995 when he was at Lumiere in Vancouver with Chef Rob Feenie. At the time, it was considered the best restaurant in Vancouver. In 1997, the 23 years old  moved to Toronto. "I was a good cook, but I wasn't yet a chef," said Bell. He recalls the day when he received the call to invite him to join the team. "At that time, an article had just come about about me and 'how to be a hot young chef' in the Globe and Mail." Bell mentioned that When you join an organization like this you can't help but feel intimated because of the already incredible line up of chefs. He was the one that brought Bell to cook in New York at the James Beard House. "For a young chef to have those kind of opportunities, the platform, the wobbly soapbox kind to find your feet is a gift. I didn't appreciate at the time but I really appreciate it now. I'm one of the lucky ones. I get to cook everyday of my life and already love what I do but about a decade ago I also fell in love with the ocean."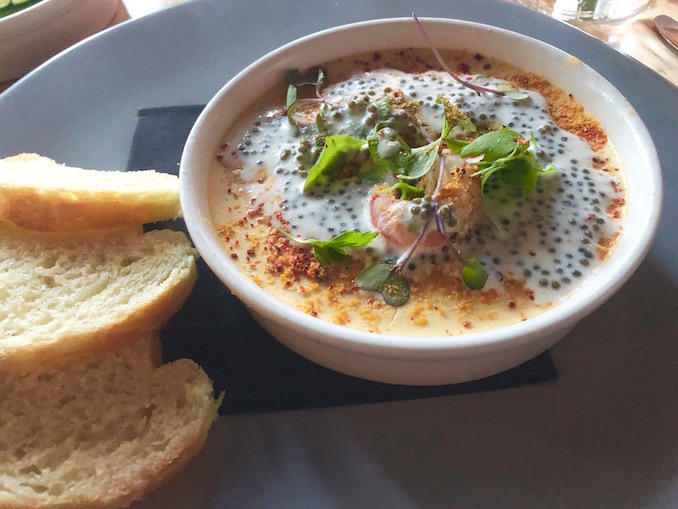 Chef Bell was raised in Victoria and did his apprenticeship at Le Crocodile before Lumiere. Bell's journey to Toronto brought a lot of the seafood with him that we now enjoy including Sable Fish, Albacore Tuna. They weren't on the menu at the time in Toronto. What was on the menu here was a lot of Chilean Sea Bass – a fish that was so popular that it lead to overfishing of the species. Chef Bell turned his efforts to include being a long-time sustainable seafood ambassador for Ocean Wise.   Most importantly  for him now is focusing and championing the health of oceans. "There's only five oceans in the world and we're surrounded by three of them," said Bell. "The ocean gives us everything we need to grow anything."
When Chef Bell spoke about this event he mentioned that when they determined which dish would be recreated for this dinner, it hit him hard. Chilean Sea Bass was iconic and back then he was part of the unsustainable seafood sector. For the event he used Wild Pacific Halibut.  "The journey we go on with food is an extraordinary one. We can all remember what we use to cook like back then and now see what we're able to celebrate."
Congrats! And cheers to many more years to come!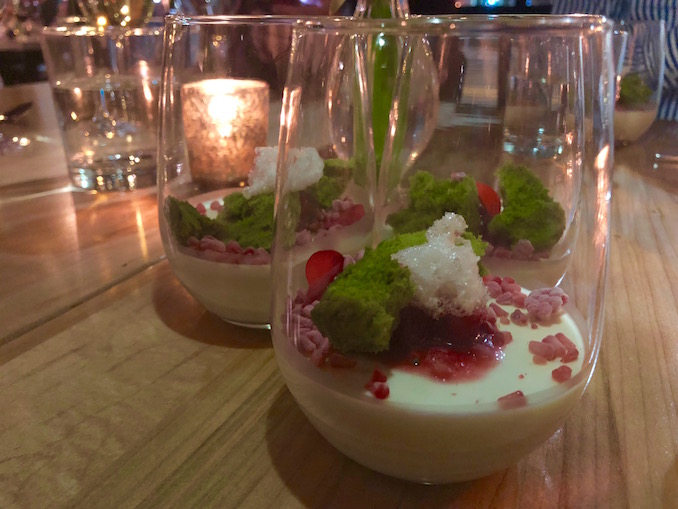 The 20th anniversary dinner for Sen5es featured highlights of the most memorable dishes by the chefs who created them over the years. If you're interested, Chef Claudio Aprile currently has two of his  iconic dishes on the menu at  Copetin Restaurant and Bar (107 King Street East) until May 5th.