The Toronto International Film Festival (TIFF) is many things to many people. It's a time for film buffs be one of the first in the world to see a film before release dates. It's where film industry types negotiate distribution deals. It's where the creative heads and marketing execs gauge initial audience reactions. There's all the media reporting on first reactions, banking their reviews and photo hounds grabbing all celebrity sightings on the red carpets and on our streets! And of course, those of us who just love being part of the Festival as it transforms the downtown core into a big celebration of entertainment. We know the TIFF experience is different for everyone.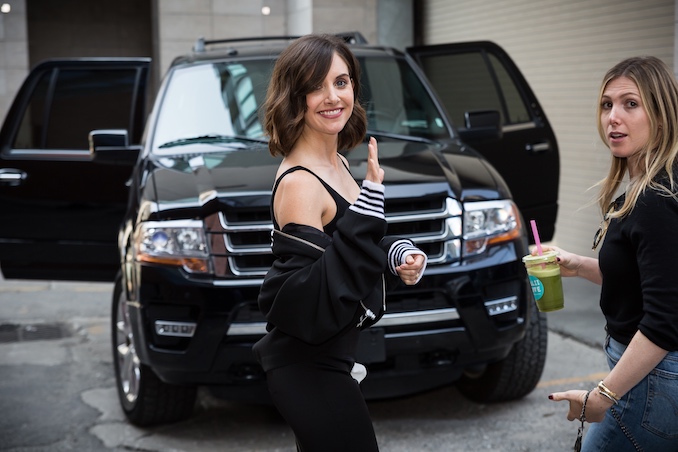 Over the past few years, we've often been asked about where to eat during TIFF. Whether you're a die-hard film buff needing something fast in between screenings or excited over the idea of a possible celebrity sighting, we've got you covered! You know, for that Instagram pic of the day — Oh, I just happened to be at … grabbing my coffee and ran into Ryan Gosling, NBD – uh, yes, big deal! Here are a few places we suggest you make a bee line for during the crazy days (and nights) of TIFF …
FOR MOVIE BUFFS: You're the true fan of TIFF for years and you've already made your list of films to see. You're taking days off and well prepared for line ups (you know the drill). You may not necessarily care about the first screening or the celebrities. You're all about seeing as many films as you can. Thank you.
Tractor Healthy Fine Foods (151 Yonge Street, near the Elgin & Winter Garden theatres) a casual fast and healthy outpost of the wildly popular BC eatery recently opened. Find fresh salad bowls and filling soups that are reasonably priced and full of flavour.
PAI Northern Thai Market (18 Duncan Street, near TIFF Bell Light Box) is a great spot attached to the sit down restaurant, where you'll often find me grabbing a quick meal. They usually offer a handful of their most popular dishes. Casual order, pay and seating for those on the go. Open Monday to Friday from 11:30 a to 2:30 pm.
Mi Taco Taqueria: (247 Queen Street West) run by a mother-daughter team who make up tasty, house made tex-mex  tacos, burritos and burrito bowls.
H2 Kitchen: (204 Queen Street West) fresh, healthy and happy bowls with flavours from around the world are offered here. Poke bowls, salad bowls, hot noodle bowls, smoothie bowls and more.
*****
FOR INDUSTRY TYPES: You've running from from power breakfast right through to the late night party circuit. Most of your meals are planned well in advance. But then you have those last minute meetings for the wheelings and dealings. Where to go for  quiet and discreet conversation? Here…
Sofia Yorkville: (99 Yorkville Avenue) We've fallen in love with Sofia for it's clean an honest approach to Italian fare and what will make this newcomer to the area a hotspot for TIFF is it's location, layout an unhurried stellar service. Tucked behind the buzz of the busy street, Sofia sprawls into various dining spaces including a courtyard, dining room, tucked away bar and patio that's away from the gazing eyes.
Copetin: (107 King Street East) MasterChef Claudio Aprile's hotspot is removed from the hub of TIFF central but not too far from the buzz. The restaurant has several great spaces including an outdoor patio, private dining room, casual bar and formal dining room.
Kost: (80 Blue Jays Way) perched on the higher levels of the Bisha Hotel this restaurant almost feels like you've been transported to coastal California or the Mediterranean. Stunning views of the city and the lake in a bright spot includes an open terrace with pool area.
Mira Peruvian Restaurant: (430A Wellington Street West) inspired by Peru's diverse culture, this menu offers lots of fresh seafood and meat dishes. Great selection of ceviches. Enjoy Pisco cocktails in this contemporary Latin American spot that's tucked down an alley way off the busy street. Look for the lantern lit walkway.
Akira Back: (80 Blue Jays Way) Michelin-star chef Akira Back's first Canadian restaurant is attached to the Bisha Hotel offering modern takes on Japanese and Korean dishes – ordering the Tuna pizza is a must. The award-winning space is sultry, sexy and sophisticated.
Patria: (478 King Street West) this Spanish tapas eatery is discreetly tucked behind a building with only a walkway to let you know where to go. Once you've arrived you know it's somewhere special. Courtyard patio and indoor dining room options. The tapas menu is easy for sharing.
Kiin: (326 Adelaide Street West) you've had Thai food, but this is different. Chef Nuit brings us a taste from her homeland from traditional favourites to the foods of royalty. Hospitality is warm and friendly in this restaurant steps away from TIFF central. Weekend brunch is a must.
Montecito: (299 Adelaide Street West) this California cuisine inspired restaurant is a popular spot for TIFF industry types with reason — it's mere steps away from the TIFF Bell Lightbox — and, yes Hollywood director Ivan Reitman is a partner so they understand the need for discretion. The two-storey dining room also has a lounge and an outdoor space perfect for meetings.
*****
FOR THE FOREIGN PRESS: You've heard so much about Toronto and how diverse our city is. Welcome! There have been many times we've been asked at press conferences on where to eat that reflects our global city that's also budget friendly and comfortable. Maybe somewhere you can recharge and file stories?
Calii Love: Several locations including Union Station, First Canadian Place, Yorkville and 367 King Street West. We are West Coast dreaming at this healthy eatery that specializes in bowls. Think poke, grains, and smoothie bowls. Order up one of their specialties or create your own. Feel like you need to settle your tummy? Order up a cup of their bone broth. No worries about pulling out your laptop here as many do.
Sud Forno: (132 Yonge Street) craving great Italian pastas, pizzas and salads? This location has both a dine in restaurant and counter service seated area to serve your needs. Incredible sweet offerings as well. The espresso bar is worth a double up.
Luckee by Susur Lee: (328 Wellington Street West, SoHo Metropolitan Hotel) dim sum dishes will be served day and night starting at 10:00 am. Order up Chef Lee's famous dim sum dishes like the Luckee Basket – a colourful and instaworthy offering.
Smoke's Poutinerie: (218 Adelaide Street West and other locations). You've heard this is a Canadian thing and we're proud of it! Fresh cut potato fries dripping with gravy and cheese curds is way better than it sounds. But this casual eatery offers different variations on our beloved dish.
Butter Avenue: (477 Queen Street West) You want to take a coffee and sweet break with nothing too heavy. This patisserie has a cozy, quiet and casual sit down area where you won't be bothered. Settle in with a cappuccino or matcha latte along side a few unique flavour offerings in their French macarons.
Jumbo Empanadas: (245 Augusta Ave.) Kensington Market is truly a trip around the world with many different food markets and cafes to choose from. Empanadas here are amongst the best of the best. We love their house made salsa too.  Filling and affordable with a casual sit down area.
Touhenboku Ramen: (261 Queen Street West) There are numerous ramen shops in our city to choose from but if you're looking to relax and not be hurried out, this particular one is accommodating. Noodle soup bowls are our comfort food. Customize your own ramen bowl and wash it down with a Sapporo.
Kung Fu Tea: (264 Spadina Ave.) This authentic bubble tea shop originated in Taiwan offers a great selection of fresh made beverages. You can also customize their drinks including sweetness levels and ice levels. BTW, they use honey instead of sugar. The counter service spot also has a clean sit down area where you can enjoy in peace. Tip: grab a couple of buns (baos) at a nearby Chinese bakery or an authentic Vietnamese bahn sandwich.
*****
FOR THE "I'M JUST TAKING A BREAK" CELEBRITY SPOTTERS: You love to take in all the celebrity spotting and well, you may just nonchalantly stumble upon them on a break. There's no time to sit and eat. Just grab what you need and inhale on the go. Be on the look out for the black Escalades parked in front of various restaurants and hotspots especially along King Street West (like, west of Spadina) if you're hoping for a glimpse of someone, anyone. You're in the know and spotting the a-listers is easy.
French Made: (80 Blue Jays Way, Bisha Hotel) craving french pastries or a satisfying baguette sandwich? This Parisian style bakery makes everything fresh daily in house. Pair your buttery croissant with a robust espresso drink here on the go. Great spot to just hang out outside as a little bird told us there are several parties to be had at this hotel.
Sen5es Cafe: (328 Wellington Street West, SoHo Met) this airy cafe offers sit down but also a grab and go counter for delicious coffee and baked goodies located at the SoHo Metropolitan Hotel. During the first few days of TIFF, they're transforming the counter of Blue Jays Way and Wellington Street with a TIFF themed lounge. The space will feature special TIFF smoothies and juice blends, fresh squeezed juices, ice teas and lemonades and a special lounge menu and complimentary Truffle Popcorn!  Neighbourhood Lounge opens at 7:00 am daily from September 6 to 10.
Jacked Up Coffee: Yorkville Village. This cute little blue independent coffee truck (1975 Citroen H Van) is often parked just at the entrance of Yorkville Village and is an easy spot for grab & go for GREAT small batch roasted coffee from Cut Coffee. Within walking distance to luxe hotels, it's ideal for the celebrities who like to don their sunglasses and baseball caps and head over to get their java fix because really, Sbux is just way too obvious.
5 Elements Espresso Bar: (131 Avenue Rd.) also located in the Yorkville area  is slightly removed from "the scene" but perfectly situated  steps away from the choice hotels. This spot has has a pretty patio where locals and those "in the know" like to take their coffee breaks without hassle. Also, this espresso bar is situated across the newly opened KANDL where we've learned will also be buzzing with TIFF activity.
Sorrelle & Co: (161 Yorkville Ave.) How many celebrities do we know are gluten, soy, nut, preservative-free conscious? We're wagering this  elegant and sweet bakery cafe in Yorkville to be a favourite for picking up treats to accommodate their sugar fixes and ours. Pretty spot for all your photo urges.
Wahlburgers: (46 Blue Jays Way) If any of the Wahlberg brothers are scheduled to be in town, you can be sure there's going to be at least one visit scheduled here. We were here when Mark was in town and we've met Paul several times now. Super nice guys! But not only that, many film peeps stay at the Soho Metropolitan Hotel that's just around the corner. Grab a quick bite – ahem, ask for Chef Paul Wahlberg's special TIFF burger: The Beverly Hills Blitz! Available in limited quantities. Yes, there's an actual Wahlberg brother behind this establishment! We've even done a cameo on their reality show! Yes, indeedy!  Sit down restaurant or counter service available  for quick eats.
Porchetta & Co.: (545 King Street West) One of the actors had mentioned to us at a previous TIFF season that he loves this spot for their fresh porchetta sandwiches whenever he's in town. We agree! The sandwiches are amazing and it's situated ideally where many of the pre-parties, after-parties and press conferences are held at all times of the day.
*****
FOR THE RED CARPET STALKERS: You just love the whole "scene" and have the time to take in the late summer night. Always such a beautiful time of the year in the city and everyone seems to just glow. As one actor told me "Toronto is filled with beautiful people." Blushes! We know!  Make sure your phone is charged up and bring a battery back up. Enjoy the excitement of TIFF along the many Red Carpets in the city. Just give me a good grab and go because you never know, someone may just hand you some free screening tickets just because you are you. Yes, it happens!
Assembly Chef's Hall: (111 Richmond Street West) Across the street from the Sheraton Hotel is this deliciously curated food hall. Find little outposts from some of the best restaurants and chefs in the city including mini versions of Little DaiLo (DaiLo), Tashi and Shari (Shoushin), Cherry Street Bar-b-que, Resto Boemo (Ivana Raca), Little Khao (Khao San Road), Reyna (Bar Reyna), Tokyo Smoke, and more.
Campo Food Hall: (433 King Street West) Just steps from TIFF central is this Spanish food hall created by Chef Rob Bragagnolo. Inspired by the food markets of Barcelona this is a great place to get your tapas fix.
O&B Canteen: (TIFF Bell Lightbox) Really a great spot for people watching if you can snag a table on the King Street facing patio but if you're in a rush there's a take out counter just off to the side. If you have a chance also head upstairs to LUMA inside the TIFF Bell Lightbox for their "Smoothie of the Day" TIFF special.
*****
FOR THE I'M HAVING A FUN NIGHT OUT CELEBRITY SPOTTERS: You've planned a night on the town. Maybe take in a Gala screening with your partner or BFFs. You've got your heels on and all the sparkles. Let's face it, you want to see… and be seen. Keep your eyes open and keep it cool.
Lobby Bar at Shangri-la Hotel: (188 University Ave.) Grab a comfy seat in here amongst the haute couture star-studded gowns on display and go for a glass of bubbly from the impressive Champagne wall before settling into a night of people watching.
dBar at the Four Seasons Hotel: (60 Yorkville Ave.) Always buzzing at this bar with lots of fun people watching and often DJs spinning. Cocktails and charcuterie boards will keep you here celebrating all things TIFF.
One at Hazelton Hotel: (118 Yorkville Ave.) Their fabulous, and possibly the best, patio locations in the city offers up a night of happy star sightings. It always seems to be full of jovial laughter and air kisses but don't let that intimidate you, it's a lovely spot with the power players.
Mr. C at Bisha Hotel: (80 Blue Jays Way) Sexy and sultry moves behind the velvet curtains leading into this latest hotspot in the city. Walk in like a starlet and swish on over to order up your cocktails and late night nibbles. It's a mysterious spot for the average star-gazer – and we know you're not average.
Windsor Arms Hotel: (18 St. Thomas St.) This hotel will host several big TIFF soirees including the annual star-studded Artists for Peace and Justice Gala. Okay, you may not be able to get in that night without being "on the list" but most other times you'll be able to grab a cocktail at the hotel's much loved Library Bar. Feeling like a regal estate, definitely stay and linger — they make you feel like the a-lister you are anytime of the day.
Figures: (137 Avenue Road)It's easy to walk past this unassuming hotspot. There are no tables visible only wall of curiosities if you look close enough but behind the hidden wall is the ultimate pop culture cave. Well, not cave but restaurant and bar tastefully done up in contemporary artwork and installations worthy of the cocktail price alone. Fun is an understatement making this an ideal happy place for celebrity sightings. Book ahead.