The Labour Day weekend air show is back with performances from the Canadian Snowbirds as well as demonstrations from the United States Air Force. With the picket lines this year, you may be on the fence about whether or not you should go.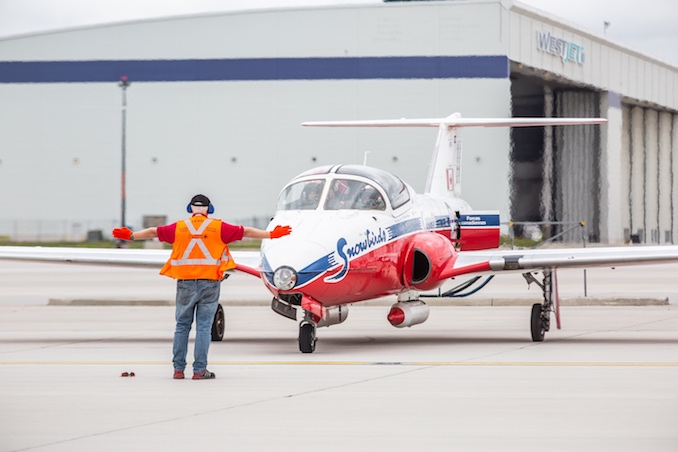 Luckily, there are many places you can enjoy the Labour Day weekend air show in Toronto without having to cross the picket lines. Here are a few of them.
1. Rooftop bars and patios.
There are several good hotels and restaurants that have rooftop patios and great views of the water and the aircraft flying over the city. BISHA Hotel, Hotel-X, Thompson Rooftop and Lavelle all boast amazing views and drinks so you can catch the show in comfort.
2. Parks
There are several waterfront parks that offer a great view of the air show while having the freedom that a public park offers. Little Norway Park, Coronation Park, Battery Park and Marilyn Bell park and Sunnyside are all great choices to catch the show.
3. The Toronto Islands
The Toronto Islands have some great views of the air show for the cost of a ferry ticket. Hanlan's Point has some great sight-lines if you want to get more specific.
4. Ontario Place
Trillium Park and William G. Davis Trail at Ontario Place is a new spot to watch the air show since it opened last year. The renovated park allows visitors to enjoy the waterfront and the air show for free!
5. Your friend's condo
If you have a friend with a south or south-west facing balcony or rooftop, it may be a great option to watch the air show. With so many new condo developments downtown over the past decade, surely someone you know has a place to watch the show.
6. Boating
Got a boat? Got a friend with a boat? Can you rent a boat? Boating is a great way to catch the Toronto air show from the water. You could even rent a canoe or kayak just for the show.
The Air Show takes place Saturday, Sunday and Monday from 12 – 3 pm.