Name: Teach her Treason
Guitar – James Sessford
Vocals – Mike Boudreau
Bass – Robb Marchildon (since 2016)
Drums Ben Blue (since 2017)
Founded: 2007
# of Albums: 2 full length and 1 EP
Latest Release: "New Enemy – Revisited" EP
Latest Video: "Ride"
Bio
Love heavy riffs and bands like Pantera, Metallica and Disturbed? We are your band. Formed in Toronto in 2007, we put together our first EP, "New Enemy", in 2008. Until 2010, we played shows across Toronto. From 2010 to 2017 we focused on recording and released 2 full-length albums as well as properly re-recording the 2008 EP (i.e., budget over $300!). We have since returned to the stage in April 2017 and will continue on a stage near you!
Catch us next opening for Anvil at the Rockpile on August 17! Tickets available at the following link or from a band member:
https://www.ticketweb.ca/event/anvil-the-rockpile-west-tickets/8307635
Latest Single
"Make it Out Alive" https://www.youtube.com/watch?v=kALXRYtTlKE
Favourite Restaurant
JS – Frankenstein Pub in Edinburgh
MB – Swiss Chalet
RM – Apache Burger
BB – Copacabana
Favourite band as a teenager:
JS – Metallica or GNR
MB – Alice in Chains
RM – RATT
BB – Tool
Favourite band now:
JS – Ghost, I'm a proud follower of the clergy.
MB – Alice in Chains
RM – Gojira
BB – N/A
Guilty Pleasure Song:
JS – I don't feel guilty about enjoying music but even as a metal musician I love Prince and Michael Jackson
MB – Humpty Dance
RM – "Recover" – CHVRCHES
BB – Don't have one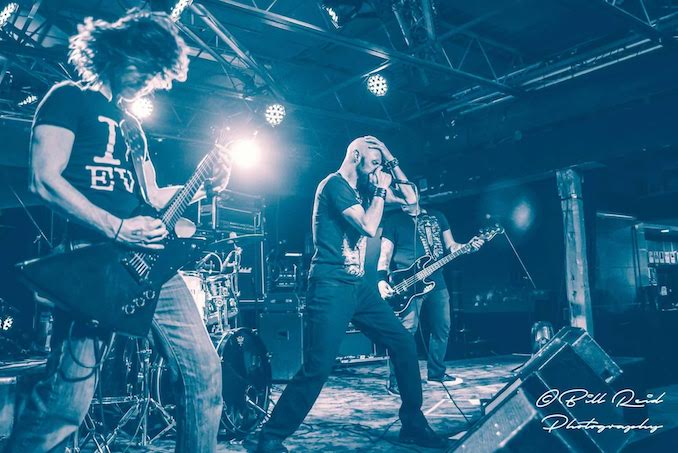 Live Show Ritual:
JS – Keep hands warm like Al Bundy did before bowling. Get a "Whoa Bundy!" prior to taking the stage.
MB – Showing up to the gig
RM – Shot of JD… or two
BB – Don't have one
Favourite local artist:
JS – The Tea Party or Thornley
MB – The TTC push-up guy
RM – Centuries of Decay
BB – Centuries of Decay
Sneaky Dees nachos, pasta from Terroni or a superfood salad from Fresh?
JS – None of the above (never had them) so maybe a nice Apache Burger
MB – Dee's nachos
RM -Sneaky Dee's nachos
BB – Sneaky Dee's Nachos
Queen or College St?
JS – Queen St. because I watched Audioslave play at the MuchMusic studios! And Speakers Corner (RIP)
RM – Queen
BB – Queen
Trinity Bellwoods or Highpark, Riverdale or Kew Gardens?
JS – Bellwoods (for pug grumbles) and Kew Gardens
MB – Highpark
RM – Trinity Bellwoods
BB – Highpark
EP or LP?
JS – LP. The more music the better, and deep cuts are some of my favourite songs.
MB – EP
RM – LP
BB – EP
Early bird or night owl?
JS – Forced early bird due to dogs
BB – Night owl by choice, early bird by necessity
Road or studio?
JS – Studio for creative satisfaction, road for energy and fun
MB – Road
RM – Road
BB – Both
Swiss Chalet or Roti?
JS – Swiss Chalet but don't try the lemon soup.
MB – Roti
RM – Swiss Chalet
BB – Swiss Chalet
Keep up with the band on facebook: https://www.facebook.com/teachhertreason/