The Canadian fundraising walk is held in approximately 300 communities across Canada and will raise money that will go towards the training of Dog Guides for Canadians with visual, hearing, medical or physical disabilities. The walks are organized by local volunteers with support from Lions Foundation of Canada Dog Guides. To date, the walk has raised over $15 million.
The Toronto West Pet Valu Walk For Dog Guides will be held on Friday, May 25th in High Park. Toronto Beaches Walk is on June 24, 2018.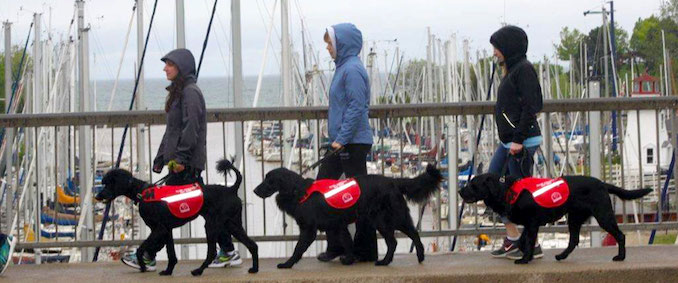 To provide Dog Guides to those who need them at no charge, the foundation provides spends roughly $25,000 to breed, train and match each of the Dog Guides. Fundraising events such as the upcoming Pet Valu Walk for Dog Guides helps the organization provide these life changing animals to Canadians from coast-to-coast.
There is no registration fee for walkers and 100% of the funds you raise will go towards Dog Guides. Here is a list with the locations near you.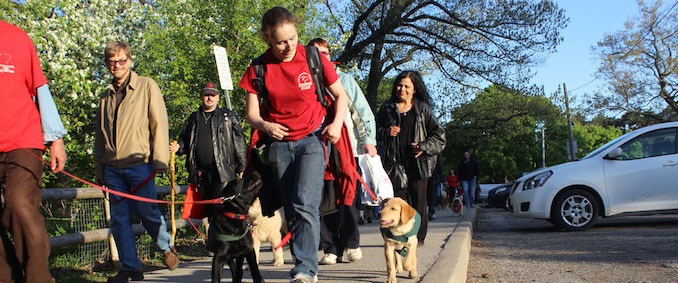 We got the chance to chat with a rep from the event to find out more about these awesome animals and how they train.
How many dogs are assigned to owner's each year?
Our goal for every year is to graduate 200 Dog Guide teams (Handler and Dog Guide)
What breeds of dogs are used and why?
Labrador retrievers, golden retrievers, standard and miniature poodles are the most common breeds. These breeds are used because of their gentle temperament, intelligence and willingness to work.
How old are the dogs when they start training and how long do they train for?
The dogs start training at around seven weeks old. Before Dog Guides enter formal training, they spend one year as puppies with a foster family; during this time, they learn basic obedience through puppy classes and are familiarized with social settings such as public transportation, malls and office spaces Formal training begins around a year old and lasts four to eight months. This takes place at the Lion's Foundation's training centre in Oakville, Ont.and during this time the Dog Guide will be selected and trained for one of the six programs (Canine Vision, Hearing, Seizure Response, Autism Assistance, Service and Diabetic Alert).
Do any dogs fail school? What happens to them?
Dogs Guides are selected based on their combination of stability, intelligence and willingness. Approximately 65 per cent of foster puppies graduate as a Dog Guide. Dogs are disqualified based on their temperament or health. Dogs that do not make it into the program are adopted to suitable families.
How can our readers help and get involved?
There are many ways to help! You can participate in your local Walk for Dog Guides. Around 300 walks will take place across Canada to raise funds for the foundation and the best part is that 100% of the funds go directly to Dog Guides Canada and there is no registration fee. You can also volunteer at the foundation or sign up to be a foster parent.
What is the best part about running this organization in Toronto?
The best part about it is coming together as a community for this great cause. During the Toronto West Walk you get to meet all the foster families around the area, people that are recipients of Dog Guides, sponsors and members of the foundation. We all come together to support Dog Guides Canada and continue to give Canadians a new leash on life.
PAY IT FORWARD: What are some other organizations that you respect that we should know about?
I would refer to ADI accredited schools — all non –profit charities and colleagues that are providing great quality Service Dogs.