"Hello, I am Fluffy, but I am also fluffy. Isn't that funny? I am very funny. Uhm, okay. So I like seafood restaurants, seafood meals, and seafood snacks. Breakfast seafood, dinner seafood. Basically, I like anything that has to do with seafood. Except if someone named Seafood touched my butt or my belly. Then I will not like that Seafood. My favourite thing to do is lay next to a human and get brushed. I also like humans who listen, but I talk lots."
Shy at first, Fluffy is a very playful and affectionate chatterbox who loves to kick back with his humans for brushes and kisses. His favourite thing ever — apart from food — is the wand toy. Ever heard of Da Bird?
Fluffy does not like his bum, paws, or tummy being touched. When he's touched there he can get a little sassy. He is also very talkative and will tell you when he is ready to have some alone time. It is probably best if his new home was a little on the mature side as young children might not understand his do's and don'ts! But if everyone in the family were to understand and respect his boundaries, he would do well in any kind of home!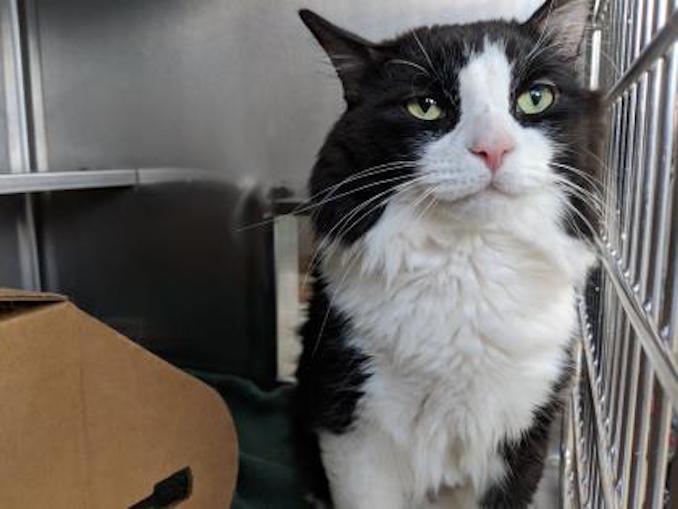 Fluffy
Age: 7 years
Sex: Male
Size: Medium
Colour: Black/White
Spayed/Neutered: Yes
Declawed: No
In order to ensure a smooth and successful adoption, please remember to check all the basic requirements for adopting before coming in to the shelter.
About this column:
Each week we feature animals available for adoption from local shelters in the Toronto area with the hopes that our readers will assist in finding good homes for them. If you, or someone you know, has the resources to take care of one of these animals, please do get in touch with the appropriate shelter via the links provided.