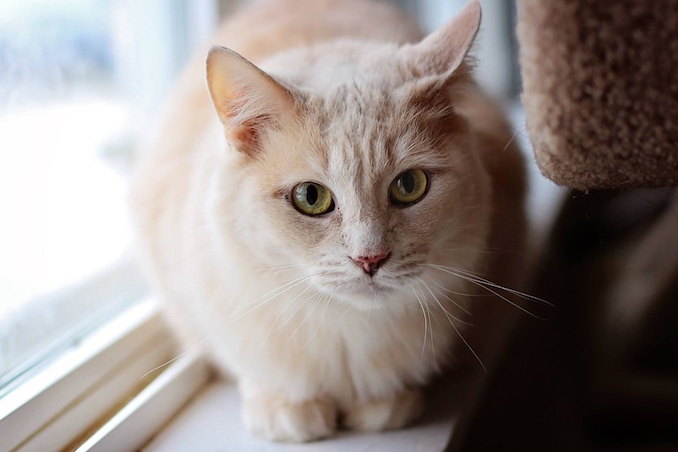 Meet Max! – DOB: September 2008
Max was rescued from a high kill (gas chamber) shelter in Quebec the day before he was scheduled to killed. Absolutely terrified when he arrived at the shelter, he would hide every time anyone entered his room for the first several months. Thanks to the unconditional love, patience and persistence of NTCR volunteers, Max has learned to trust people, with a slow approach he has decided that he enjoys human interaction and petting. He has recently started to approach the volunteers he trusts, follow them around the room for "luvings" with tummy rubs and shares his purrs of contentment. A handsome gentle, sweet natured soul, with extremely soft medium length hair and super fluffy tail, Max has so much love to give once you get passed his initial shyness and insecurities. Good with his roommates, Max would do best with a mature family home that is willing to show him patience, tenderness and kindness as he blossoms into the confident cat he wants to be.
About North Toronto Cat Rescue
This column features Toronto pets available for adoption.
Our current features come from North Toronto Cat Rescue which is a no kill, no cage shelter in Markham, Ontario, Canada. They have saved over 2000 cats over the years from both the harsh environments of life on the streets and from kill shelters in Ontario and Québec. They care for both kittens and adult cats. I always like to promote getting an adult cat as it is a lot easier to pick the cat with the right temperament for you.
The NTCR shelter is run by volunteers with no government assistance. They currently have around 200 plus awesome cats that would love a good home. Go and visit them soon!
For more info, Visit the NTCR Website.