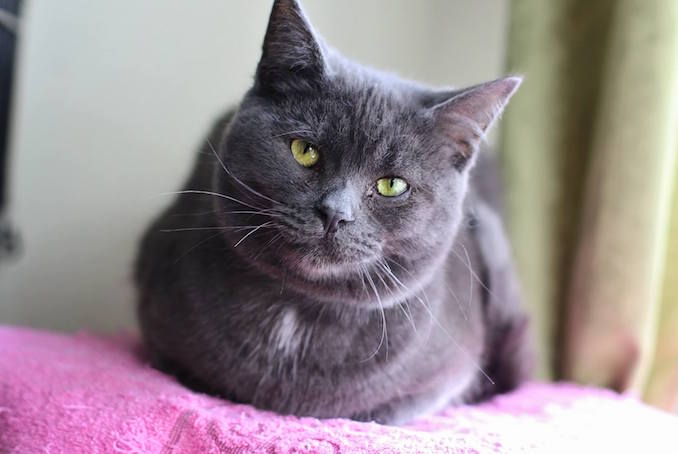 Name: Allister – Born: June 2016
Allister the cat and his 2 siblings were rescued as a 3 1/2-month old kittens from a life on the streets when they were found orphaned in a Scarborough backyard. When he first came to NTCR he was absolutely frightened of people and would show you by continuously hissing until you moved away from him. A handsome fella with a super soft, plush grey coat that has a small white patch on his chest, awesome amber / green eyes and a curious and pleasant purrsonality. Allister is a lively, fun-loving, playful and energetic fellow who starts out on the shy side, but he warms up quickly. Excellent with his roommates, he often found cuddled up with one of them during nap time. Allister would love to be adopted with one of his siblings, as part of a pair or to join a family that already has a young friendly cat he can befriend and bond with. If you want to make Allister the cat the newest member of your family and give him a "furever" home, please fill out an adoption application and contact NTCR.
***
About North Toronto Cat Rescue
This column features Toronto pets available for adoption.
Our current features come from North Toronto Cat Rescue which is a no kill, no cage shelter in Markham, Ontario, Canada. They have saved over 2000 cats over the years from both the harsh environments of life on the streets and from kill shelters in Ontario and Québec. They care for both kittens and adult cats. I always like to promote getting an adult cat as it is a lot easier to pick the cat with the right temperament for you.
The NTCR shelter is run by volunteers with no government assistance. They currently have around 200 plus awesome cats that would love a good home. Go and visit them soon!
For more info, Visit the NTCR Website.
***
Fundraiser
On another Note, NTCR is in trouble as they are losing their home in 2016 for development of the area. If you can offer any help in finding a new home for the almost 200 cats at the shelter, that would be amazing.