When Ace Hotel opened a year ago there was much buzz about how this property would add to the historic Garment District. Globally, the Ace Hotel brand was already known for its core values of not just being a cool place to rest our souls but also a place where creators and thinkers converged. Their properties thoughtfully reflect not only the fabric of the cities they choose to be in, but also the neighbourhoods and the people who continue to inspire others. They also wanted to contribute to the natural evolution while being accessible to locals and visitors alike.  And it's not just about the stay here. Every element of this hotel carries that ethos including its restaurant, Alder.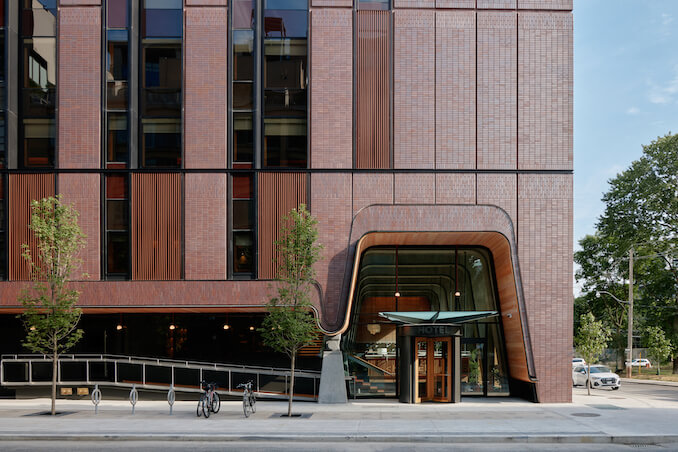 Ace Hotel seems to be hidden in plain sight. Located just a block south of Queen Street West on Brant Street it can be easily overlooked except for this futurist entranceway. A curious mind would be intrigued. What is it? A peek through the revolving entrance and one might not immediately think hotel.
The layered in its elements and details are intriguing. The exterior red bricks are a nod to the city's history of producing clay bricks at the nearby Don Valley Brickworks. Concrete cathedral archways, steel rod beams, wooden platform that hovers slightly above the restaurant are playful to the eye in this stunning space. Look around and discover original contemporary works by Canadian and Toronto-based artists.From its design and architecture right down to the entertainment and food offerings, every element pays homage to our vibrant city.
It's a place that inspires conversations and exchange of ideas as I've discovered after visiting with several friends lingering for hours over cocktails at Evangeline's – the cozy rooftop bar as well as brunch and dinner at Alder.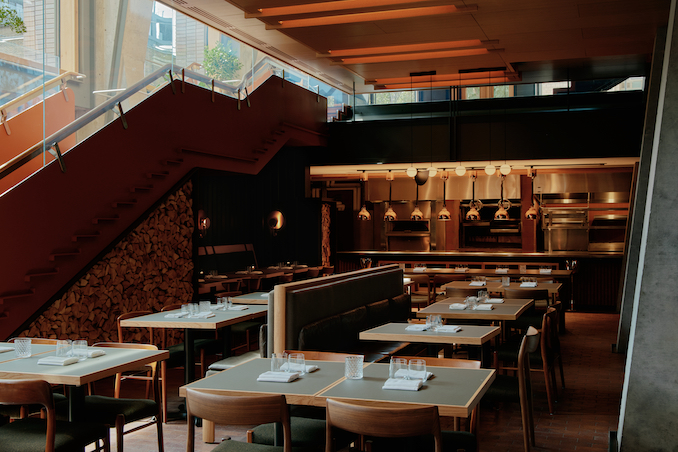 Alder is a partnership between cherished Canadian Chef Patrick Kriss (Alo, Salon, Alo Bar, Aloette, Aloette Go) and Ace Hotel. The Michelin-starred and Canada's 100 Best Restaurants award-winning chef brings his focused talent to the dining experience here that has been well received by locals and tourists alike – no surprise. If you're one of his loyal fans (there are many!) put this on your list!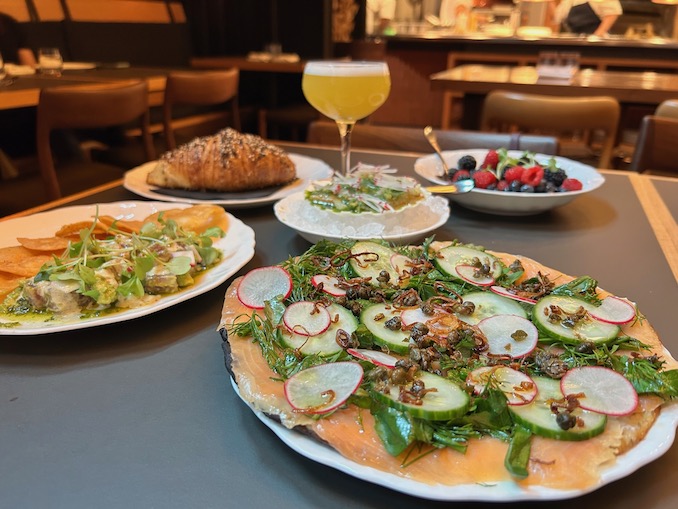 Alder's kitchen centres around the signature wood-fired grill. If you're a fan of his dishes you already know his creative use of smoke and flame to enhance flavours. He also thoughtfully and purposefully sources ingredients given much focus and attention to seasonality.
Recently Alder introduced a new brunch menu. Here some of our favourites (but definitely not predictable) classics are elevated in new and exciting ways.  Brown Butter Waffles grabbed our curiosity immediately as well as other dishes including the Hokkaido Scallop Crudo, Tuna & Avocado Tostada, and the unbelievably tender Pork Belly with Shishito Peppers. Call it elevated comfort food.
Alder's seasonally evolving menu is worth exploring and the service each time we've visited was truly warm and welcoming — I went back twice after this visit.  And just like the hotel, the restaurant hopes visitors feel inspired, creative and consider this a place to just be.
Great for brunch dates, friends, families, business meetings and even for solo dining if you're looking for a spot in the area.
Alder at Ace Hotel Toronto is located at 51 Camden Street. Check out their current menus here.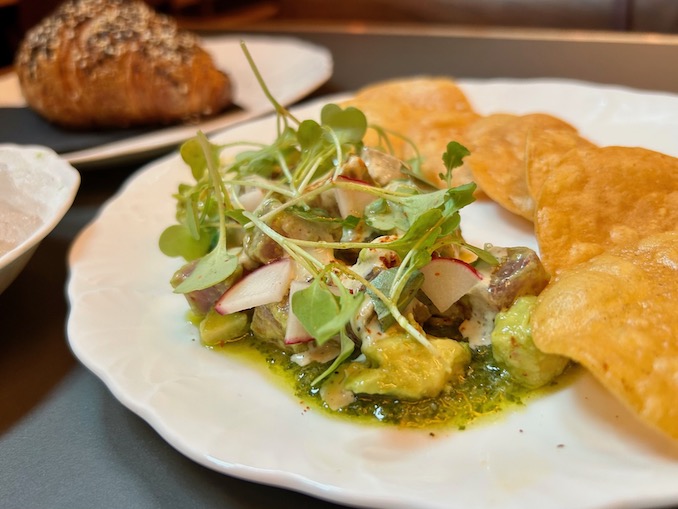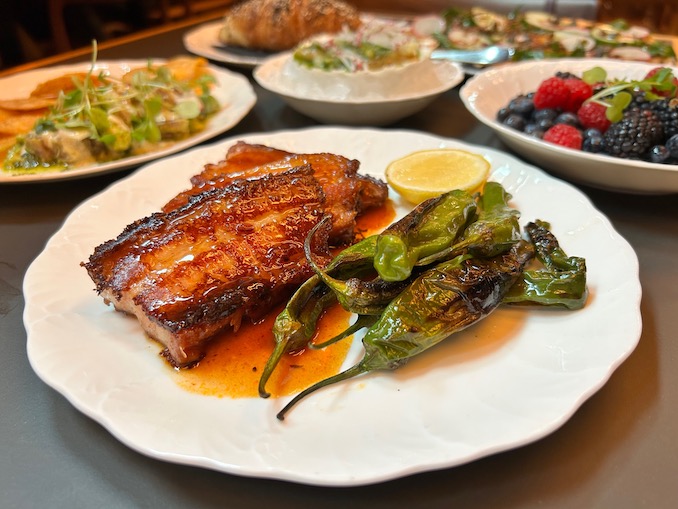 *all food photos by Sonya Davidson