Quail eggs, have long been perceived as a high-end delicacy, but Spring Creek Quail Farms, a family-owned, zero-waste farm in Saint Anns, Ontario, is changing the narrative. Founded in 2002, their small but mighty farm's mission is to ensure everyone has access to alternative egg choices that are affordable and accessible in their everyday lives right across Canada and the US.
Aaron Oosterhoff, owner of Spring Creek Quail Farms, grew up in an agricultural family with his parents and a grandparent being involved in farming most of their lives. After high school he finished his apprenticeship as a commercial electrician and married the love of his life, Lyndsay. Together they made the decision that returning to their farming roots would be good for their family.
"I was fascinated with the quail farm that my Uncle Clarence owned and approached him about working on it with him. We became partners and, after my Uncle's retirement in 2018, my wife and I took over complete management of the farm," said Oosterhoff.
What drew him to running the quail farm was the belief that more people deserved access to high quality quail eggs in North America. "It used to be that only chicken eggs were available but now because of Spring Creek, people have real alternatives and can crack a new egg!" said Oosterhoff.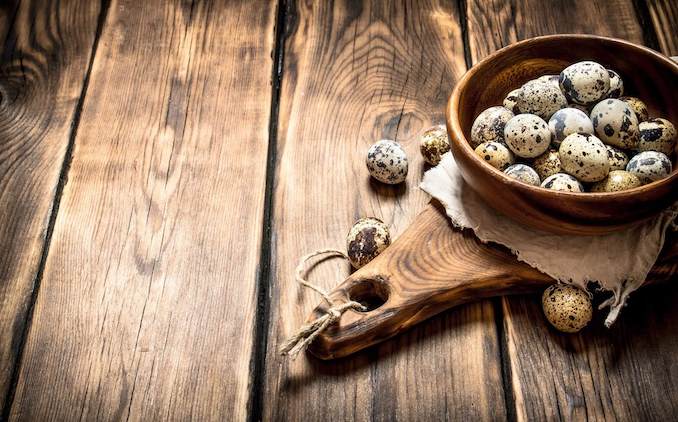 Often we hear quail eggs referred to as the "caviar of eggs" but why?
Firstly, Aaron tells us they are considered to be the most nutritious egg by weight that you can get. "However, there is also the perception of quail eggs as expensive and unaffordable. This is something that Spring Creek is working hard to change by selling our eggs at a price that everyone can feel good about!" said Aaron.
So, what are some interesting facts about quail eggs?
"They are naturally rich in many essential nutrients including B2, riboflavin and iron. They are very high in HDL (good) cholesterol and, although they taste very similar to chicken eggs, they are more flavourful as they have a higher yolk to white ratio.
Many cultures view them as a superfood and there is a saying from India that goes: "One quail egg is worth a thousand chicken eggs". I'm not sure if this is true 🙂 Many people tell me anecdotally that, even though they are allergic or intolerant to chicken eggs, they are able to eat quail eggs.
Parents love to feed them to their children because of the easy portion size.
Another thing, because they have thin shells, a lot of people feed them to their pets, shells and all! A great source of calcium and protein."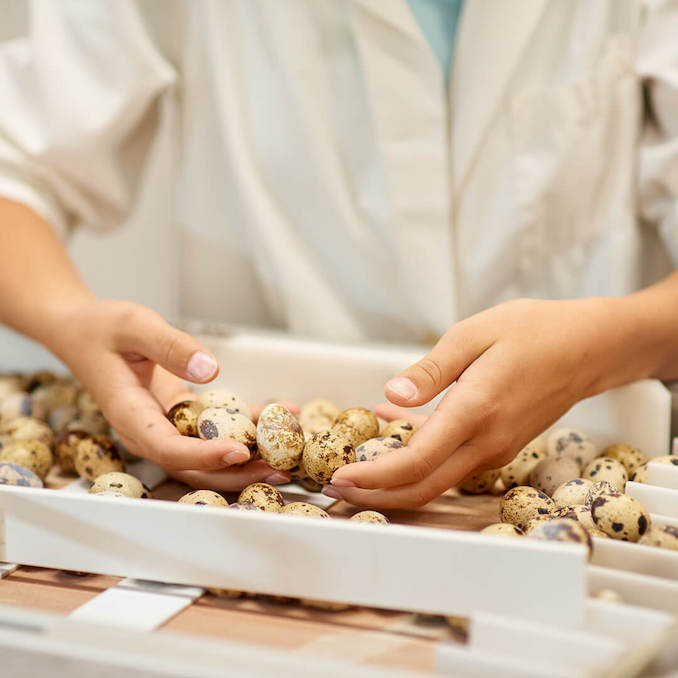 The quails at this farm are raised in colony housing with plenty of room to roam. The chicks  walk on soft-wood chips and breathe in fresh air. No antibiotics or hormones are given. "Because quails are highly sought after by predators and very susceptible to temperature changes that we have here in Canada, we can't keep them free-range. Nonetheless, we do take caring for our quail extremely seriously and you can find a lot more about that on our website. We exceed CFIA regulations for food safety and take pride in producing awesome, tasty eggs!"
Spring Creek Quail Farms eggs are sold in major retailers across Canada and the US as well as thousands of independent retailers. They have a store finder on its website so visit it and type in your address to find the nearest location.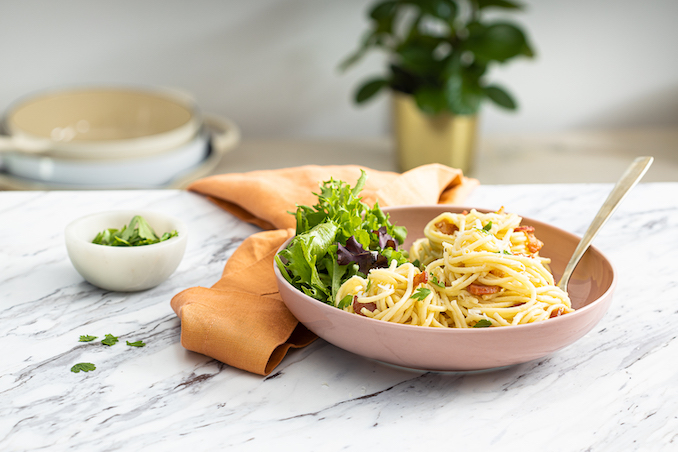 Pasta Carbonara Recipe 
This wildly popular dish is easy to make right at home. Using quail eggs elevates the flavours naturally without any additional effort.
Ingredients
• 1 lb dry spaghetti noodles
• 2 tbsp extra virgin olive oil
• 4 garlic cloves, finely chopped
• 4 oz cubed bacon or smoked bacon crumble
• 6 quail eggs
• 1 cup freshly grated Parmigiano-Reggiano (Parmesan) cheese, with more for garnish
• 1 handful fresh Italian parsley, chopped
• Freshly ground black pepper, to taste
Dirrections
Before you begin: Please note that the sauce must be ready before or at the same time as the spaghetti noodles. This ensures that the cooked spaghetti noodles are hot and ready — adding the egg mixture to the hot pasta is what cooks the raw quail eggs.
1. Bring a large pot of salted water to a boil. Add the spaghetti noodles and cook for 8 to 10 minutes or until tender yet firm (al dente).
2. While the noodles boil, heat the olive oil in a large frying pan over medium heat. Add the chopped garlic and sauté quickly for 30 to 60 seconds. Next, add the bacon, frying it to desired crispiness.
3. Drain the pasta well, reserving 1/2 cup of the starchy cooking water to use in the sauce.
4. Add the hot, drained spaghetti to the frying pan and toss for 2 minutes to coat the strands in the bacon fat. Beat the quail eggs and Parmesan together in a mixing bowl, stirring well to prevent lumps.
5. Remove the pan from the heat and pour the quail egg and cheese mixture into the pasta, whisking quickly until the quail eggs thicken. Do not scramble the eggs (the whisking happens off the heat to prevent this from happening.) Thin out the sauce with a bit of the reserved pasta water, until it reaches your desired consistency.
6. Season the carbonara with several turns of freshly ground black pepper and salt (to taste). Mound the pasta into warm serving bowls and garnish with chopped parsley. Pass more cheese around the table and be sure to eat it hot!
More recipes can be found here.
*Photos & recipe courtesy of Spring Creek Quail Farm