Mr! Mouray is a four-piece from Toronto featuring Simon Bedford-James (lead vocals, guitar), Nelson Pereira (guitar, vocals), Jaimie Vernon (bass, vocals), Craig Adams (drums, vocals) who have been playing in bands together for over 35 years. Some call it geezer-rock. They call it experience. The legacy to date includes three EPs, a Christmas single, and two full-length albums including the newest "What's The Stouray".
Mr! Mouray's full-length record, "What's The Stouray" (with former member David Otanez on drums) was released at the tail end of 2022 on Vernon's Bullseye Records and made it on International Pop Overthrow Festival impresario David Bash's best-of list. Mr! Mouray proudly takes part in the festival each year and plans to perform extensively in 2023.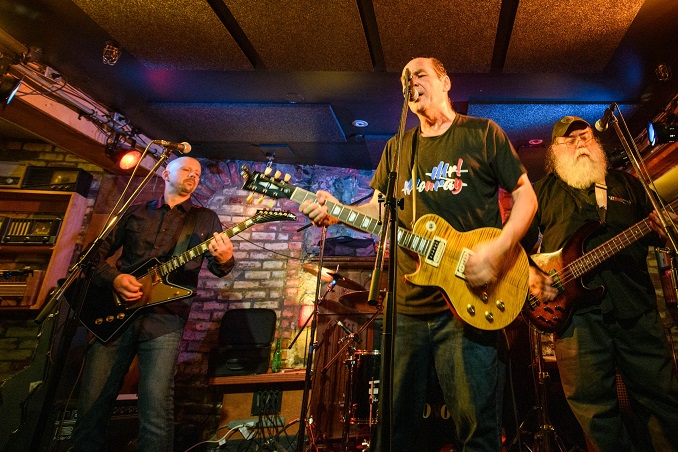 Name:
Mr! Mouray
Genre:
Alternative Pop-Rock
Founded:
2018
Last Single:
Last Video:
Favourite musician growing up:
The Beatles
Favourite musician now:
David Bowie
Guilty pleasure song:
Hungry Like The Wolf by Duran Duran
Live show ritual:
Getting to the venue before the soundman
Favourite local musician:
Claude Kent & Clockwise
EP or LP?:
LP – it tells the whole story
Early bird or night owl?
Early bird
Road or studio?
Studio
Any shows or albums coming up?
Expect another EP in the summer
Where can we follow you?
You can follow me on Facebook
***
Rapid Fire Toronto Qs
What is your favourite local restaurant?
The Gingerman on Victoria Park
What is your favourite street in your city?
Queen Street West
What is your favourite park in your city?
Rouge Valley National Park
What is your favourite music venue in your city?
C'est What
What is your favourite music store in your city?
Rotate This