Canadian musician Lights is known for her music but it is her artwork that is being celebrated at Artscape Sandbox this week in Toronto. The gallery will show a series of images from her graphic novel work that have been blown up and printed for the event. The finished book that features the images will be out in about a month and will feature QR codes that can be scanned to add visual and audio accompaniment. Lights hopes that the art show will help encourage emerging Canadian artists to apply to the Artisan Series, an artist search happening across North America sponsored by Bombay Sapphire. Applicants to that will get a chance to be featured at art gallery events across the U.S. and Canada with regional winners having the opportunity to showcase their work at SCOPE Miami Beach, one of the largest global art fairs in the world.
Name: Lights (Poxleitner-Bokan)
Genre: Electro Alt-Pop
Founded: I knew I made it when World of Warcraft named an item after me. (Poxleitner's Leggings of Lights, Holy Paladin Epic Legs)
# of Albums:
Latest Release: Skin and Earth (Fall 2017)
Latest Video: February 2018
Bio
Always pushing boundaries, alt-pop phenomenon Lights has never shied away from a challenge. Through her first three records, Lights built an incredibly passionate fanbase, selling out tours around the world, earning 100M in U.S. streams, 200K in U.S. album sales, and two JUNO Awards, not to mention the 2M + rabid fans who follow her every move online. Yet through this success, she felt like she had more important things to say through her music but just didn't know how to get them out. Thus was born Skin&Earth, the Canadian singer's fourth record and companion comic book series of the same name. As Billboard explains, "Concept albums are nothing new, but it's the lengths to which Lights takes her fourth album Skin&Earth that sets it apart," with Lights having written and illustrated the comic series in full herself while concurrently working on an album to tell the same story. Further critical acclaim for the project comes from Playboy, who dubs her a "Real-life musical wonder woman," while ELLE describes Lights as "a musician, and artist, and a comic book hero," Departures praises her as "More pop siren than indie darling," and Forbes states Lights is "A creative, enthusiastic force." Anthemic single "Giants" brings the immersive comic book world to life, as Lights – and her leading lady – struggle to find hope in a hopeless world. The single has been steadily climbing the Hot AC radio chart – currently at #22 – and has amassed over 2.3M streams on Spotify. As Buzzfeed attests, "It's time for Americans to fall in love with Lights."
Favourite Restaurant:
Sneaky Dees (Has her own nachos, ) Isshin Ramen.
Favourite band as a teenager:
Rage Against the Machine
Guilty Pleasure Song:
Party in the USA
Live Show Ritual:
Shot of Vodka and a Group Hug
Favourite local artist:
The Beaches and DCF (Meme Pop)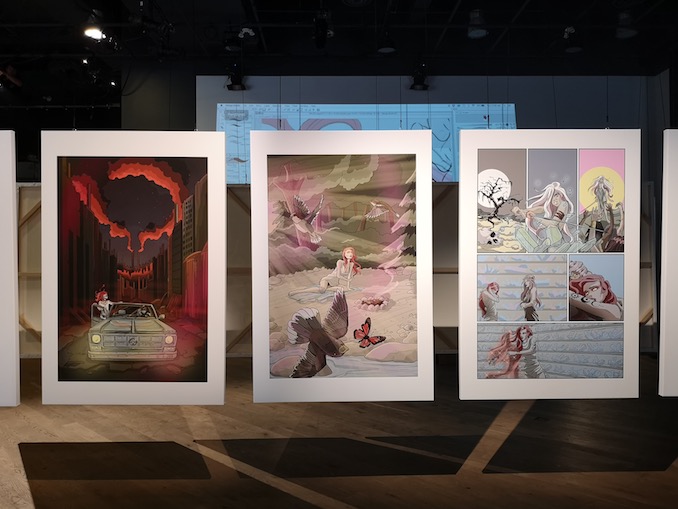 Sneaky Dees nachos, pasta from Terroni or a superfood salad from Fresh?
I love Fesh too but I have to go with Sneaks.
Queen or College St?
Queen even though my favourite restaurants are on College.
EP or LP?
EP/LP
Early bird or night owl?
Night Owl
Road or studio?
Combination. I bring the studio on the road.
Swiss Chalet or Roti?
Swiss Chalet
*Bonus
Do you have a favourite Canadian comic artist?
Chip Zdarsky
See Lights play Yonge & Dundas Square this Saturday at a free concert for NXNE.
You can also catch her art show Friday June 15-17 at Artscape Sandbox on Adelaide.
The artist competition is open to Canadian artists over the age of 25 and artists can apply at bombaysapphire.com until July 11, 2018.