Last week, on its first day in session, the Ford government announced that it would cancel the modern health and sex education curriculum that Ontario schools have been using since 2015. With no curriculum of their own to offer in its place, this meant that sex education in Ontario would revert to the program used in 1998 – before Google, social media, and same-sex marriage. Although the stated reason is due to a lack of consultation prior to implementing the 2015 plan, that consultation in fact involved thousands of parents and experts from across Ontario and was one of the most comprehensive in Canadian history – which is why many observers believe that the move is a payback to the far-right social conservatives that helped get Ford selected as PC leader.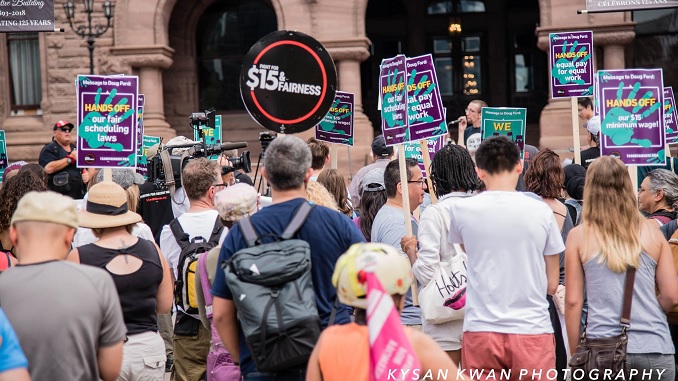 The Tories immediately ran into a wall of massive opposition to their plans to take away education on consent, same sex relationships, and cyberbullying, and Education Minister Lisa Thompson quickly backed down – before changing her mind again a few hours later. Since then she's been hiding out from reporters and refusing to take questions about the new government's plan – if indeed there even is one.
It is, of course, students who will pay the price if the Tories refuse to include up-to-date education in the coming school year, which starts in just six weeks. And that's why students – unwilling to be passive political props – are taking to the streets, marching on Queen's Park this Saturday at 11 AM.
The event includes speakers Andrea Horwath, Leader of the Ontario NDP; Glenn Canning, father of Rehtaeh Parsons; Sidrah Ahmad; student organizers Frank Hong, Rayne Fisher-Quann, and Le Nguyen; and representatives from ETFO, Leadnow, the 519, Action Canada for Sexual Health and Rights, and the Canadian Civil Liberties Union.
Attempts to reach the Education Minister were unsuccessful, as the office number listed on her website had been disconnected earlier this week and now routes to the incorrect MPPs office. It is unclear why the Tory government was unprepared to accept constituent calls before attempting to change policy.