Luminato 2018 is in full swing this month in Toronto, animating the city's entertainment scene with critically-acclaimed, globe-spanning theatre, dance and music productions for a full 19 days. This year's programming reverberates with global issues such as human rights, equality, the status of women, inclusion and the justice system across a myriad of artistic platforms to ignite ideas and discussion. Luminato returns to Toronto in 2018 to remind us of the power of the arts and of artists to rebel and fight for change.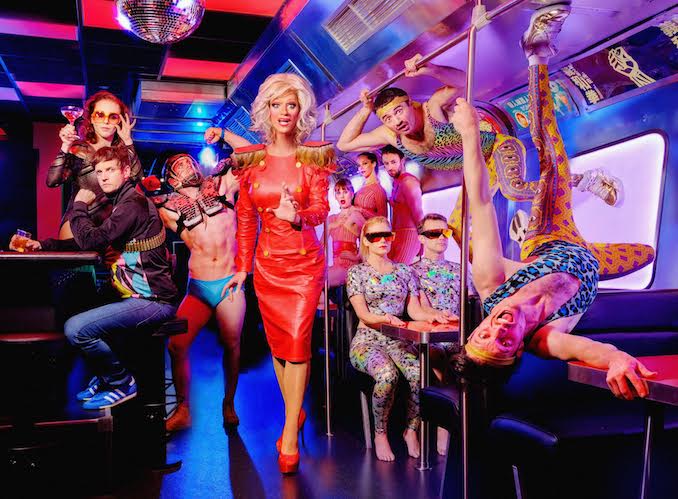 On Stage RIOT!
The Luminato show that probably best encapsulates the message of rebellion and the fight against injustice is the unconventional cabaret show RIOT. Ireland's THISISPOPBABY theatre company has toured RIOT around the world and won Best Production at the 2016 Dublin Fringe Festival. This glitter infused cabaret combines drag, striptease, aerial acrobatics and provocative spoken word with universal political issues including gender equality and abortion. Despite RIOT's blunt criticisms delivered through comedic song and dance numbers, it does offer an overall optimistic message of hope and empowerment. That through revolution, we the people can effect positive change in the world.
You can still catch RIOT, as the cabaret run until Saturday, June 16 at the historic Joey and Toby Tanenbaum Opera Centre located at 227 Front Street East. Good news! – there are two shows on Saturday, 7:00 PM and 9:45 PM.
If you are looking for flashy, fun adult entertainment that gives cerebral stimulation don't miss this Luminato performance!
FREE EVENTS!
Here are two big free events, Le Grand Continental and Instruments of Happiness, to add to your June social calendar.
Instruments of Happiness
June 16, Brookfield Place, 11 AM – 3:30 PM
A reverberating tribute to George Harrison by 100 electric guitarists led by Montréal virtuoso Tim Brady and hundreds of Doane Uschool ukulele students. https://luminatofestival.com/Instruments
Le Grand Continental
June 22/23/24, Nathan Phillips Square
Fri, June 22, 9:15 PM. Sat, June 23, 4:00 PM & 9:15 PM. Sun, June 24, 11:00 AM
Hundreds of dance enthusiasts unite for this joyous, outdoor extravaganza choreographed by Montréal's Sylvain Émard. https://luminatofestival.com/LGC
***
Luminato runs until Sunday, June 24, 2018. For remaining Luminato performances and tickets please visit: www.luminato.com
About Luminato
Founded in 2007, Luminato is Toronto's international arts festival dedicated to performance, visual art and media arts, and programming that cuts across traditional art form boundaries. The festival has created and premiered 100 pieces of new work over its first decade, affirming present-day Toronto's place on the world stage while bringing to Toronto some of the most exciting contemporary creativity from around the world. Luminato is a charitable, not-for profit, globally connected cultural organization proudly based in Toronto.