The folks over at Uncle Smoke Cookhouse specialize in southern comfort food and BBQ. For our latest recipe, we thought we would share their Barbecue Pork Ribs recipe so you can impress your guests at home this summer.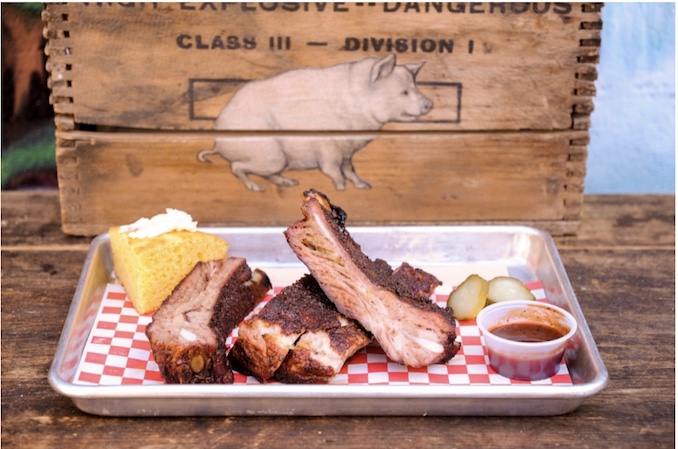 Makes 6 to 8 servings.
Barbecue Rub Ingredients
● 1⁄2 cup (125 mL) packed dark brown sugar
● 3 tbsp (45 mL) kosher salt
● 1 tbsp (15 mL) ancho chili
● 1 tbsp (15 mL) smoked paprika
● 1 tbsp (15 mL) onion powder
● 1. tsp (7 mL) garlic salt
● 1. tsp (7 mL) coriander
● 1. tsp (7 mL) ground cumin
● 1 tbsp (15 mL) freshly ground black pepper
● 3 (2- to 3-lb/1-1.5 kg) full racks baby back pork ribs
● 3 cups (750 mL) apple wood chips, plus more as needed
● 8 quarts (8 L) lump charcoal, plus more as needed if using charcoal
● grill
● 2 cups (500 mL) Uncle Smoke Barbecue Sauce (1 cup/250 mL for
● saucing and 1 for dipping)
● Mix 1 cup/250 mL apple cider vinegar and 1 cup/250mL of water in clean spray bottle
(optional)
Directions
1. Place all of the rub ingredients except the ribs in a medium bowl and stir to
combine; set aside.
2. Soak wood chips for 30 minutes. Cut piece of aluminum foil and wrap wood chips.
Punch 8 to 10 holes in foil package and set aside.
3. Pat the ribs dry with paper towels. Remove the thin membrane attached to the underside
of the ribs by doing the following: Flip the ribs over so they're boneside up. Starting at
the end of 1 rack, slide the tip of a paring knife between the membrane and the bone,
then lift and cut through the membrane. Grasping the membrane with a paper towel, pull
it toward the other end of the rack and completely remove it.
4. Evenly coat both sides of the ribs with the barbecue rub. Sprinkle rub and pat it in. Do
not smear or rub barbecue rub into meat.
5. Heat one half of the gas or charcoal grill to low (250F/120C to 300F/150C) leaving the
other side cool. Place wood/foil package on hot side so it begins to smoke. Place ribs on
cold side of grill and close the lid for 2 hours. Open occasionally to spray with apple cider
vinegar and water solution.
6. After 2 hours, wrap ribs in foil and return to cold side of grill for a further 1 hour.
7. Remove the ribs from the foil, place them meaty-side up on the hot side grill, and brush
them with some of the Uncle Smoke Barbecue sauce. Cover the grill and cook for 5
minutes. Flip and brush the ribs and cook another 5 minutes. Continue to cook, flipping
and brushing every 5 minutes, until the sauce has thickened and the ribs are heated
through and have grill marks, for a total grilling time of 15 minutes.
8. Transfer the ribs to a cutting board and cut the racks between the bones. Transfer the
remaining barbecue sauce to a serving bowl and serve with the ribs.