If the sun is shining then you'll find me outdoors dining! Here are ten of our favourite (ground and rooftop) patios in the Downtown Core. Throw on your shades and little SPF for that nose (let's be real, it's the first thing to burn and that just isn't a cute look), and let's head out for some sun sassing in the best city on earth! 
Street Level Patios
Oretta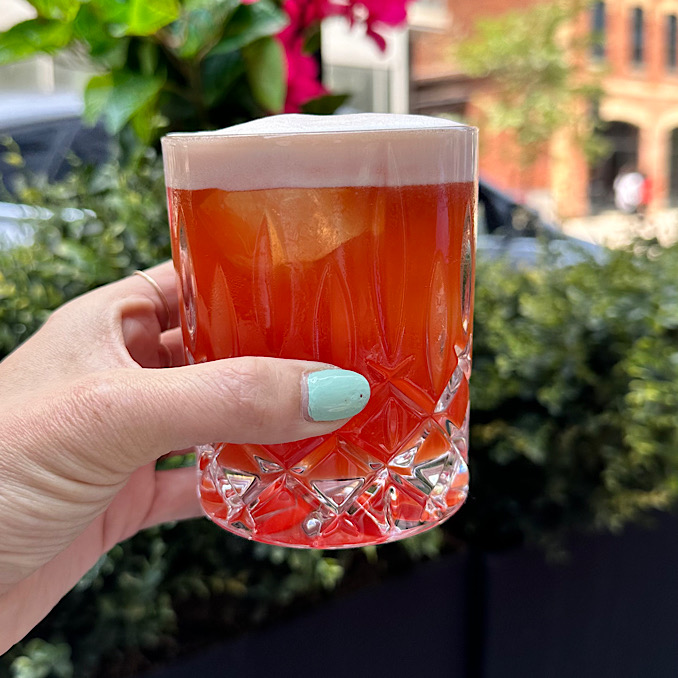 Transforming King Street West into a floral heaven, the Oretta patio is well-situated along one of the tastiest streets in town. The art-deco chiq of the interior sits adjacent to the flourishing curbside stretch, where revellers can soak up the sun and enjoy traditional Italian fare with a spritz in hand. Pizza, pasta, insalate, antipasti; all the good stuff is here. Not in the mood for a full meal? No problem; Oretta is the perfect spot for a little patio cinq-a-sept. 
Gusto 101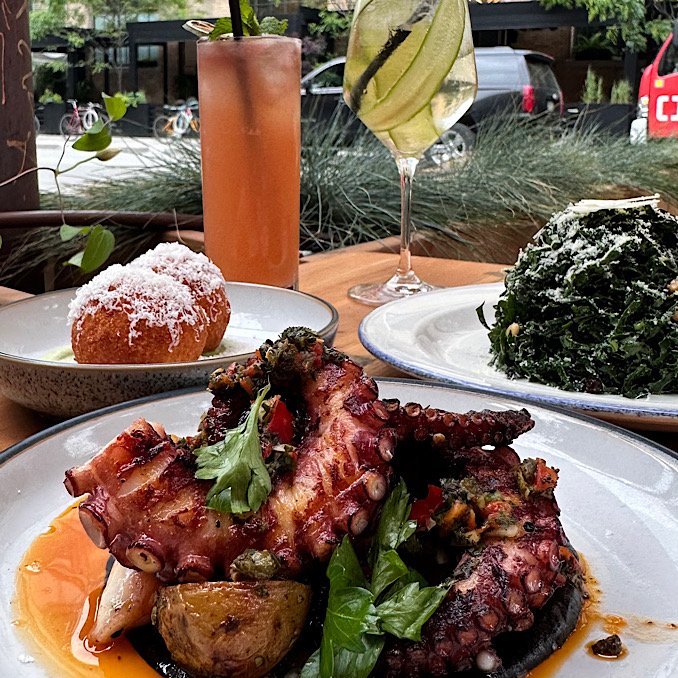 Southern Italian fare with wine on tap in an industrial setting; Gusto 101 is a cool spot on the increasingly trendy Portland Street. Diners looking for some sunshine can choose between the street patios and the greenhouse rooftop, each offering a well deserved side dish of Vitamin D; something we're all too keen for after our long winters. Okay, I promise that is the last time I'll mention the "W" word… eeep! Exposed brick and wooden tables suggest relaxed dining, although the menu offers slight elevation on classics. Order the arancini. Just do it. Yum. 
Vela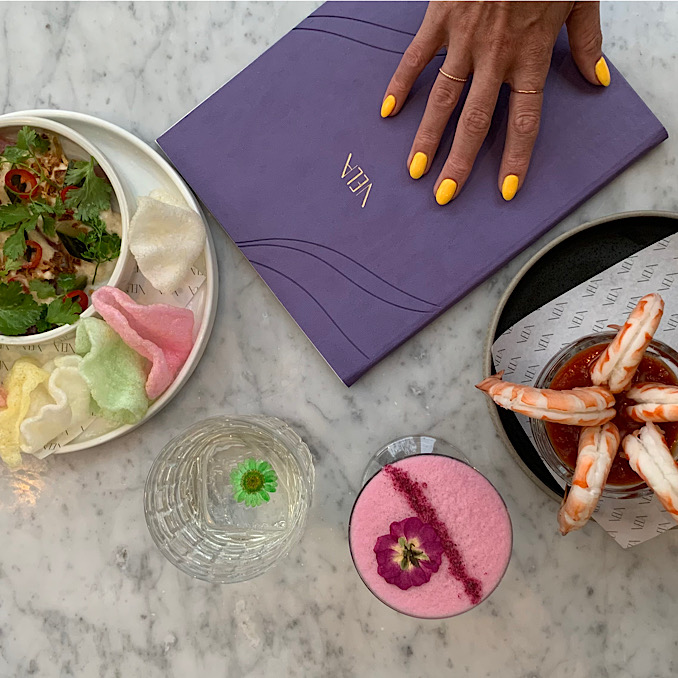 If the Vela Patio wasn't so lovely it would almost be a shame to sit outside this beautifully designed Portland Street restaurant. The interior IS stunning (so do pop in and take a gander), however the patio is spacious and replete with greenery. Sustainably mindful, Vela Chef Kim Haugen has created an approachable but classy menu indoors and out, but if you're not in the mood for a full meal, the snack menu is quite the ticket.  Labelling itself as a Spritz Garden, I highly encourage cocktails and bites outdoors to start or finish your night. Speaking of cocktails, the Vela drinks menu was curated by Toronto mixology royalty, Robin Goodfellow, so you can expect them to be top-notch. Enjoy! 
O&B Canteen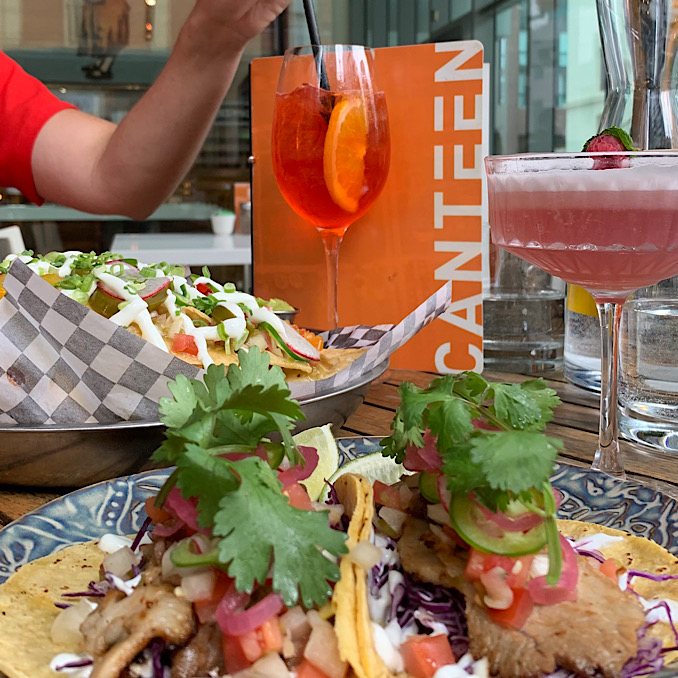 I am calling it now; O&B Canteen is absolutely the best spot for people watching during TIFF.  Right in the hub of the entertainment district, O&B kitchen is a casual spot to grab a tasty bite pre-movie, pre-theatre or pre-show. Think unpretentious dishes lile nachos, calamari, poutine, pizza, tacos. What's more, O&B canteen has a cracking Happy Hour (that actually lasts 4 hours). 
ALSO it is worth mentioning that this is one of downtown's only fully dog friendly patios, so bring your pooch (then let me pet him/her…please!) 
Steamwhistle Biergarten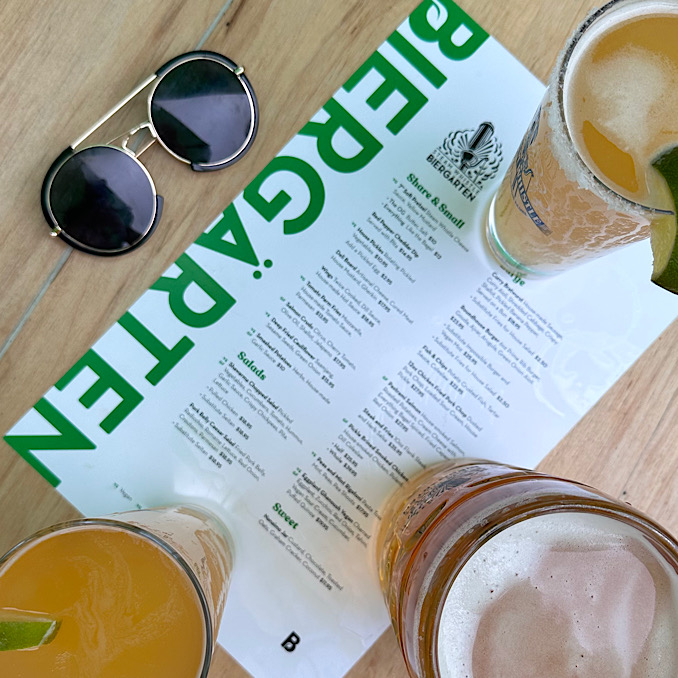 Be it a ball game or just general merriment that brings you down to Steamwhistle it is always a vibe. Styled on a Grerman Biergarten, here are few places you can drink steins of beer in this city, so I always take the opportunity! It doesn't get fresher than Pilsner straight from the source! The menu also includes a bunch of cocktails and beercocktails, including a beerita that I really do actually rate as an excellent option for a hot day! Hungry? Cool, have a pretzel. Or some chicken wings. Or both! Backdropped by the Roger's Centre, the CN Tower and a whole load of cool vintage trains, a trip to Steamwhistle always feels like an iconic Toronto day out in itself. 
Rooftop Patios 
Alright, shall we take this to the roof? 
Harriet's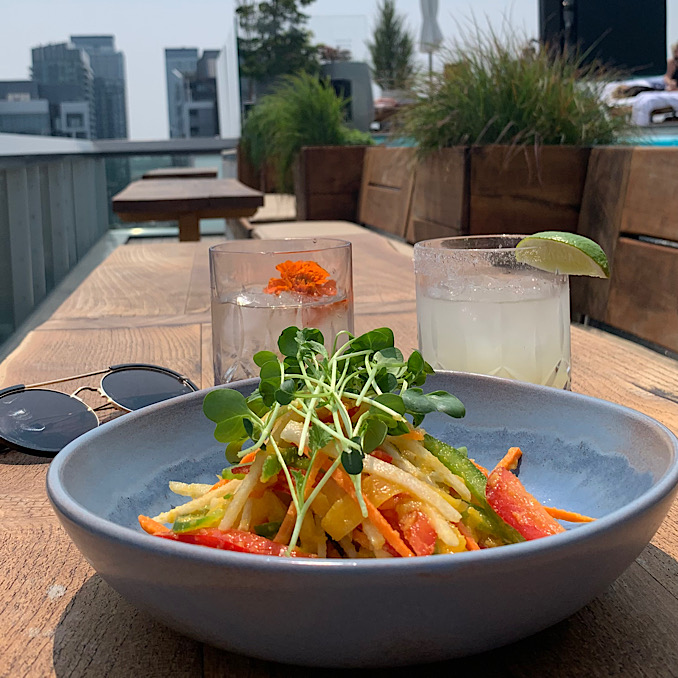 Atop the 1 Hotel sits the dreamy rooftop restaurant and bar, Harriet's, which is bright and airy indoors and a full on deck delight outside. Guests of 1 Hotel are able to use the pool, but visitors can buy a day pass for access. Fresh and healthy snacks are available to eat pool-side (including some pretty excellent sushi) as well as bright and delicious cocktails. The view of the Toronto Skyline is equally as impressive.  
Evangeline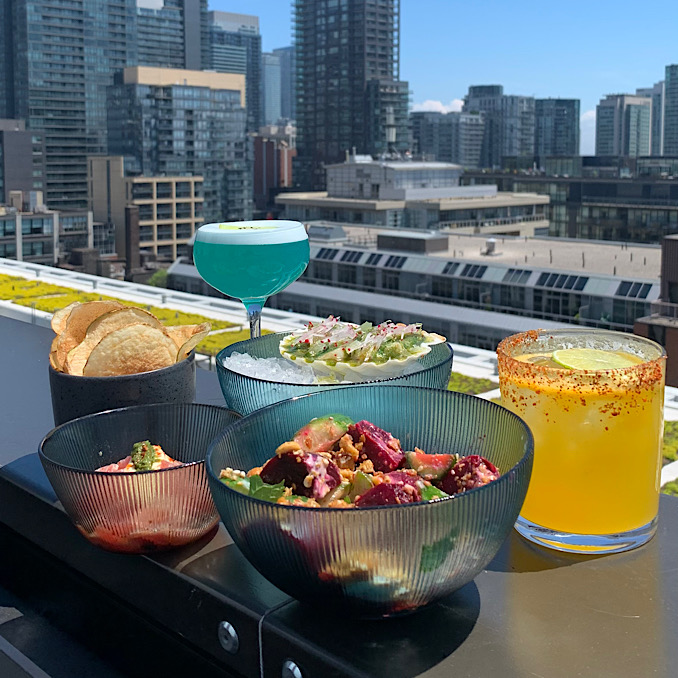 Mid-Century Modern charm exudes from the Ace Hotel's rooftop bar, Evangeline, which has a glorious patio. The sweet spot is round the corner to the right for the best views of the CN tower, but the whole space feels good to be in. A menu of light bites and cocktails makes for plenty of happy campers on the roof, although it is especially worth visiting for their Sunday funday High Tropics cocktail menu offering. Big fan of the Queen Anne's Revenge, although word "revenge" in any espresso-based coffee gets me kinda pumped. 
Lavelle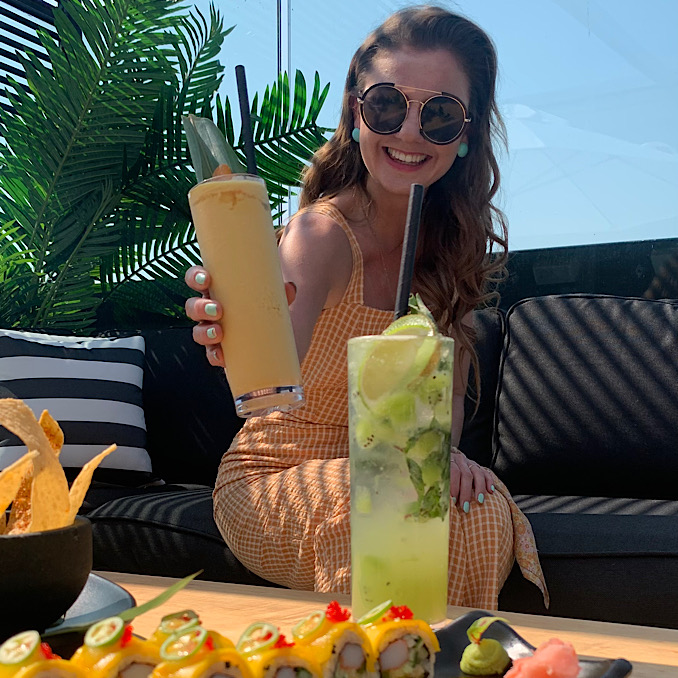 Lavelle is an absolute Toronto staple and enables all the thirsty people of the city to "tropic like it's hot" all year long (but let's face it, it hits different in the sunshine). Three pools and a Brazilian meets Japanese menu makes for a real feel good hit of the summer! I ADORE sitting poolside people-watching with a mango colada here. Stay for sunset and light up swimming pools, it's a vibe. 
Baro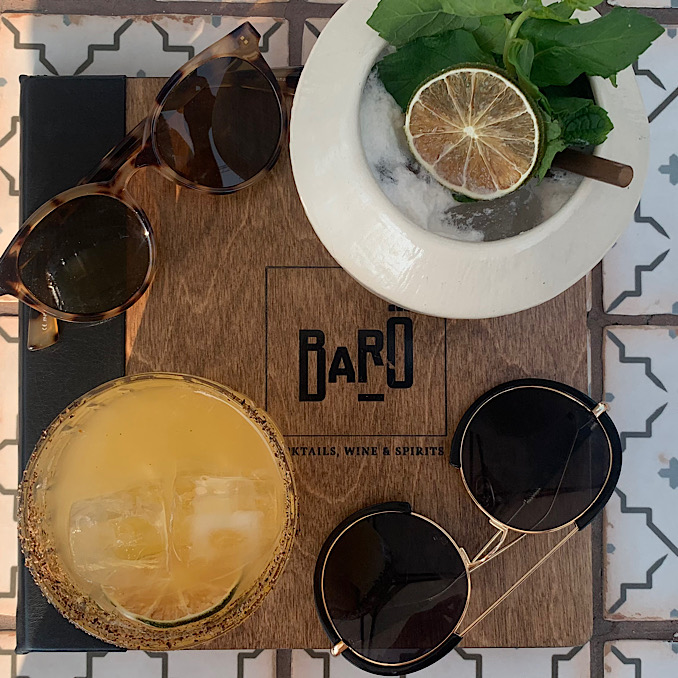 If you're looking for a more chill rooftop vibe, Baro is a restaurant-forward space overlooking King West (plenty of opportunity for train spotting, or, errr, streetcar watching!). "Latin cuisine with a modern flair" means menu items lille charred jalapeno hummus, ceviche, street corn and anticuchos. Mai tais, daiquris and mojitos keep things liquid lucious too. 
Oh, and there is a "Fiesta Hour" on the roof Monday – Thursday 5-7 and Fridays 3-5. 
Kost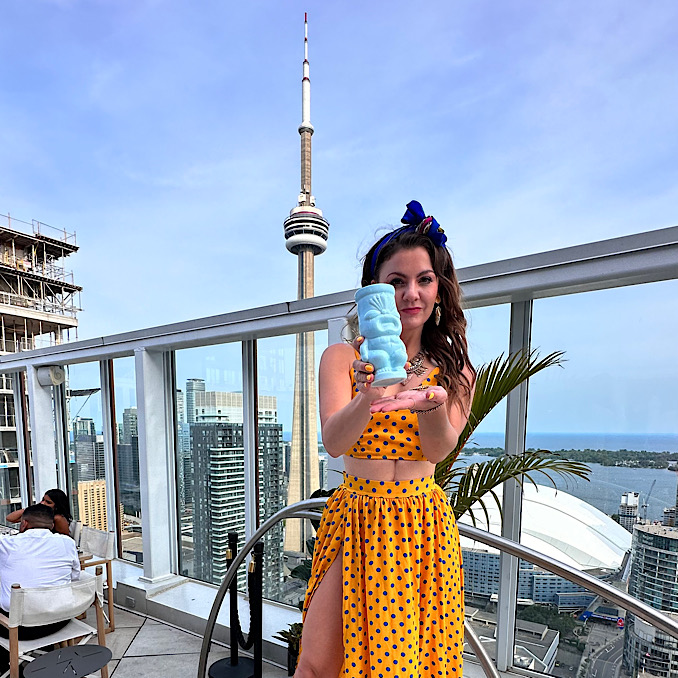 One more pool hop for the road, yeah? Go on then! On the rooftop of the Bisha Hotel sits Kost, with some full-scale oceanic "KOST" al vibes (sorry, had to). Airy and with a lightly Bajan-inspired menu, you'll find yourself at one of the most Instagramable spots in the city. The towering views of the Toronto skyline are impressive and will truly make you feel as if you're sitting on top of the world. 
Cheers everyone! Enjoy your summer outdoors!