A vivid, storytelling Rapper. Christian Mariconda is a musician who dissects his scarred past and bright, yet anxious future, which merges with experiences of the present moment, leading him to constantly seek the answers of his true nature using technical and poetic rapping abilities inside his music. Growing up in Brampton, Ontario, Canada he first discovered his curiosity for performance and songwriting at the age of 12 in which inspirations came from the likes of Justin Timberlake, Usher & Michael Jackson, which now has transformed into love and inspiration for Kendrick Lamar, Frank Ocean, Sampha, Andre 3000 & J. Cole. Christian merges the genres of Alternative Hip-Hop, Mainstream Hip-Hop, Jazz Rap, Soul and Avant-garde into his own sound formed today.
In 2019 Christian released the record "Baby Tonight" which gained new fans across Canada to Los Angeles all the way to Brazil. The song is featured in multiple Tik Tok videos across many accounts most notably Tik Tok influencer Bruce Gallinger, with a following of over 2.6 Million people the meme video that includes "Baby Tonight" has now over 310,000 views.
In February of 2021, Christian released the song titled "Braggadocious" which peaked at number 16 on the Hip-Hop/Rap iTunes Canada Chart along with peaking at number 132 on the All Genres iTunes Canada Chart. This was Christian's first-ever chart placement. Christian then went on to release his debut Micro Album titled "The Dinner Table Has a Wounded Pull"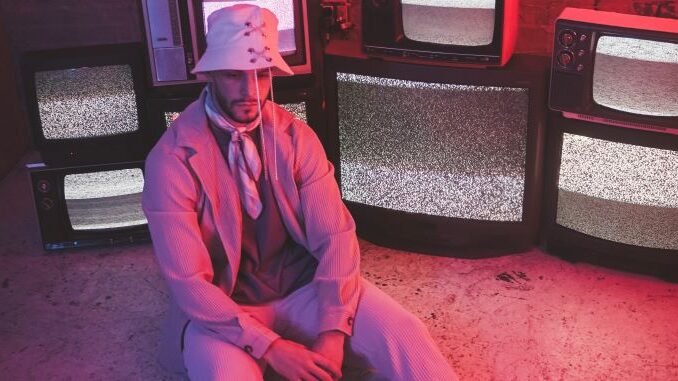 Name:
Christian Mariconda
Genre:
Hip-Hop/Rap
Founded:
I started recording my own original music in 2014 but didn't develop and evolve into my own sound until 2017 when I discovered my love for Hip-Hop and rapping.
# of Albums:
None as of yet but I released my debut micro album last April titled "The Dinner Table Has a Wounded Pull" and plan to release a full-length album possibly this year in 2022.
Latest Album:
The Dinner Table Has a Wounded Pull
Latest Single:
Never Fold
Latest Video:
Favourite Musician Growing Up:
At one point it was Michael Jackson, then later on after high school for a bit it was Justin Timberlake and Drake, but my greatest inspiration to my artistry is Kendrick Lamar.
Favourite Musician Now:
Still Kendrick Lamar (laughs)
Guilty Pleasure Song:
I'd probably have to say as of right now it would be "Kiss Me More" by Doja Cat and SZA
Live Show Ritual:
I wouldn't say I have a specific ritual that I do every time I prepare for a show that night, but rehearsal is vital for me in preparing and getting my vocal cords ready as is drinking my tea and tons of water throughout the day, I'll intentionally only eat organic foods all day as well as set time aside to meditate and keep my body, soul and inner energy clean before getting on that stage, more importantly, my solitude and alone time means a lot to me on the day of my show, just being in my own space helps me remain grounded and centred as I see myself putting on the most special and impactful shows for my fans and the audience.
Favourite Local Musician:
Clairmont The Second and Derin Falana are two artists that are really creating and putting out unconventional, unapologetic and authentic music that I really resonate with and appreciate, they are global stars in the making coming from Greater Toronto Area.
EP or LP?
LP's because they reveal more about an artists perspective and experiences during a longer period of time in their life, for me, a full-length album is more similar to an entire book or an entire show/movie in a musical format, it can pull the listener in more to a journey of stories and sounds that are uniquely made for the album and may never be made again in that artist's discography. A full album can also come at a time in someone's life when they need it the most, during times of suffering, times of joy and times of culture and societal events.
Early Bird or Night Owl?
I'm an early bird type of person, depending on how early I start my day it only generates momentum into how I approach the afternoon, the evening and eventually the nighttime and for me because I'm always working on my music I wanna be in my zone earlier rather than later. Considering I don't like creating when it's deep into the night cause I value my sleep too. So my morning has a ripple effect on how focused and productive I am after that.
Road or Studio?
I love both so much. On the one hand, the creative process is such a magical and therapeutic space to be in from start to finish. On the other hand, I get to perform in front of my fans and people who enjoy and vibe out to the music I make, plus they resonate with my message and experiences. To see and hear a crowd singing and rapping along to these songs that I've manifested into physical reality is a special feeling unlike any other. Live and on stage in front of whether it's 100 people or 100,000 is why I make music other than it being a place of my self-healing process, music connects people in a way that goes beyond society's limitations and biases.
Any Shows or albums coming up?
Since we are in times of chaos with the pandemic still at the top of 2022, no live events and performances from me and my team are being put together as of right now with the current capacity restrictions. Currently though my new song "Never Fold" is available now on all streaming platforms and the music video to the song will be released very soon along with some other special things to be released as part of the world Never Fold is building into over the next three months.
Where can we follow you?
***
Rapid Fire Toronto Qs
Favourite Local Restaurant:
August 8 Sushi
Favourite Street in Your City:
A street called Sandalwood Parkway, just because of growing up just a few minutes away from Sandalwood I walked and rode my bike and drove down the street so many times growing up. It's a part of my journey and my childhood all the way to me now as a young man.
Favourite Park In Your City:
To be honest there are parks all over my hometown in Brampton that I created many memories and had many experiences with friends and my family, any memories I have of being at a soccer field, a playground, a basketball court and just at a park in general from my hometown really holds a special place in my heart.
Favourite Music Venue In Your City:
The Rebel in Toronto.
Favourite Music Store In Your City:
At the local mall which is called Bramalea City Center, there used to be an HMV there but I wanna say four or five years ago the store changed its name to Sunrise Records. I used to pick up all my CD'S there when I was younger from my favourite artists and their newest releases, and also just albums I loved so deeply. As I got older I started to really love vinyl so I would go to Sunrise Records to collect vinyl as well.