It's hard to believe, but it's been twenty-eight years since violinist James Ehnes made his debut with the Toronto Symphony Orchestra. Ehnes, one of Canada's greatest classical music exports, was all of eighteen years old the first time he performed alongside the TSO, just a kid from Brandon, Manitoba making his way up in the classical music world. A Grammy and Juno winner who has performed on all the biggest stages and with all the greatest orchestras, he has returned again and again to the welcoming Toronto audience that's been there since the start of his career.
This week's return to Roy Thomson Hall marked the first time Ehnes has graced a Toronto stage since December 2020, when, together with pianist Stewart Goodyear, he put on a three-day livestreamed performance of all ten Beethoven Violin Sonatas. However, the April 6-7, 2022 performances are the first time he's been in front of a live Toronto audience in several years, an audience that welcomed him, alongside TSO Conductor Laureate Sir Andrew Davis, with rapturous, and deserved, applause.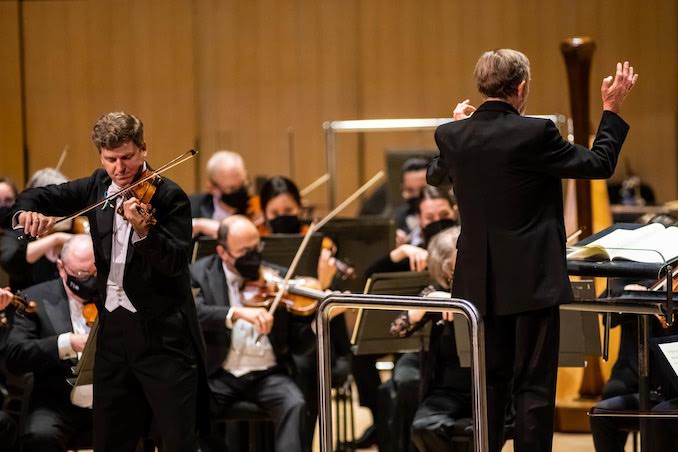 The program began with TSO Affiliate Composer Emilie Lebel's The Sediments. Inspired by the writings of conservationist Rachel Carson (she of Silent Spring fame), Sediments is a poetic meditation on "the weight of sediment, and our history. Water flows on, whether I am here or not. Everything that ever was is still here," as Lebel writes in the program notes. Of the various obligatory CanCon commissions this season, Sediments is a clear standout. Ominous but with light touches, it sounded like a mashup of Jerry Goldsmith's Alien score and Stravinsky's Rite of Spring. The opening fortississimo chord also shocked the heck out of my concert companion, which is obviously a great selling point.
Richard Strauss's Till Eulenspiegel's Merry Pranks (1895) was, as always, a sheer delight. One of several Strauss tone poems (see also: Also Sprach Zarathustra and Eine Alpensinfonie), it recounts, in symphonic form, episodes in the life of legendary 14th century German prankster Till Eulenspiegel. From the opening fairy tale-like theme through the amusingly pompous bassoons (standing in for conceited academics) through the teasing love theme as Till unsuccessfuly flirts with village girls, it concludes on a darkly humourous note, the resounding bass and drumline announcing the arrest, trial, and apparent execution of the protagonist. The punchline? Following his presumed demise, the opening theme returns once more, Till (and Strauss) winking to the audience that there are still more pranks to be had. (And here the concert missed April Fools' Day by less than a week!)
Ehnes joined the TSO in the second half for an impeccable performance of Beethoven's Violin Concerto in D Major, Op. 61 (1806). Ehnes is a singular talent, technically flawless and emotionally engaged. The opening Allegro begins with a simple, almost childlike theme, but Beethoven modifies and plays around with it – especially on the solo violin – in interesting, dynamic ways. The subsequent Larghetto is moderately paced, lyrical, with harmonic fluorishes played with precision by Ehnes. The Rondo/Allegro finale is deservedly celebrated, with an extraordinary mid-movement cadenza (Ehnes favours the Fritz Kreisler version, though there are dozens of others to choose from) that, in Ehnes's hands, truly gave the impression of an improvisation, as if Ehnes was momentarily moved to offer musical comment on Beethoven's composition.
Following a lengthy standing ovation, Ehnes returned for an encore, performing an excerpt from a Bach sonata. Ehnes dedicated the performance to the memory of Canadian conductor Boris Brott, who was tragically killed in a hit-and-run earlier this week. Brott was the first conductor Ehnes ever worked with, and Ehnes was visibly moved by the loss of this stalwart of the Canadian classical music scene. It was a beautiful, if sombre, note to end the evening on.
***
Next up at TSO: Celebrate 100: Maestros' Special Homecoming @ Roy Thomson Hall, April 9, 7:30pm. Tickets here.
For the full TSO season calendar, click here.