The TD Jazz Festival returns to Toronto the first weekend of summer for ten days of live music in Yorkville; featuring more than 165 free shows and events. The festival brings world-renowned musical talent to Toronto like Herbie Hancock, Macy Gray and Holly Cole. In addition to big name performers, TD Jazz Festivals offer unique opportunities for youth through their Emerging Artist Series. Through various community programs, the festivals serve as an educational platform for emerging artists and music students, helping to define the future of Canadian jazz. The festival runs until July 1, 2018.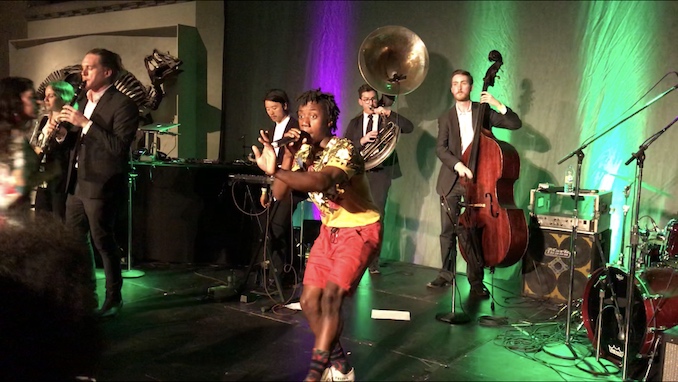 Jazz Fest Hooks Up With Rapper, Clairmont The Second
Looking to push musical boundaries and connect with a younger audience, the festival partnered with the ROM's Friday Night Live for Jazz Club – a party showcasing a mix of jazz styles through music and dance. On the program was Polaris Prize nominee, Clairmont The Second, a young rapper from Toronto who performed at the ROM's Friday night party as part of the TD Emerging Artist Series.
Other Toronto talent included Jazz Money, a former street band that now backs the hottest MCs and singers in the city. This year they dropped their single "Purdy" with JUNO-nominated MC Clairmont the Second. Their latest project is a collaboration with Ase Ayrah Taerb and Eyeda Sophia, two outspoken and enthusiastic MCs who had the crowd jumping and waving their hands in the air on the ROM's dance floor.
And Holla Jazz, a contemporary dance collective where all jazz dances, hip-hop and house intersect.
Looking At Jazz In New Ways!
From speaking with people at the end of the evening, Jazz Club impressions were mixed. We gathered that people came because they were curious about what to expect at a museum/jazz event, as well some attendees we spoke with had a music education or had played in their school jazz band. Two young women told us they had expected it to be a more classy jazz event; that it wasn't authentic enough. There also seemed to be some confusion about why there was a rapper featured at the event.
On the other hand, we also hear positive feedback about Jazz Club. One of the Jazz Money MCs explained the inclusion of rap and hip-hop in the programming, saying that historically many forms of musical expression have intersected with jazz. Take for example scat and bebop music which both highlight musical improvisation. If you take a minute to find out a bit about jazz music history then it's not so much of a leap to see why rap and hip-hop might be included in a contemporary jazz program or music festival. At its core, jazz is about freedom.
After the museum closed, we continued the night in the Bloorcourt neighbourhood and discovered a popping jazz night called Freedom Time Dancefloor Jazz Session going down at Yauca's Lounge on Dovercourt. Everyone was dancing hard to wildly cool jazz tracks. DJ Jason Palma and DJ General Eclectic were spinning a mash-up of old and new styles including hard bop, soul jazz, nu jazz and jazz funk. The ROM should check out the talent being booked here for upcoming Friday Night Live jazz parties. If you are looking to explore more in the Toronto jazz scene we recommend you give Yauca's Lounge a go!
TD Emerging Artist Shortlist & Remaining Performance Schedule 2018
Tuesday, June 26
Lydia Persaud | OLG Stage on Hazelton Ave. | 12pm A co-founding member of outstanding vocal trio The O'Pears, Lydia Persaud is now blazing a path as a solo artist.
Wednesday, June 27
Shannon Butcher | Yorkville Village – The Lane | 6pm Jazz vocalist Shannon Butcher connects with her audience not just with her outstanding voice, but also with her self-composed songs and her re-imagined jazz arrangements of contemporary pop hits.
Chelsea McBride's Socialist Night School | OLG Stage on Hazelton Ave. | 8pm At only 25, Chelsea McBride, a composer and multi-instrumentalist, has been named one of Canada's top 35 jazz musicians under 35 by the CBC and was the inaugural recipient of the Toronto Arts Foundation's Emerging Jazz Artist Award.
JAZZ.FM91 Youth Big Band / Bundesjazzorchester | Isabel Bader Theatre | 7pm Two great big bands on one bill. The playing of the JAZZ.FM91 Youth Big Band will impress; then Germany's official Youth Jazz Orchestra takes the stage for a music and film performance celebrating filmmaker László Moholy-Nagy.
Thursday, June 28
Bloom| Yorkville Village – The Lane | 3pm Bloom is a Toronto-based quartet with music that draws influence from an eclectic variety of sources, with a unique sound that is distinctly their own.
Freestyle Hustle Jam w. re.verse | OLG Stage on Cumberland St. | 8:30pm Come shake your thang – jazz/soul/hip hop trio re.verse lays down the grooves while dancers from Toronto's hustle scene freestyle.
Joel Visentin's Boogaloo Squad | Sassafraz Restaurant | 10pm An extensive repertoire of classics from the soul hits of Stax and Motown as well as their own original music no two concerts with JV's Boogaloo Squad are alike.
Friday, June 29
T.Dot Bangerz Brass | Village of Yorkville Park | 7:15pm The T.Dot BANGERZ Brass are Toronto's only hip-hop and trap brass band. A wall of brass blasts your favourite hip-hop bangerz. Add a crew of Toronto's most gifted young MCs freestyling mind-bending verses with the joy and passion to make every performance a party for hip-hop culture.
YUKA | OLG Stage on Cumberland St. | 8:30pm Yuka possesses a unique brand of energizing funk music taking direction from a wide variety of influences both classic (James Brown, The Meters) and modern (Soulive, Sharon Jones). The sixpiece band plays hypnotic dance grooves underneath slick, lyrical horn lines that are accessible without being boring.
Saturday, June 30
Allison Au Quartet | OLG Stage on Hazelton Ave. | 12pm  Au earned her first Juno nomination for her debut album, "The Sky Was Pale Blue, then Grey", and at 30 she seized the Juno for "Best Jazz Album of The Year: Group" for "Forest Grove."
Sunday, July 1
Jazz Musician Intensive Ensemble | OLG Stage on Hazelton Ave. | 5:15pm A new initiative for 2018, the Jazz Musician Intensive Ensemble is made up of 8 students carefully selected by faculty at the four main post-secondary jazz programs in the Greater Toronto Area (University of Toronto, Humber College, York University and Mohawk College).
Collective Order | OLG Stage on Cumberland St. | 6pm The idea was to go into the studio and try to capture the magic that happens when players who have never met get on a stage, choose a standard they all know, and then somehow make it come to life.
Soren Nissen – Departures Quintet | OLG Stage on Hazelton Ave. | 7pm Catch one of Toronto's fast rising jazz stars. Soren's Departures is a unique ensemble featuring his original compositions performed by piano, sax, tabla, bass and drums.
Marito Marques | OLG Stage on Hazelton Ave. | 8pm Taking his influences from African roots music, jazz, and pop, Marito makes compelling music that is as beautiful to listen to as it is nourishing for the soul.
***
The TD Toronto Jazz Festival has become known as one of North America's premier jazz festivals produced annually by Toronto Downtown Jazz, a Canadian registered charity. Begun in 1987, the event now attracts over 500,000 people annually, over 10 days, as more than 1,500 musicians entertain all across the city.
For the full festival schedule please visit: http://torontojazz.com/
Find out more about the talent featured at the #ROMFNL Jazz Club party on June 22, 2018: http://torontojazz.com/concert/rom-friday-night-live-jazz-club
For upcoming ROM Friday night event information visit: https://www.rom.on.ca/en/whats-on/rom-friday-night-live
For a mash-up of authentic, eclectic live and DJ nights check out this Bloorcourt music lounge for events! https://www.facebook.com/yaucaslounge/