Seeing Cirque Du Soleil has become a bit of a yearly staple for me and I always look forward to it. This time around it was a real treat to see a classic Cirque show reimagine; Corteo is a dreamy treat.
This is an official warning, you don't have long to get your tickets to see the show when it graces the Scotia Bank Arena (formerly the Air Canada Centre) with its presence in December (12th-16th). Of course, if you don't want to be disappointed when the show inevitably sells out, I would book my ticket now.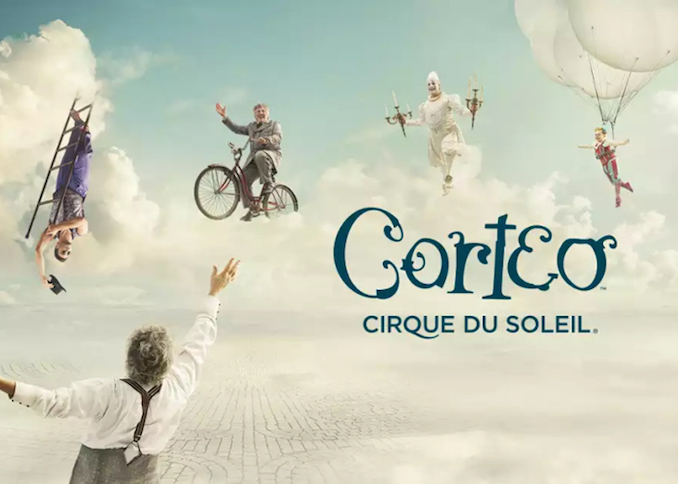 Corteo began its life 13 years ago under a big top in Montreal. Today, it has been adapted for a stadium and a new life has been blown into this already at times breezy and angelic production.
The show tells the tale of a clown amid his final hurrah and on his way to heaven. Expect beauty, adventure and big production value as Corteo the clown makes his way to dreamland.
Spectacle is synonymous with a Cirque show, and Corteo is one of the finest. Floating beds, flying angels, a cruising ship, giant helium balloons, a puppet theatre and sweeping chandeliers (with a satisfying nod to Phantom of the Opera) fill the stage, allowing performers a pedestal befitting of their already god-like talents. As one of the cast members gleefully told us after the show, Corteo is like a painting come to life. And wasn't I lucky to be in the gallery?
As with every Cirque show, the talent in this ensemble is incredible. On speaking to the cast, I learned how they are always physically communicating to make sure the performance is a success, however I couldn't help but hold my breath on a number of occasions; especially when a group of lads were spring boarding off a seesaw.
A very, very tall performer and two performers with dwarfism add a circus like "freak show" vibe to the performance, which makes Corteo wonderfully surreal. Adding to the moments of surrealism, clowns with angel wings fly and a pantomime horse head runs amok. Mixed with the Commedia Del Arte heightened style of performance, it is quite easy to think you have fallen asleep and woken up in some kind of mesmeric dreamland.
A stand out moment is of course Valentyna Pahlevanyan's Helium Dance. I wouldn't want to ruin the magic of the moment, so I don't want to say too much other than prepare to be bewildered and beguiled. I suppose the same could be said for the rest of the show, which really is a compendium of dreams.
The show works in summer, but I can only imagine the enchantment Corteo would be perpetuated in the winter. Once again, you have less than 6 months to be part of the magic.
To find out more about the show or to buy tickets, visit their website.