It's the first, and last, time Honest Ed's will be open for a truly epic farewell party as it's slated to shut it's doors for good. From Thursday, February 23rd to Sunday, February 26, 2017 there are a series of events planned in collaboration with visual and performance artists throughout the multi-level two building space organized by the Centre for Social Innovation.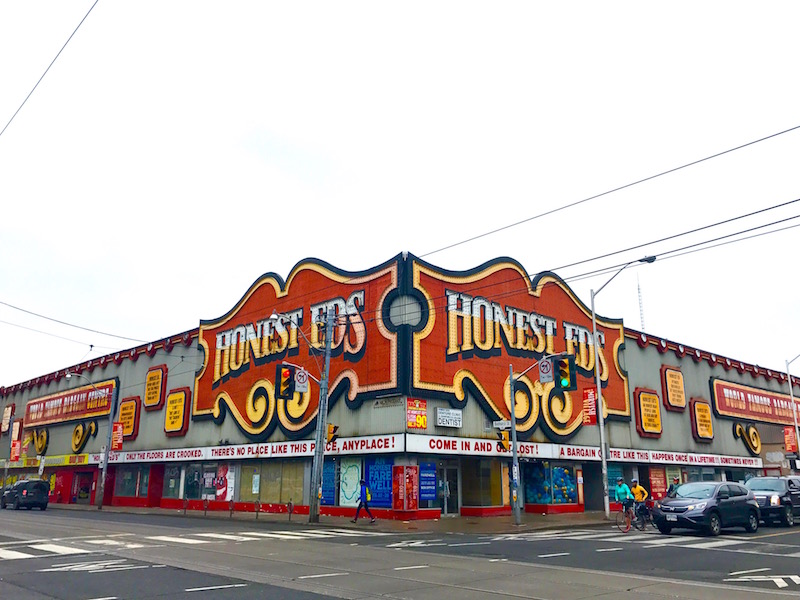 Dubbed #AnHonestFarewell , the multi-disciplinary art event is meant to bring Toronto together with a sense of community pride. Honest Ed's has been a fixture in Toronto since Ed Mirvish opened the store in 1948.  Known for bargain basement prices and pun-y signage, shoppers were encouraged to "come and get lost"…and that to this day, still rings true.
I can recall getting lost myself as a young child. Mom and grandma will never forget the day that I wandered off into the toy section and beyond as they shopped. Almost escaped out the front door with a bag  full of intentional buys too! And this is common ground for many Torontonians…recalling all sorts of funny stories and  memories of Honest Ed's.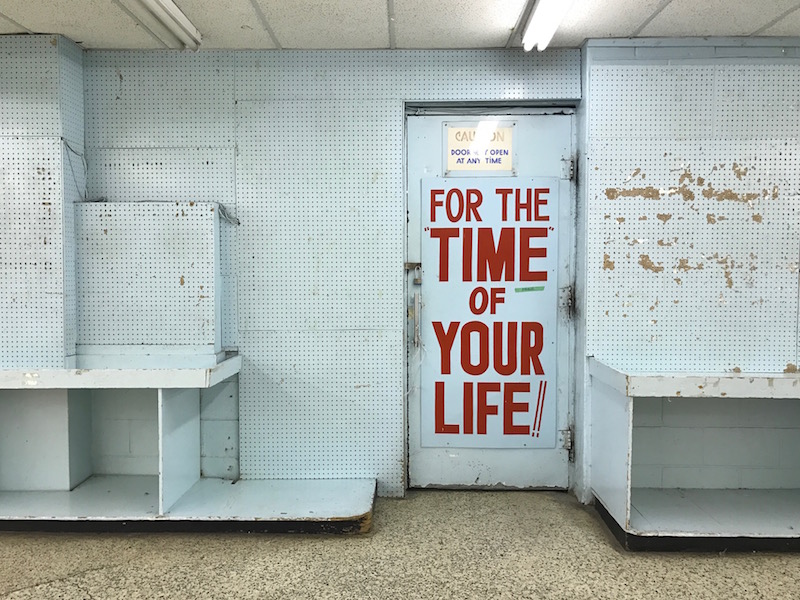 "When I was a teenager of about 15, I always shopped there. Once I bought a really great black wool trench coat, even through it was in the height of summer," said Toronto artist Gary Taxali. "I had my hands full of records so I had no choice but to wear it. I'll never forget eating an Honest Ed's hot dog and suddenly catching myself in one of the store mirrors. I laughed at how ridiculous I must have looked wearing the thick winter coat on such a humid day, but nobody seemed to notice or care. In Honest Ed's it was okay to be or look like a freak. Great deals without judgement, how could I not love the place?"
Taxali is just one of the many artists involved in the city's saddest 4-day goodbye celebration. "I tried to echo some of the inspiration type in my own style, and couple it with images of character and scenes. To me, Honest Ed's was more than a retail store. It was a place that you could walk away  from with a really great story. My art has a lot of narrative components, and I thought it fitting to capture some of the mood and atmosphere of how I feel (and always felt) when I entered the great store. I don't know a single artist that didn't love the place," said Taxali on his installation that consists of a project of words and images.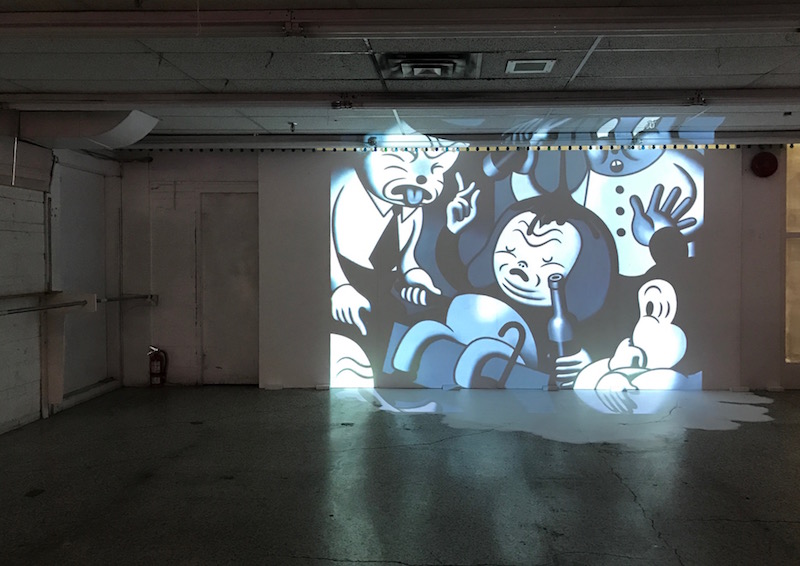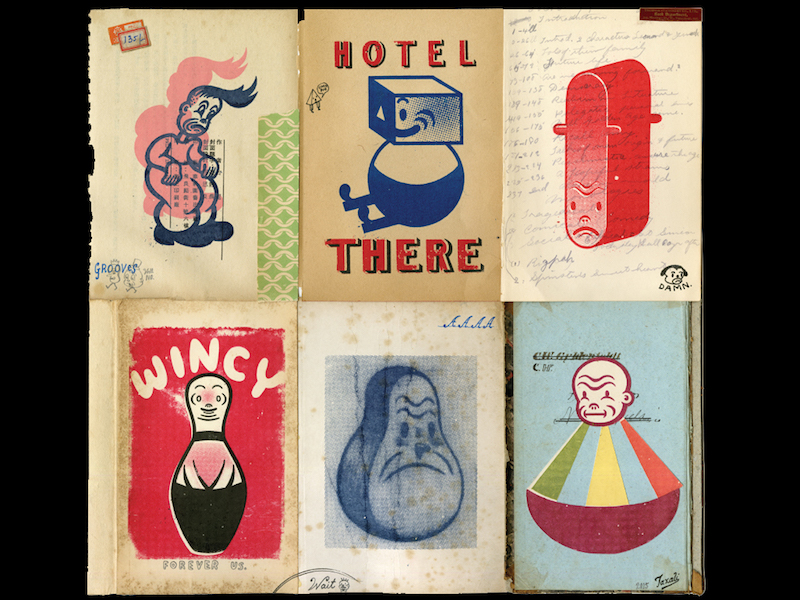 The many art installations involved are works of passion. Sol Guy, Founder of DAIS explained that  ART1ST is a collaborative and immersive experience with artists including MissMe, Mustafa the Poet, Art of Dope, Mnsota, Courtney Taylor and others. Guy, who's very inspiring, tells us that the organization's mandate is always to put artists first.  "The importance of Honest Ed's from a creative and cultural perspective is they've become a pillar of community. It was not just a place of commerce to sell things but they also had a balance of giving back and that's what artists do as well. We put out to the community." said Guy. "Even with this event, there's a sense of importance because everyone comes together. It's inevitable what comes next but when you invite people in, that's pretty symbolic. Yes, there will be a tear-down and a build back up. The community has  a sense of ownership of what comes next.  It feels good to be part of this creatively and a contributor culturally to be in this space where people have 360 vision."
The ART1ST installation is tucked in where the former hair salon was situated in Honest Ed's. Guy tells us that within the past couple of weeks, the creative elements of the installation is reflective of what's happening in the world today.   "In the times that we're living in now, the artist's role becomes really important," says Guy. Through a blend of performance, collage, sculpture and sounds, the installation explores the importance of art and a desire to inspire a call to action as well as to heal others. Signs displayed here were part of recent protests held in the city created by citizens in the city.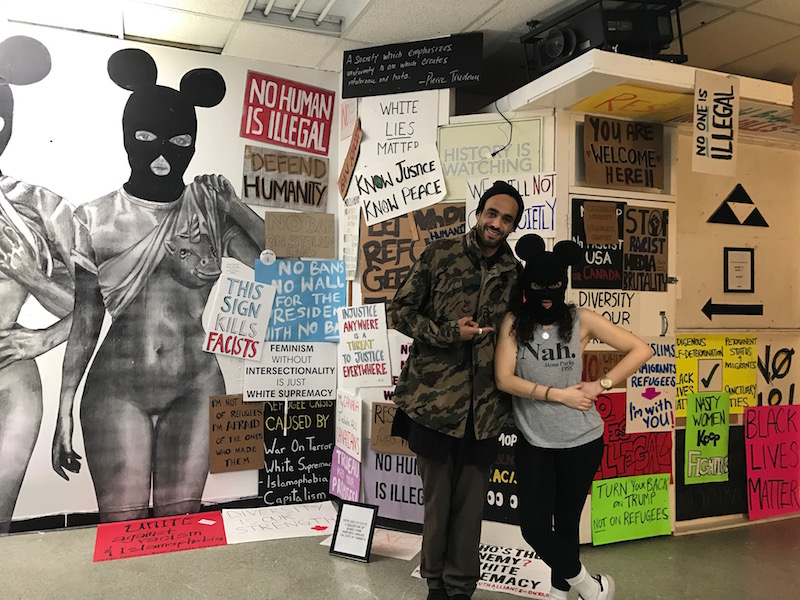 A large black and white mural created by Fucci greets you as you're on the stairwell of the East Building. Fucci is a Finnish-Canadian artist who resides in Toronto and is known for his bold and minimalist approach to contemporary art. Cais, who reps Fucci,  at the Only One Gallery  tells us, "It's always been about community and showing new artists especially giving young artists a chance to show their work. Fucci is getting a lot of traction lately," says Cais. The larger-than-life mural depicts a well-dressed, but understated, image of a gentleman with briefcase in hand. A pigeon rests trustingly with words "snack time" that has us all speculating if that's indeed Ed Mirvish himself.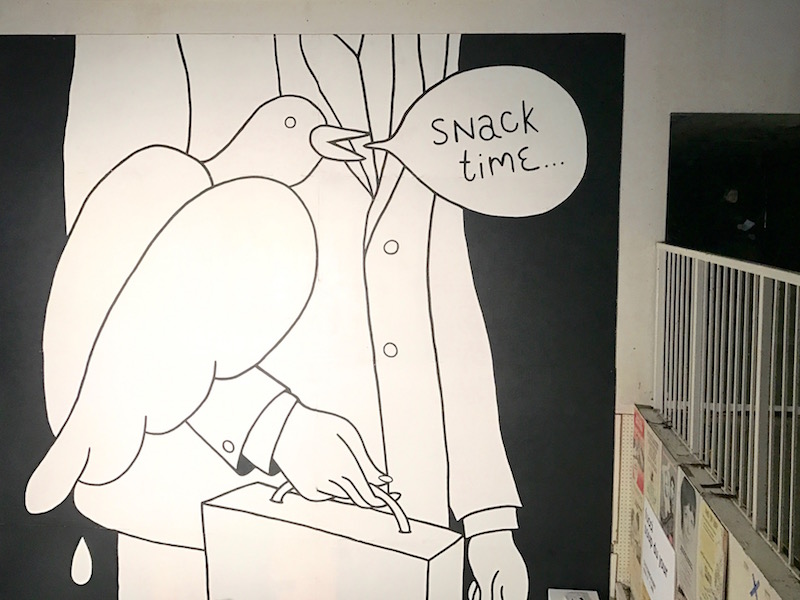 Wandering (and yes, getting lost) between the buildings we came across a colourful room behind a veil of streamers created by artist Stephanie Payne. Her fun house type of space was inspired by the circus like aesthetic of Honest Ed's. "I wanted to create a whimsical, carnival-like fun house from ceiling to floor," said Payne. "This was a very site-specific project and I saw a lot of potential with the pillars and the mirror. It's a wacky fun house space and it's theatrical, psychedelic. I want people to come and explore, get lost in the space and reflect. I wanted to give a sense of nostalgia, wonder and magic. I felt like Ed Mirvish always wanted to create this sense of magic and I wanted to commemorate that fun voice that he had."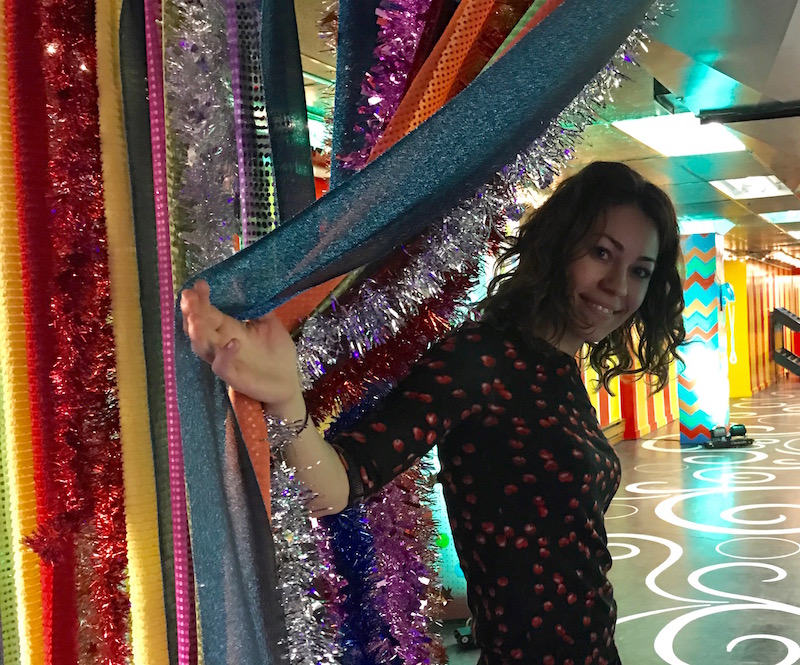 The art installations are just one element of the celebration. There are many events including a Cocktail Gala, Bargain Bash, and Town Halls planned over the four days. Several family-friendly events are happening during the weekend that include Ukulele Workshop with K-Funk & Lady Ree, scavenger hunt, and more. There will also be an ice cream social, a dance workshop with the National Ballet School (no dance experience required!) and many great community hub events. Note: some events are ticketed.
Whether you grew up with fond memories of Honest Ed's (or not) this is your last chance to "come in and get lost."
For more information visit torontoforeveryone.com