We're feeling a bit like we're living in the Jetson's world at the new TORA Japanese Restaurant where traditional meets the latest technology. But the experience starts as soon as you approach the floor to ceiling silvery grey exterior tucked in the quiet corner in the newer end of Yorkdale Shopping Centre. The initial reaction from every person who ventures to this area is priceless, as excitement and curiosity is apparent.
A host is there to greet you and let you know if there is availability or if there's a wait time. No reservations are taken at this restaurant that seats 120. Once through the door you head up the elevator to the actual space. It's cool and it feels like you're not in one of the busiest malls in Canada but in a space where you can escape.
You immediately draw your eyes to what they are calling the "laneway" that is designed to deliver the food right to your table. It's familiar at first glance. Those who've been to cosmopolitan asian cities may have experienced something similar but here's the difference: each table or seat offers a digital menu for ordering. Food is prepared and delivered directly to your table within minutes. Do not call it a "Conveyor Belt" — this isn't a machine. The technology is there but so is the traditions of properly prepared Japanese food. Nothing is just circulating around waiting to be picked up. It's all made to order and fresh directly from the kitchen with a team of 20 chefs. This is the first of its kind and the technology, we've learned, will be in Japan soon. Yes, Toronto is the first.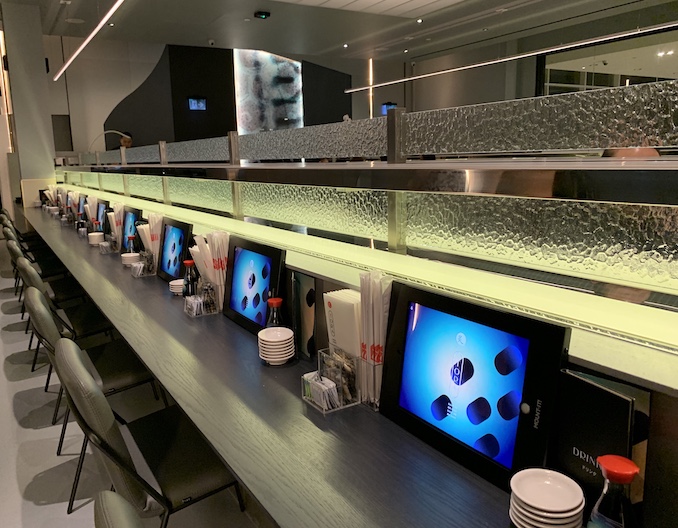 Ordering from the digital menu is really fun. Dishes are categorized including aburi oshi, rolls, sashimi, nigiri, Edoprime sushi, hot and cold dishes, desserts. There are also categories that are helpful for vegans as well as kid-friendly. Don't know what things are? Everything is explained including the ingredients used in each dish.  Aburi Oshi is what the restaurant's sister properties (MIKU) are known for and are must-haves for ordering.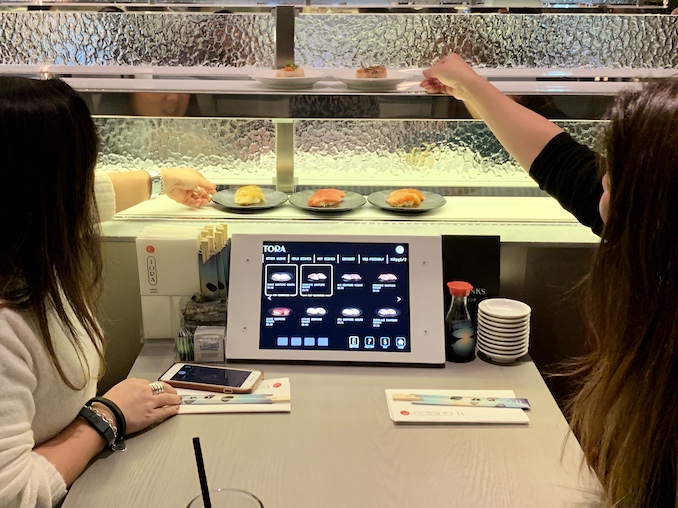 Aguri, takes the traditional ingredients and techniques of creating sushi but then modernizes by searing, bringing out different flavours and textures of fresh seafood. Aburi, literally translates to "flamed and seared" and it's next level here releasing that "umami" pleasure.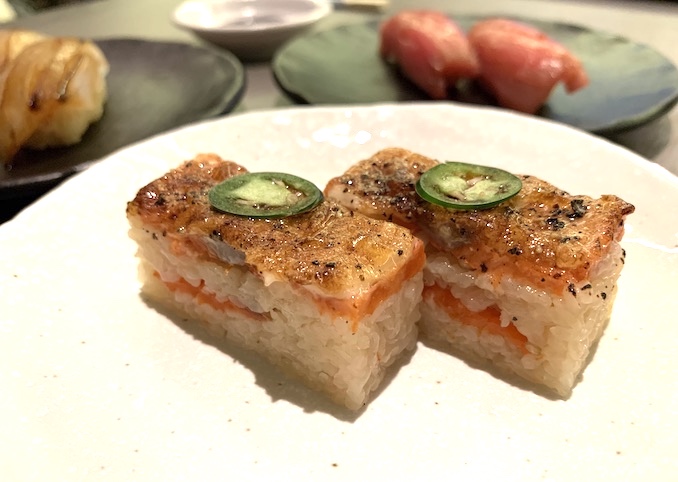 Another must try are offerings within the Edoprime Sushi category. Here is where you will find more interesting and premium fish flown in from Japan. We were lucky to find the Kinmedai in the selection. This bright red fish with skin on is slightly flamed before arriving to your table. We also learned that this particular fish is often served for celebrations (birthdays, 100 day baby birthdays) in Japan. The global executive chef overseeing the seafood menu tells us that they work with local small fish farmers in Japan that they trust to maintain the high  level of quality and freshness from the moment they are fished to preparation to transportation. Every step of this journey is important.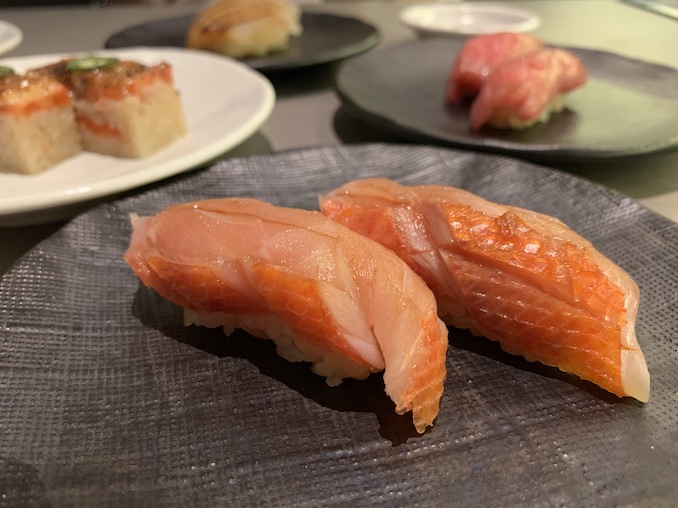 TORA creates their own signature akazu shari (sushi rice) that is slightly pink. It's deliciously seasoned and you don't need the often go-to soy sauce dipping. It's there if you really want it, but we suggest you hold back and taste the difference.
It's not all about sushi here, you will also find hot and cold dishes. Worth trying is the popular Chicken Nanban (morsels of tender fried chicken aka karaage with nanban dipping sauce), Wagyu Sukiyaki (served wth a lightly poached egg that is tossed together as soon as it arrives), and inari (rice balls enveloped in a tofu pocket). Word of warning, it's very easy to get caught up in all the fun in ordering off the digital menu so pace yourselves!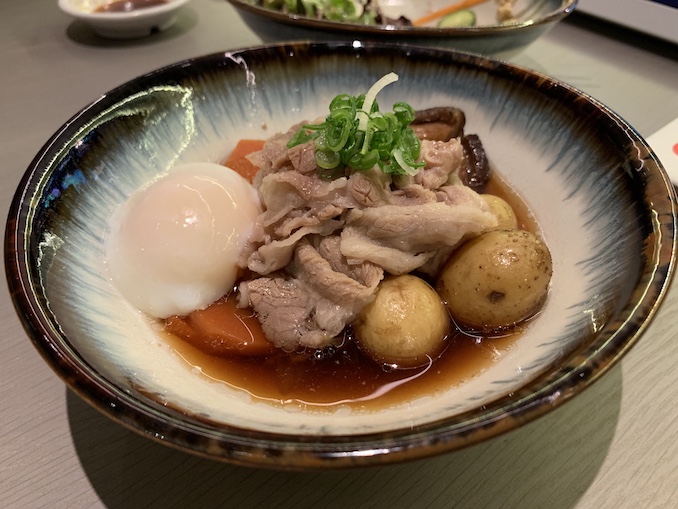 Definitely save room for desserts! There are several mochi ice cream offerings in here (sesame, matcha, strawberry, mango), a black sesame Japanese cheesecake, ice cream sandwiches but we absolutely fell in love with the WA-PARFAIT – a multi layered tasty treat. They also have Coffee Jelly on the dessert menu that we'll save for our next visit!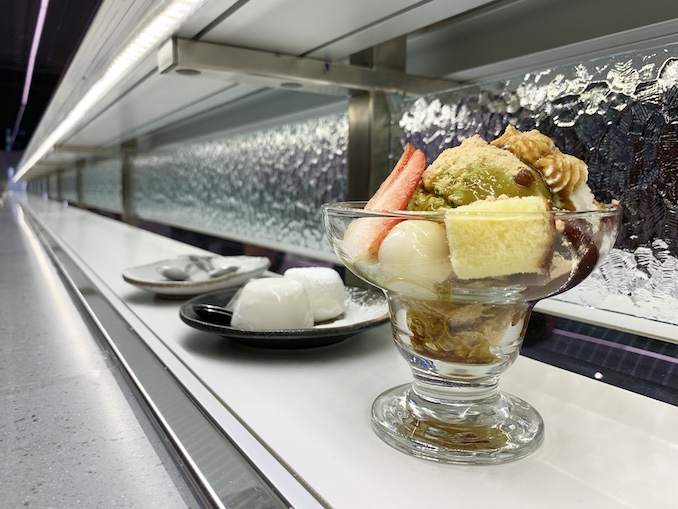 As for the drink menu, highlights include Aguri Ginjo — their house brand sake from Yoshi no Gawa, Japan. It's light and clean and a little sweeter to compliment the meals here. You will also find Sapporo and Asahi beers and a nice selection of popular Japanese beverages like Calpico (a non-carbonated and non-fat sweet milk drink) and Ramune (a fun fizzy drink that will need explaining if you've never tried before).
TORA Japanese Restaurant is located at Yorkdale Shopping Centre. No reservations. Opens 11:30 am daily and closes at 10:00 pm. Visit www.aburitora.com.