Toronto's Union Station is about to become a foodie destination and not just for people coming in and out of the city. City dwellers, like myself, en route to work, events, and home are excited to see this landmark building transform right before our eyes with AMANO PASTA leading the way — the first full service and take out restaurant to open for business in the busy train station. Also recently opened across the hall is Union Chicken.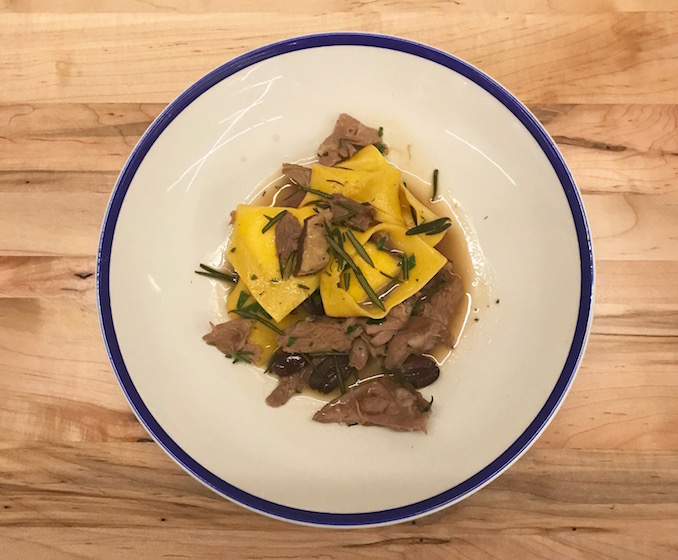 The lower level corridors along what is called the Front Street Promenade have already been shaping up to include spaces for local food artisans and specialty retailers. Brandon Olsen's CXBO chocolates, Peace Collective and Naked Beauty Bar have already opened for business and it's buzzing. Why this location?  Adam Teolis, co-owner of AMANO PASTA tells us they chose the location after touring the site. Watching the massive revitalization they could envision its full potential. "Union Station is, and will be, the central hub and the heart of the city. Once all the renovations are complete, the Station will be a destination in and of itself for shopping, dining and community gathering."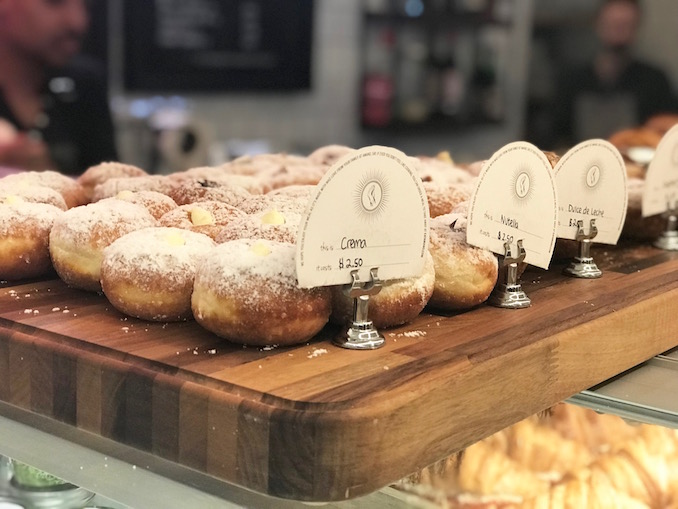 Follow the walkway going west and you'll first spot AMANO PASTA's Cafe & Market where you can take away quick bites and grab an espresso. Go through the Cafe to find the full service and licensed dining room as well as bar seating.
Chef Michael Angeloni (L'Unita Enoteca, Grand Electric, Splendido, Black Hoof) together with Adam Teolis, Yannick Bigourdan and Dan Kennedy (The Carbon Bar and Union Chicken) wanted to create a pasta bar that is rooted in tradition but explores Canadian and North American ingredients in a playful way. "Inspiration for the restaurant, of course, is with their immigrant parents and grandparents, who helped raised us." says Teolis. "They came from Italy and various regions in Europe with pioneering attitudes to take on a new world. It's that appetite for something new and different that we wanted to capture. Blending old with new and applying a modern North American influence to Italian staples.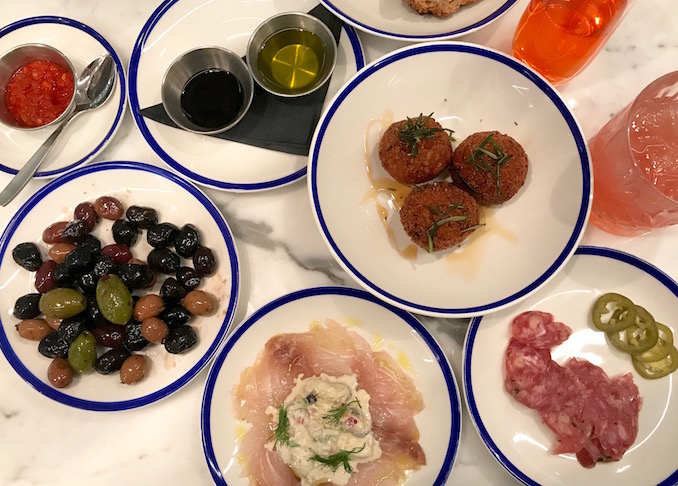 The menu starts with small plates great for the after work crowd who are looking for a few nibblies along side a beer or cocktail. Pasta menu consists of comfort staples like lasagna, rigatoni Bolognese along side some more adventurous plates of Gnocchi (maple braised rabbit, brussels sprouts, pecorino), Black Trumpets aka campanelle (Dungeness crab, pancetta, mustard seed), Pope's Hat aka Tortelloni (mascarpone, roasted lamb, olives, fried rosemary) and more. There are 11 pasta dishes on the current menu. By the way, all the pasta is made in-house fresh and daily. Nonna wouldn't have it any other way.
What caught our attention also is opportunity to just let them cook for you. A three-course meal that is priced well at $39 per person and we're told you won't leave hungry. "We wanted to provide our guests the option to put down the menu and leave the decision-making up to Chef Michael Angeloni," said  Teolis. "With the 'Let Us Cook for You' option, Chef sends a variety of plates form both on and sometimes off the menu. He serves the food family style so that everyone at the table can share and enjoy it. It's a great way for our guests to sample a variety of plates and complementing tastes."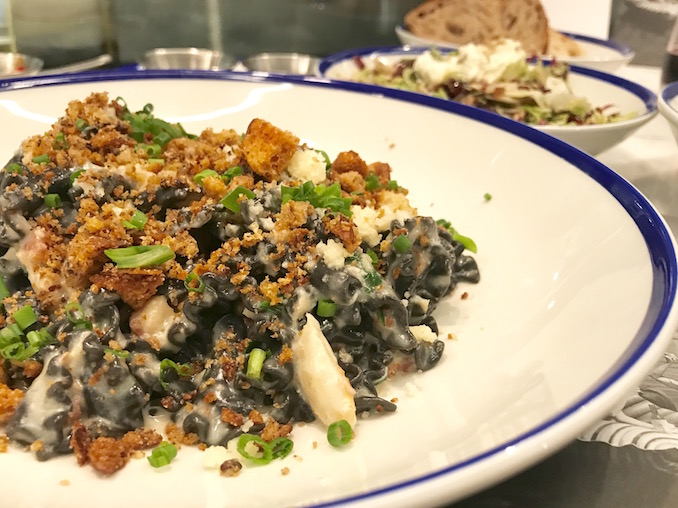 And trust us, save room for dessert. The house made canolis are delicious and the Budino (dark chocolate, salted caramel) is a must.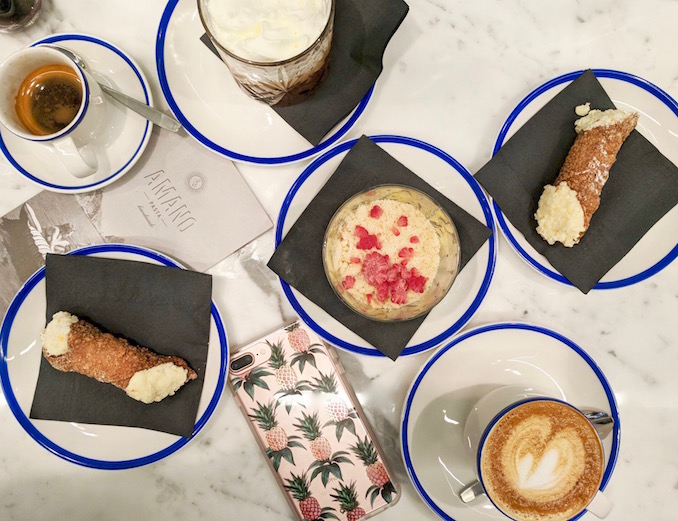 Since the train station is active nearly 24/7  what are the hours they open?
Currently, the Amano Pasta Cafe & Market is open Monday to Friday from 7:00 am and weekends and holidays from 10:00 am. Dining Room is open daily from 11:00 am until late every day.
Reservations through Open Table. Some walk-ins available.
For more information and to check out the menu visit eatamano.com