Hailed as an 'Artist to watch' in 2017 (Google Play), Fast Romantics is comprised of Matthew Angus (vocals, guitar), Jeffrey Lewis (bass), Kirty (vocals, acoustic guitar, synth), Kevin Black (guitars), Lisa Lorenz (keyboards) and Nick McKinlay (drums). Since forming in 2009, the band has released two full-length LPs and one EP. Known for their incredible live shows and songwriting prowess, Fast Romantics have received many accolades, including 'Pop Group of the Year' at the Sirius XM Indies (2014) and the prestigious Canadian 'SOCAN National Songwriting Prize' for their song "Julia" in 2016. The band has had 4 Top 30 radio singles and has over 2.3 million Spotify streams.
-Fast Romantics bio.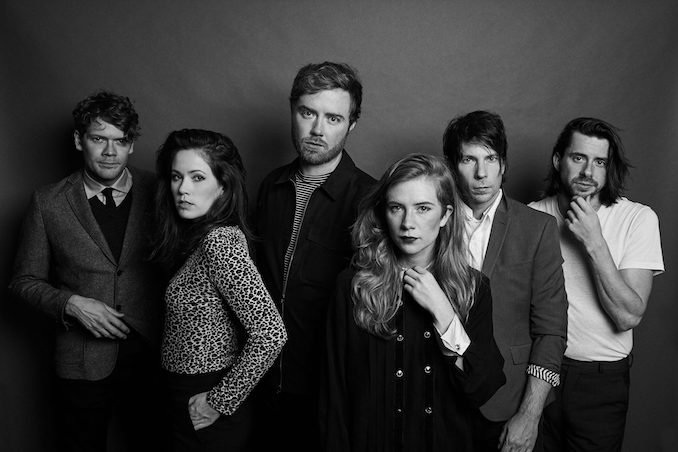 Name: Fast Romantics
Genre: Indie Rock/Alt Rock
Founded: 2012
# of Albums: 2 LPs
Latest Release: Our latest single "Mexico (Nov. 2018)
Latest Single:
"Mexico"
Latest Video:
Favourite Restaurant:
Le Paradis: I'm a big fan of French cuisine and this place does it perfectly. – Kevin
Favourite band as a teenager:
"Oasis. There was no one else." -Matt
Favourite band now:
U.S. Girls. The way that singer Meghan Remy blends cathartic personal statements with stories that are socially and politically necessary is masterful. And the guitar solo in the song "Velvet 4 Sale" is absolutely insane. – Kevin
Guilty Pleasure Song:
"Without Me by Eminem" – Jeff
Live Show Ritual:
"Sometimes tequila, sometimes tea. Crab-walkin'. Laughing with and at bandmates." – Lisa
Favourite local artist:
"Visual Artist: Anna May Henry, Music Artist/Band: Highest Order" – Nick
Sneaky Dees nachos, pasta from Terroni or a superfood salad from Fresh?
"NNNNACHOES. Because the heart wants what the heart wants." – Kirty
Queen or College St?
"Queen street hands down from Parkdale to the Horseshoe…I'm not that into college street since one of my day jobs is on college ha" – Jeff
Trinity Bellwoods or Highpark, Riverdale or Kew Gardens?
"Definitely High Park on a weekday!" & "Riverdale – although I don't get over to the east side as often as I could!"– Lisa
EP or LP?
"NP" -Matt
Early bird or night owl?
"Night Owl – Nick"
Road or studio?
"I love both, but I love being on the road more." – Kirty
Swiss Chalet or Roti?
"Heart says Roti. Blood says Swiss Chalet." – Matt
Where can we follow you?
Insta: @fastromantics
Facebook: www.facebook.com/fastromantics
Twitter: @fastromantics
Any shows or albums coming up?
We're in the middle of making our next album which will be coming out next year, and we have a bunch of shows this month which you can check out on our website including our only Toronto show this year on Nov. 23rd @ the Horseshoe Tavern! Also, check out our new single "Mexico" which can be streamed everywhere!!! – Kirty