Finding decent office space in Toronto can be a real challenge for entrepreneurs. Rents are high and for small businesses it can be a daunting experience. There have been a few "office sharing" places that have popped up in and around the city over the past few years and it makes a lot of sense. The demand is there but looking for the right fit for your work style takes a bit of time. I recently spent a few days testing out the new Verkspace in the Queen Street East/Sherbourne area.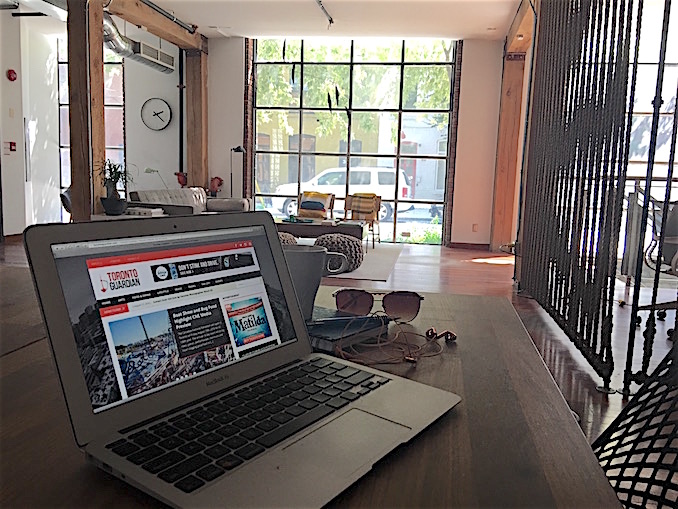 Freshly opened this past spring, the multi-level communal workspace offers more than a desk and a chair. It's a well thought out environment that not only addresses the daily operation needs but has design in mind. I was explaining to a few people this week that if I was to create my own office, this place pretty much hit everything on my wish list for what I would want when it comes to overall design and the individual workspaces, boardroom and communal areas. Location on the quaint tree-lined street is home to several creative production houses and studios (looks like Youtube is building something across the street).
There are different levels of memberships starting at $250 per month to suit a variety of small business needs. "Hot Desk" membership is perfect for someone like me who can just drop in when needed and takes away the stress of looking for another "coffice", know what I mean? I'm constantly looking for a coffee shop with wi-fi and then go searching for the electrical outlet while I nurse 3 coffees and a muffin to justify my stay. A "Dedicated Desk" membership is ideal for someone who has a need to know they have the exact same space each time they visit and start up businesses can also have space to help them through their growth stage, with a little more privacy.  It offers a reception area that, like other shared work spaces, will help with couriers and other essentials. The space is fully equipped with Wi-Fi access, boardrooms, and a kitchen that is complete with coffee machines and a loaded fridge — the days I used the space I discovered Yerba Mate, Pluck tea, and a several brands of beer.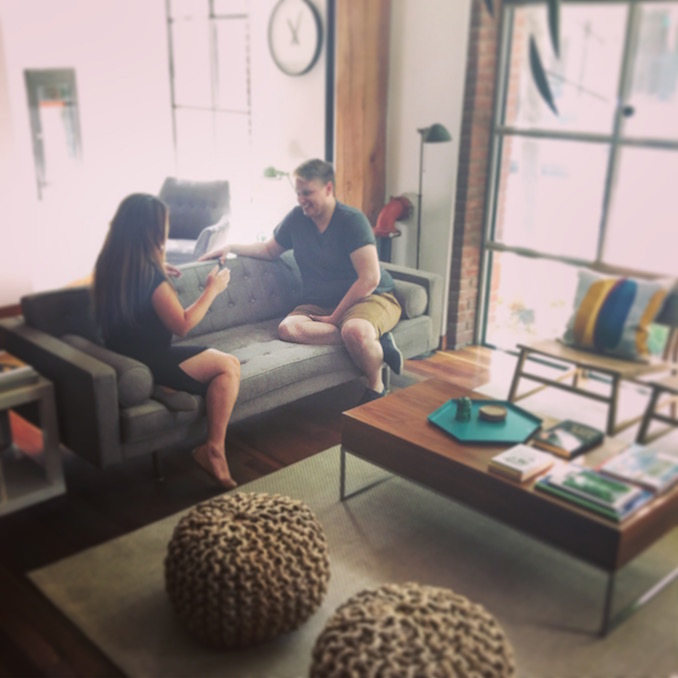 I would think that working along side people who are in a similar headspace would also have potential to build a network within and bring back a sense of community. Open concept lounge spaces stimulates conversations and is something I often hear entrepreneurs say they are craving when they work from home. I admit that I'm the type of person who gets distracted easily but I was surprised at how easy it was for me to take a break, chat a bit with others in the space, and then transition back and focus on my work.
DESIGN: The modern yet soothing and minimal look is very much Scandinavian influenced. I'm not talking Ikea but more upscale. Owners Logan and Ed mentioned that through their travels they were inspired by the country's natural environment as well as the lifestyle of trying to achieve a work/life balance. With an interior designer, they worked with the space to maintain the much loved exposed wooden beams and exposed bricks to also include components of soothing wood furniture and understated colours. Many of the design elements were brought back from their travels.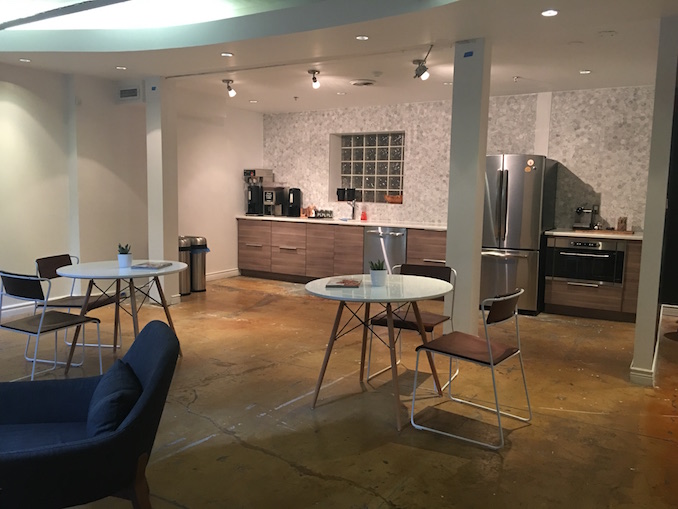 WORKSPACES: What I had noticed about the workspaces is that they can cater to many different work styles. We had an interesting discussion about how people have their preferences. Some people like to be in an open space while others may prefer a quieter location. Some people like a desk, while others may like a couch. I like to be nearby a wall or in a corner nook and Verkspace keeps all that in mind. There are private spaces that can fit your squad with the ability to lock up belongings and come and go as you please. Speaking of, members have access 24/7 and safety cameras and entry points are secured. Aside from aesthetics, neat features include Herman Miller work chairs that not only look sleek and stylish but are ergonomically designed. Individual work areas also have lockable filing cabinets and dedicated desk lamps for personal lighting preferences. There are currently 40 individual workstations planned out in the 9000 square-foot space. But the space is also adaptable for growth and needs of the people who use it. They've already acquired the top floor of the building that has epic windows and natural light. Once that's ready, current members will have first dibs to that space.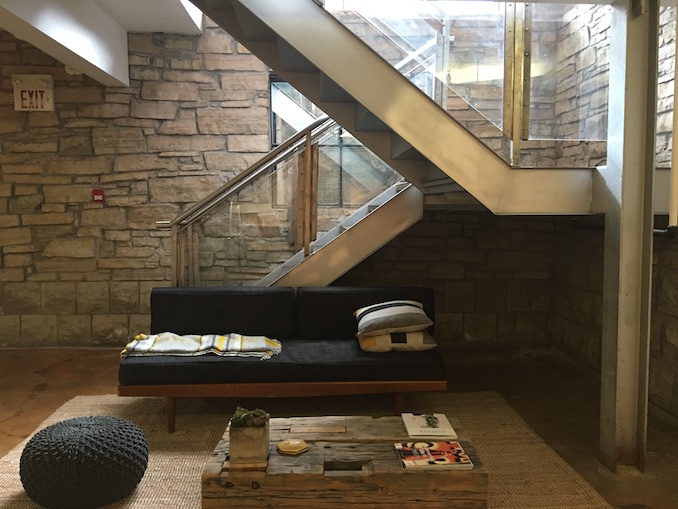 SOUND:  When you work in a communal "workhús", as they like to refer it, probably one of the first concerns is sound. When I was was there, there was a lounge-like playlist faintly running in the background. It's not a library setting but any chatting seems to just fade as background noise. If you've worked in a coffee shop, you would already be accustomed to voices and most people tend to tune it out anyway. I had a meeting and noticed that others had headphones on or were too focused on their own personal work to pay any attention anyway. But there are opportunities to book boardroom spaces when more privacy is needed.
MEMBERS: I was really curious as to how one becomes a member here. They tell me that each person is interviewed as well to see if it's mutually a right fit for the space. Once you're part of the community, there is a sense of trust and understanding — you treat it as if it was your own place of business. Aside from just a place to lay your laptop, they've already started discussions with local businesses to offer members perks.
Verkspace is located at 32 Britain Street. It is easily accessible by TTC and there is a small parking lot next to the building. Several food options are nearby as well as being able to use things like UberEats and FEAST delivery services.
Visit their website for more info.