Canadian MSC Ambassador Chef Charlotte Langley shared with us this recipe for Coldwater Shrimp, Turmeric and Rice Noodle Soup. Transport yourself to Southeast Asia with this noodle soup that is both healthy and packed with flavour. Save time by doubling the recipe for the aromatic paste and storing half in the freezer – you'll want to make this dish again!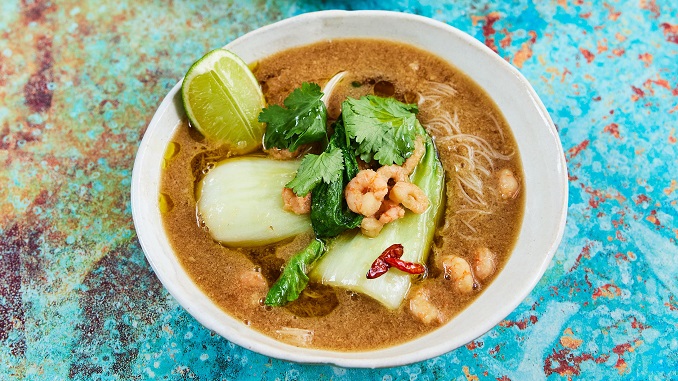 Coldwater Shrimp, Turmeric and Rice Noodle Soup
Prep: 10 minutes
Cook Time: 10 minutes
Serving size: 4 as a main for breakfast or brunch
Ingredients:
1 pack (340 g) of frozen MSC certified sustainable coldwater shrimp, thawed
2 tsp (10 g) garlic, minced
1 tbsp (10 g) turmeric powder
2 tbsp (20 g) shallots, minced
2 tsp (10 g) ginger, grated
4 tsp (20 g) coconut oil
4 cups (1 L) ramen broth (or chicken, or vegetable broth)
2 medium (150 g) bok choy, washed and leaves separated
½ lb (227 g) rice noodles
Salt and pepper
Lime wedge, fresh coriander (cilantro) and chili oil to serve
Directions:
1. Thaw the shrimp in the fridge overnight. Drain well, place in a bowl lined with paper towel and keep refrigerated while preparing soup base.
2. In a small food processor or using a mortar and pestle, add the garlic, turmeric, shallots, ginger and coconut oil and blitz or pound until it has the consistency of a paste.
3. Preheat a medium to large pot over medium heat. Add the paste and cook, stirring frequently, until fragrant but not browned, 2 to 3 minutes. Pour in the broth and bring to a simmer.
4. Meanwhile, cook the rice noodles following the instructions on the package. Drain and rinse thoroughly with cold water. Divide evenly into 4 bowls.
5. To the simmering broth, add the bok choy leaves and shrimp and cook until bok choy is tender and shrimp are warmed through, 2 to 3 minutes. Taste and adjust seasoning with salt and pepper as needed.
6. Ladle soup into bowls over the rice noodles and garnish with a lime wedge, chopped coriander (cilantro) and chili oil, if using.