Kimberley Chan and Linda Cajuste are Co-founders of My Creative Break, a company that connects people through fun networking events and meetups all over the world to help them accomplish goals big and small. We spoke with them to find out more.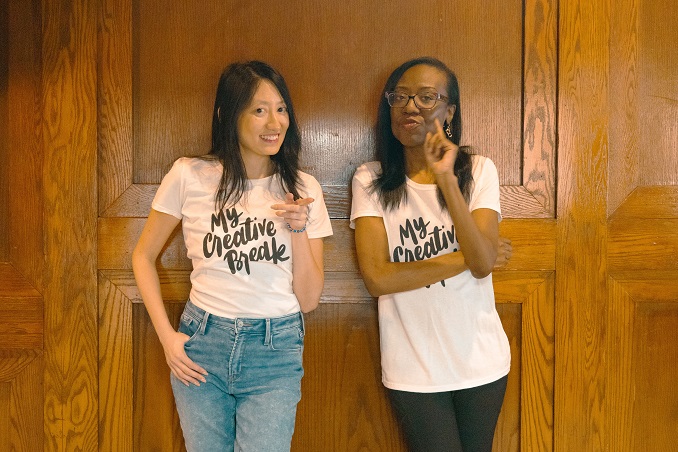 What is your business called and what does it do?
Our business is called My Creative Break. We started as an Instagram community to motivate people to get creative and make time for things they enjoy. Now, we organize networking events, meetups and workshops that allow people to get creative, innovate and step out of their comfort zones so that they can gain the skills and courage to do things they've always wanted to do, whether it's something big like starting a business, or something small like pursue a hobby.
We also work with companies and provide creative team-building programs that use art and improv as a base that helps participants connect on a deeper level, push each other to get out of their comfort zones and tackle creative challenges together.
Our services include:
1. Creative networking events.
Our creative networking events help you meet new people, make professional connections and gain new skills. The events are structured with creative icebreakers, activities and challenges so that no one is ever left alone in a corner. We take the "work" out of networking, help you start conversations with prompts and we make sure everyone is always connecting and having fun.
2. Creative team-building workshops for companies, schools and groups.
We help you make your meetings, events and days more fun and fueled with inspiration and creativity. This ensures good mental health and strong collaboration within teams. Our creative team-building sessions and workshops use creative activities and improv (spontaneous thinking/writing/drawing) as a base. Our goal is to help teams feel happy, connected and motivated. We also help teams work on skills like communication, creativity, teamwork and problem-solving.
3. Creative retreats
We'll soon plan creative retreats where we'll take you somewhere beautiful and refreshing so that you can work on your creativity/bucket list items and connect with like-minded people. Stay tuned!
What made you want to do this work?
A few years ago, we were both working 9-5 and felt like we needed a change. We met at an improv class, which helped us relax, find a community of like-minded people and taught us to push our boundaries. We decided it was time to push our boundaries outside of the class.
Linda: I was stressed, overworked and unhappy. My 9-5 accounting job allowed me to take a one-year sabbatical, so I decided to take it. I had always wanted to live in Paris, but I was hesitant at first. Improv taught me to become less shy and say "yes, and" to challenges. So I said "yes, and" to this and moved to Paris for one year. During that year, I pushed my boundaries, indulged in my passions of screenwriting and improv and achieved my dream of writing and producing a short film.
Kim: I was also overworked and had just returned to my 9-5 marketing job after an almost year-long medical leave. I wanted to get the most out of life NOW. So, I decided to take some time off to travel. I always wanted to live in Europe and Asia, so I did that. During my journey, I met people from all walks of life and pushed myself to say "yes,
and" and do things I never thought I would do.
We called these our "creative breaks." After returning home, we both felt rejuvenated, learned a lot, and became more creative, meaning better at working, leading, adapting, innovating and seeing things through different points of view. We said, "everyone should feel this way!"
So we started My Creative Break to help people feel this way. People needed the motivation to take breaks and do things for themselves. We realized that not everyone could take long sabbaticals and travel, so we wanted to help people stop overworking themselves and find ways to get in touch with their "creative" side – to act on their drive to explore, try new things and create a more meaningful life.
We first started as an Instagram page. We posted motivational quotes to push people to do things that would make them happy. Then, people wanted to know: how did we push ourselves to say yes to our adventures? How could they make time to take care of themselves? Hence, we ran online creativity workshops to help people break out of their routines and comfort zones. Recently, we invented networking events and team-building programs that help people gain these skills. All our events and workshops use improv and creativity exercises. This help brings people to connect, have fun, work on new skills, and get the support and motivation they need to create better days and lives.
What problem did you want to solve with the business?
We wanted to motivate people to create better days and lives for themselves. We also wanted to help people become better leaders, communicators, thinkers and happier overall – pushing our limits and working on our creativity helped us with this.
Who are your clientele/demographics?
Companies who want to strengthen their teams and improve creativity, communication and productivity within, especially if their teams are working remotely, or help team members get out of their shells, gain confidence and take more risks, especially if they are introverted.
Any individual who wants to make new connections, try new things, and reveal their hidden potential while relaxing and having fun, especially introverts and people who are nervous about being around new people. We've had everyone from students to entrepreneurs to 9-5 workers to retirees.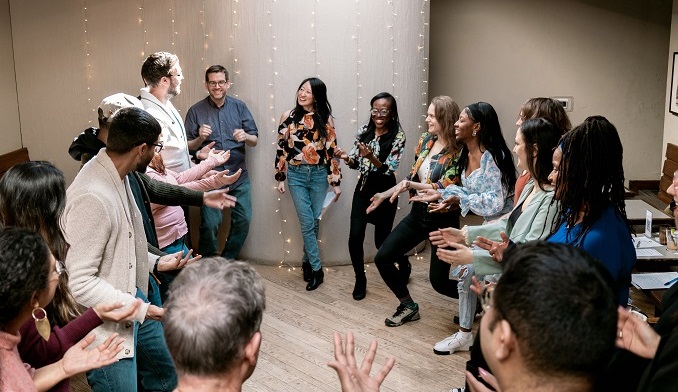 How does your business make money? How does it work?
People pay per event, workshop or team-building session. We have package and flexible pricing options.
Where in the city can we find your profession?
We currently run networking events in the GTA. We are available for workshops and team-building sessions on inquiry.
What is the best question a prospective customer could ask a member of your profession when comparing services? Give the answer as well.
Q: What sets you apart from other companies that provide corporate team-building or networking events?
A: Our team-building sessions are not your typical cookie-cutter programs. We work with each company individually and develop a customized session just for them. We also use our background in improv as a base. We make sure to offer a safe space where each individual feels included and will grow personally; they will also grow and bond as a team while having fun.
Our networking events are not your traditional networking events. We have invented a new way of networking. Our events are structured with icebreakers and creative activities that require people to bond and get to know each other in pairs and in groups.
This allows everyone to get to know each other in a fun and safe way and keeps them moving and thinking so that even the shyest people have fun. Everyone leaves with new connections, learns new skills and discovers something new about themselves.
What is the best part about what you do? What is the worst part?
The best part of what we do is we get to help people connect, laugh, smile and feel good. We love seeing people work together to achieve things that they might initially not think they can do.
The worst part is that we can't be everywhere at the same time as we're a startup, but we're working our way there!
What is your favourite joke about your own profession?
We can't cheat at our jobs with Chat GPT!
Where can we follow you?
Website | Instagram | LinkedIn | Facebook | Newsletter
PAY IT FORWARD: What is another local business that you love?
Katrina Kukurs, Toronto-based immigration consultant.