To celebrate this year, Mazola has collaborated with AJ.Y from YVR Home Cook to put a spin on his favourite Dragon Boat Festival dish growing up – sticky rice dumplings, or "zongzi" – to create these Savoury Rice Dumplings! While there are many variations of zongzi, AJ.Y notes that his Savoury Rice Dumplings most closely resembles the version from Southeast China that he enjoyed as a child in the Philippines, known as the Hokkien version they call "matsang."
The ingredients for this recipe are sautéed in neutral-tasting Mazola® Canola Oil to ensure that each ingredient's flavour is able to shine. With aromatic ingredients like pork belly, mushrooms and bamboo leaves, these dumplings are the kind that tastes so good that one serving simply isn't enough.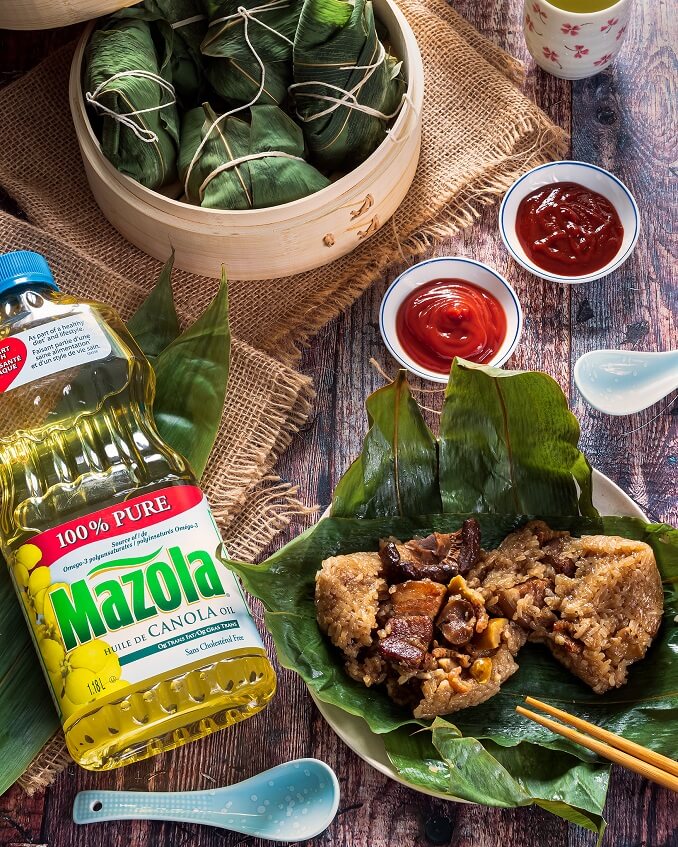 Savoury Rice Dumplings
Courtesy of Mazola & @yvrhomecook
Yield: 20 dumplings
INGREDIENTS
For the rice:
– 3 tbsp Mazola Canola Oil
– 1 kg glutinous rice, soaked for 5 hours & set aside
– 3 tbsp soy sauce
– 1 tsp 5 spice powder
– 1.5 cups pork stock (from cooking the pork)
For the pork:
– 2 tbsp Mazola Canola Oil
– 3 pcs ginger
– 8 cloves garlic, pounded
– 1/4 cup shallots
– 1.5 lbs pork belly, cut into 1-inch pc
– 10 pc medium dried shiitake mushroom, cut in half & soaked in 2 cups of water for at least an hour & drained; save liquid for later
– 1 star anise
– 1 bay leaf
– 1/4 pc of a dried tangerine peel
– 1/8 cup white sugar
– 1/2 tsp 5 spice powder
– 1/2 tsp chicken powder
– 1/2 tsp white pepper
– 1/2 tsp ground cinnamon
– 1/4 cup Chinese rice wine
– 1/4 cup oyster sauce
– 1/8 cup soy sauce
– 2.5 cups water
– 1 cup peeled chestnuts
– 1/2 cup dried shrimp soaked in 2 cups water for at least 2 hours & drained; save 1 cup of liquid for later
To wrap the dumplings:
– at least 40 pcs dried or fresh bamboo leaves, follow package instructions on how to prepare it before wrapping the filling
– kitchen twine, cut to 20 strings, long enough to wrap each dumpling
DIRECTIONS
Cooking the pork filling:
1. In a medium high heat wok, add 2 tbsps of Mazola Canola Oil and sauté ginger, garlic, and shallots until translucent.
2. Add pork and sauté until pork is browned, around 5-6 minutes. Add the mushrooms and cook for another 3-4 minutes.
3. To the wok, add the star anise, bay leaf and tangerine peel. Add the seasonings above, and the reserved mushroom and shrimp soaking water.
4. Lastly, add water. Bring to a boil, then lower the heat to simmer. Cover pot with lid and cook until pork is tender, around 40-50 minutes.
5. Once pork is tender, remove it and the mushrooms and set aside. Add chestnuts and soaked & drained shrimp, and cook for another 10 minutes.
6. Remove from the pot and set aside. Set aside 1.5 cups of the pork stock for the rice.
Sautéeing the rice:
1. In a medium-high wok, add 3 tbsp of Mazola Canola Oil. Once heated, add soaked & drained rice and sauté for about 3-4 minutes.
2. Add Chinese five spice powder, soy sauce, and pork sauce and mix until thoroughly mixed together, around 4-5 minutes. Set aside.
Assembling & cooking the dumplings:
1. Fold 2 bamboo leaves together into an upside-down pyramid. Put a tablespoon of rice inside and push down to the tip of the cone, then top with a piece of pork, a mushroom, a few shrimp, and 1-2 chestnuts. Top with more rice and push down with a spoon.
2. Fold leaves over to seal the dumpling. Don't worry about the shape as long as the filling is secured by the wrap. Tie string tightly around the leaves.
3. Bring water to a boil in a large stock pot and add the steamer portion on top. Put in the dumplings on the steamer pot, and close the lid. Cook over medium heat for 1½ hours. Remove from the pot and cool. Serve with tomato ketchup or hot sauce.