Chef Gianni Ceschi of "Finally Italian" shared with us his delicious recipe for Polenta e Spezzatino (polenta and baby beef spezzatino). Enjoy!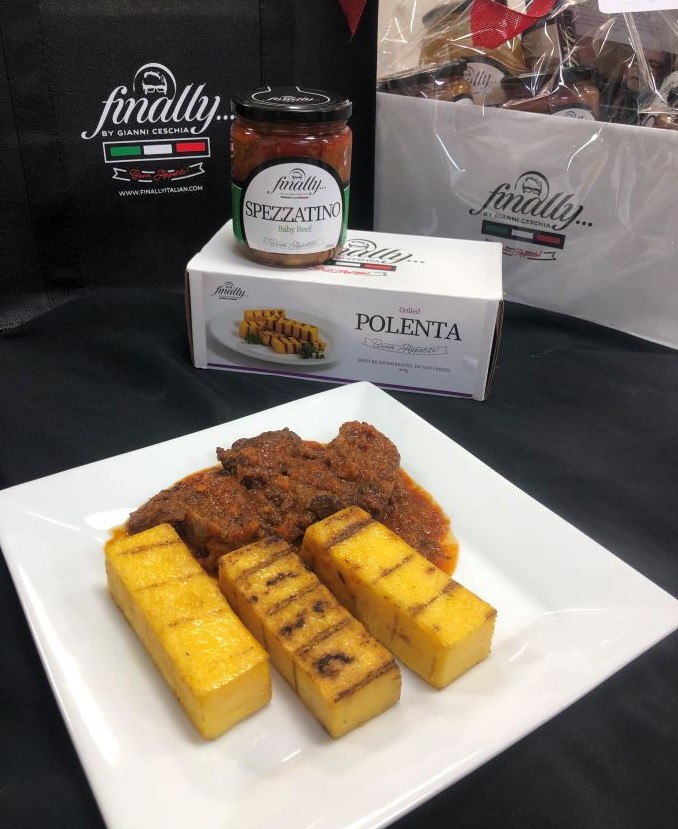 Polenta e Spezzatino
Ingredients:
– 3 Lb or 1 360 gr Beef Chunk or Shoulder Cut into l" cubes
– 4 Tbsp or 60 ml Veg. oil (to sear the meat)
– 4 Tbsp or 60 ml EVOO – Extra virgin olive oil
– 1 medium onion (175 gr) Finely chopped
– 1 carrot (90 gr) Finely chopped
– 1 celery rib (50 gr) Finely chopped
– 3 Tbsp (100 gr) Tomato paste
– 1 clove Garlic paste
– 3 Tbsp All-purpose flour
– 175 ml Red Wine
– 1 Tbsp fresh rosemary chopped
– 4-5 Sage leafs finely chopped
– 750 ml Beef or Veg Broth
– Salt – Pepper to Taste
Directions:
Baby Beef Spezzatino
Serves 6-8 people
In a frying pan over med-high heat with veg oil, sear the meat and set aside. Discard the oil. In a Dutch oven, over med-high heat add EVOO, onion, carrots, celery and minced garlic. Cook till translucent then add seared meat and cook till juices released by the meat start to caramelize on the bottom. Add flour and tomato paste stir to incorporate, then add red wine let evaporated, add rosemary, sage half of the broth and salt-pepper. Cook till meat is tender to a toothpick. Add the rest of the broth if necessary.
Adjust salt and pepper.
Polenta – Friuli Style
Serves 4
1. For 1 litre of water you will need 200 grams of cornmeal, salt and pepper.
2. When the water is boiling, add the cornmeal slowly and stir with a whisk.
3. Keep the heat low and stir once every 10-15 minutes.
4. It is important to keep it covered.
5. Cook for 45 minutes to one hour.