Since 1983 Orangeville's Woolwich Dairy has been focussed solely on producing goat cheese, milk and butter. What started as a Mom and Pop family business, has now grown to supply cheese lovers from coast to coast. For this week's recipe, we decided to share one that would make use of their product. Try this Grilled Chicken and Rainbow Tomato Pitas with Goat Cheese and let us know how it goes with #ItsBetterWithGoatCheese.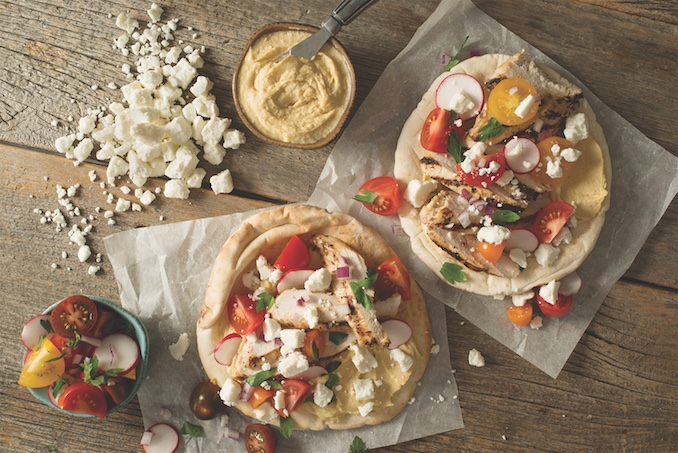 Woolwich Dairy's Grilled Chicken and Rainbow Tomato Pitas with Goat Cheese
INGREDIENTS
-1⁄2 cup Woolwich Dairy Goat Cheese Try it with CHEVRAI Original Goat Cheese Log, CHEVRAI Original Goat Cheese Crumbles, or Goat Milk Feta Cheese Crumbles
-4 pitas
-4 small chicken breasts, pounded flat
-1⁄2 cup hummus
-2 tbsp olive oil
Rainbow Tomato & Radish Salsa
-2 cups colourful heirloom tomatoes, sliced
-1 cup radishes, thinly sliced
-1⁄2 cup parsley, diced
-1⁄4 cup red onion, finely diced
-1⁄2 lemon, juiced
-Pinch of salt
Mediterranean Mash-Up Marinade
-2 tbsp olive oil
-1⁄2 lemon, juiced
-1 tbsp plain greek yogurt
-2 tsp red wine vinegar
-2 cloves of garlic
-Pinch of oregano
-Pinch of thyme
-Salt and pepper, to taste
PREPERATION
In a large freezer bag, combine all Mediterranean Mash-Up Marinade ingredients. Mix well. Add raw chicken breasts to marinade. Marinate for at least 30 minutes.
While the chicken marinates, prepare the Rainbow Tomato & Radish Salsa. Slice the tomatoes and radishes, and dice the parsley and red onions. Place all Salsa ingredients in a bowl, except for the radishes, and incorporate well. Set the Salsa and radishes aside.
Heat up the grill! Place the marinated chicken on the grill, cooking about 6 minutes per side, until the internal temperature reaches 165° F.
While chicken is cooking, brush pitas with olive oil. Once chicken has been taken off of the grill, grill pitas for 1-2 minutes on each side, until warm and nicely marked.
Cut cooked chicken into slices. Set aside. Mix radishes into salsa, stirring well. Set aside.
It's time to decorate your pita! For each pita, start with 2 tbsp of hummus, topped with sliced chicken breast and Rainbow Tomato & Radish Salsa. Finish with a generous sprinkle of Woolwich Dairy Goat Cheese on top.
For more information on Woolwich Dairy, please visit their website.