I'm sitting  on one of the cushions placed on the floor watching the steady stream of visitors at Yoko Ono's exhibition The Riverbed at the Gardiner Museum. The room is airy and bright but void of  colours yet it's vibrant and alive in a calming way. There are three distinct areas in this exhibition: Stone Piece, Line Piece and Mend Piece. From what I've experienced in Ono's previous exhibitions, her work encourages participation and is inclusive of everyone. She has the idea. She encourages us to  go collaborate with her. Her work is describe often as  redirecting our attention to ideas, instead of appearances.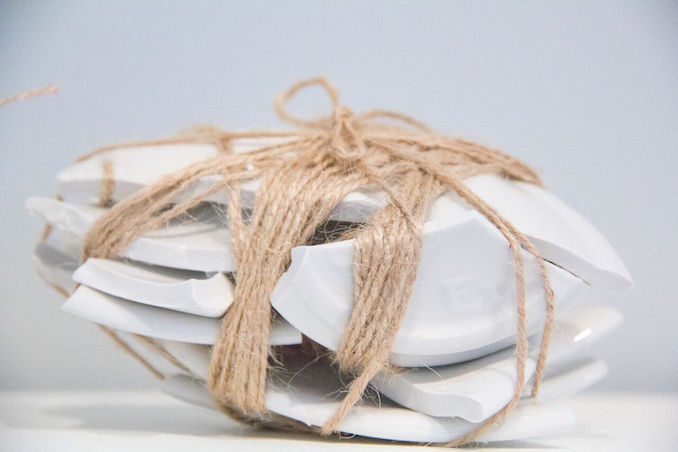 The Riverbed originally took place at Andrea Rosen Gallery and Galerie Lelong in New York City.  There is simple guidance given by the artist in each area to carry out the flow. But watching how people approach each section is just as interesting.  Some people moved around freely without hesitation with purpose while others observed and absorbed the space taking time to see how they could best contribute their ideas and thoughts. There were also people who just wandered through and didn't touch a thing.This all made me realize, once again, just how we all experience art in different ways.
I spotted a well-known local artist sitting at a table creating something with the materials in front of him. I spotted a well-dressed woman sipping an espresso and drawing in her notebook. I spotted a few young men chatting and laughing while they where working on something together. As I was flipping through an open sketchbook, I spotted a mother and daughter team darting through the room doing something together, but not. Mom was checking on her daughter every so often "you got what you need?" and "do you help?"
"I'm okay, mom. How about you?"
Stone Piece is the first part of the exhibition. When you enter the room you immediately see the river stones placed on the floor. A few of the stones have words written on them. Imagine. Forgive. Send love. Heal. They are scattered amongst the hundreds  that are lying at your feet. Ono encourages visitors to pick up a stone and hold it to release anger or sadness. Then let it go. It can be an empowering moment if you let it be.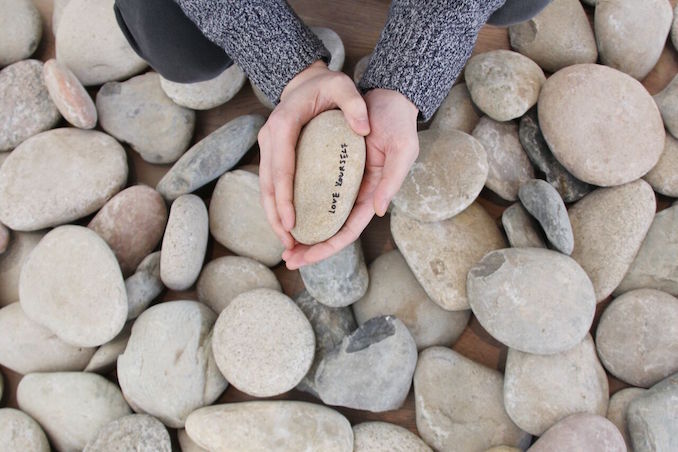 Line Piece is a busy intersection web of life and connections. There are spools of natural twine waiting to be taking from point A to point B. You decide where you want this life line to play out. I sat against the wall under the canopy of life lines observing an older woman carefully weaving her twine over and under the many already existing lines. She didn't make a straight line and she didn't make an overly busy cluster either. She just kept going in a soothing pace. While at the same time a younger woman was busy darting around with nails and scissors. How amazing it was to watch her as well. I noticed her hammering nails with intensity. When I spotted her again with a smile and satisfaction on her face, I returned to where she was hammering with curiosity. There she left a circle made with the nails. The twine closing it in.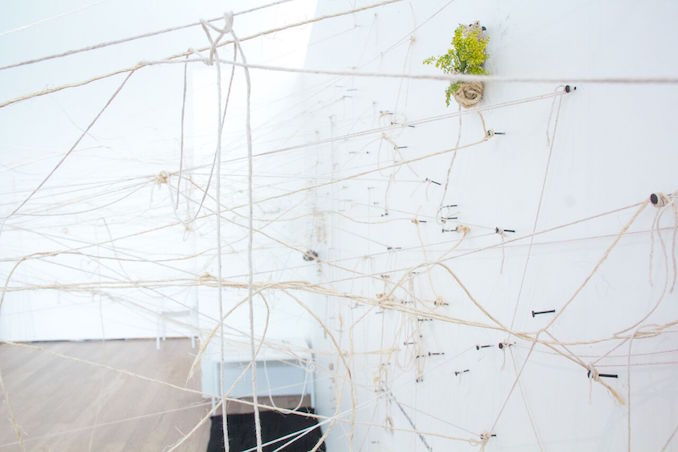 Mend Piece is the one I'm most familiar with. It was part of her exhibition I visited in Reykjavik. Two large communal tables are filled with broken ceramic pieces and mending elements. Think glue, string, and tape.  Instructions from Ono once again are simple but with meaning. Take the pieces that resonate with you and mend them as you desire. You're encourage to leave it in the communal space for everyone to experience what you've experienced. It reminded me of her work decades ago where she shattered porcelain vases, and people invited people to take a piece with them. But then years later she collected as many back and mended them herself. Part contemporary with a nod to the traditional Japanese art form of Kintsugi – fixing broken pottery with gold and the philosophy of nothing is ever truly broken. The repairs made are part of the history and should be embraced with honour and pride.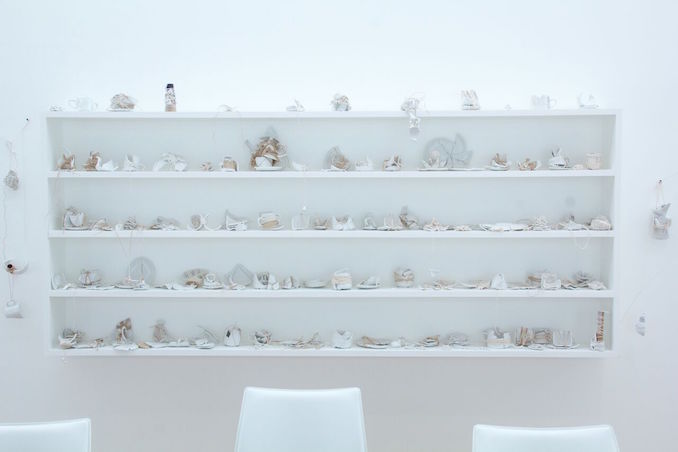 Yoko Ono's exhibition is very much about the connections we have made, and will make. It's very much about healing not only ourselves but also a reminder that what we do can also help others around us. For me, this is exhibition is about life's journey. We've all be hurt and we all seek ways to heal and mend not just ourselves but for those in our lives now and those we have yet to meet.
Yoko Ono The Riverbed is now at the Gardiner Museum until June 3, 2018. There are several events, talks, and special documentary screenings scheduled. A few meditation mornings will also be happening in coming months. For more information visit gardinermuseum.on.ca